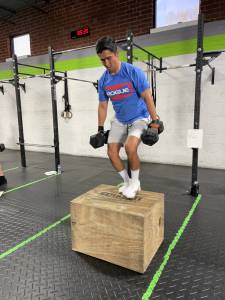 Hey guys,
     It's Sunday here in Burlington North Carolina and time to get into another week of excellent workouts her at CrossFit Simplicity! This CFS Weekly Rundown is going to get us fully into the month of April and into week two of our new strength cycle. As we draw near to Easter our theme this week is God's love for us displayed in some various verses of scripture so you bible buffs enjoy! Let's try to get in here as much as possible this week and we'll have some fun and get some results in the process!
T-Shirts: New black on black CFS shirts are for sale at the gym! $25, see your coaches to grab one!

There will be NO Open Gym Easter Sunday (4/9). Normal hours Good Friday.
Weightlifting:
Week 2: Now we begin performing two lifts on the same day twice a week. We will really need to focus on keeping the class rolling and transitioning once the first lift is completed! Pay attention to your coaches!
Week 2 (April 3rd)
Tues: 3×3 Squat Snatch (65-75% of Heavy Single), 3×3 Snatch Grip Deadlifts (90%)
Thurs: 3×3 Power Clean(65-75% of Heavy Single), 3×3 Front Squat (80% of Clean)
Fri: Snatch Push Press + Snatch Drop Practice
Workouts:
Monday has bike erg listed; please adjust to Assault bike or Echo bike if needed for this 5-set triplet. For Tuesday, we want you to move purposefully and see if you can grind through the lighter squats while maintaining a solid push through the gymnastics. We have a 2-part workout for Wednesday. In part 1, you will aim to start steady and see if you can keep a consistent effort through part 2 and not reach failure. Thursday will be a fun grunt-work-type workout for you all where intensity should stay moderately high, and communication needs to be on point. Finally, we get to the highly anticipated Friday workout, where you will have 1:00 to complete thrusters and whatever time is left to chip away at 30 bar muscle-ups. For Saturday, we bring in a long endurance workout with a hint of lifting. We included both an individual and fun partner-style workout.
    Well, that's all we've got for this week's edition of the CrossFit Simplicity Weekly Weekly Rundown! We have a great week ahead for you guys as we come up on the Easter holiday! Be sure you all are showing up for class focused and ready to put in some good work. This is going to be especially true on our lifting days as we will be trying to knock out two lifts each day. You all have been killing it in here so be sure to keep up that dedication and consistency. Now get plenty of rest, relaxation, and recovery so we can hit it hard on Monday. See you all in class!
~Daniel