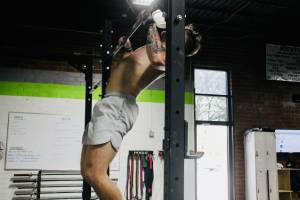 Hey guys,
     Hope everyone had an amazing Thanksgiving and is currently enjoying this beautiful Sunday afternoon. It's time to crack into another CrossFit Simplicity Weekly Rundown! We had a nice relaxed holiday week where we took a break from our strength cycle and now it's time to jump back into things. This week begins week one of part two in our current weightlifting cycle and it's going to be a good one. We also have some excellent workouts on deck for you guys including a little taste of the CrossFit open and it's early days. So let's dive in…
Christmas Party/Bring A Friend Day: We will be having our annual CFS Christmas party Saturday Dec 17th at 9am! Join us for some fitness, food, and fun!
Weightlifting: Part 2 (6 weeks):
    This strength cycle focuses on the in-between lifts of Olympic lifting. We want to develop a proper setup during the descent and transition to overhead movements during these six weeks. You will work up to heavy sets and hit singles within specific percentage ranges. The overhead lifts and squatting volume will be higher than usual, so please, scale to power or take the weight down if you are newer or anyone who may need a break. Remember, days labeled "Work up to a Heavy" mean we want to see you reach a top weight (within their limitations) in 5-6 working sets.
Week 1 (Nov 28th)
Monday: Heavy Snatch Push Press + OVHS (3+1)
Tuesday: Heavy Power Clean + Hang Power Clean + Push Jerk (1+1+1) x 2 reps x 4 sets
Thursday: 10 Snatch Singles (70-80%)
Workouts:
     Here we go; I hope everyone had an awesome holiday and is ready to work it all off! Monday is going to be a leg pump like no other. Athletes aim to push the pace, recover, and hold on for a grueling 4 sets. We have a quick, nasty, heavy clean and high box jump for Tuesday with an "Open Workout" type feel. The workout I'm most excited about is Wednesday, and anytime you have an increasing rep scheme with thrusters, you know it's going to be a good one. We bring back the dreaded Open Workout for our second 7:00 amrap of burpees on Thursday. Everyone may ask why, and it's simple: This workout is a great test for athletes with different skill sets. Put your head down and see if you can beat your old score. I hope you guys are ready for the core buster we have in store for Friday. Good luck!
     Well, that's all we've got for this beautiful Sunday afternoon. We are looking forward to celebrating Christmas season with you all and I just want to say again how thankful we are for this amazing community here at CrossFit simplicity. We will do some committed club drawings soon so be sure to get in the gym as much as possible and let's get those results! Go enjoy what's left of your afternoon and get plenty of rest, relaxation, and recovery so we can hit it hard on Monday. See you all in class!
~Daniel