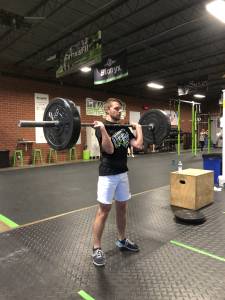 Hey guys,
       It's time for the ever anticipated Weekly Rundown! (Right?)…well, regardless, here it is: We have a great week ahead of us here at Simplicity with some really cool pieces and some fun ones at that! We are getting very close to wrapping up the Open (this is our last week) and then we'll be totally back to our normal programming/schedule with no more big surprises every Friday. Again, remember that we do not know what the workout will be on Friday so you may want to consider taking the day off or at least taking things a little lighter on Thursday if you really want to give it your best shot on Friday no matter what workout get announced. I will say though..there is a very good chance we are looking at some thrusters and some pull variation like a pull-up and/or muscle-up. No matter what the Open throws at us we are going to have a great week leading up to it so let's have a look at a few announcements and then crack into the week!
Push/Pull for Pancreatic Cancer Event: Nov 23rd at 9am! Do not miss this! This is a great chance to come out and have a great workout and raise money for an even better cause! This year we are partnering up with College Hill CrossFit to have an awesome event right here at Simplicity. Check out the link below to register and get your T-shirt/tank top here in time for the event!
https://raceroster.com/events/2019/20974/push-pull-for-pancreatic-cancer-2019
Bring A Friend Day is Saturday the 16th! We had an awesome day last time and I know this will be no exception! Spread the word and let's get a great crew together! As always DJ-LA will be on the scene so you know the music will be on point!
Sweatshirts should be in sometime this week so be on the lookout for an email! Cards will be run when they arrive and it'll be your responsibility to get up with a coach and get your order.
Fun News! We are going to do a little AM Crew vs. PM Crew canned food drive for the month of November! More details to come but basically we'll have a spot in the gym designated for the 5:30am, 6:30am, and 8:30am canned goods and another designated area for the 12 noon, 4:30pm, 5:30pm, and 6:30pm classes to drop off their canned goods. All through the month of November AM and PM classes will have the opportunity to bring in as many canned goods as possible and at the end of the month we will announce the winner and donate the canned goods to a local homeless shelter! This will be a fun and very passive/easy way to have a little competition and give back to the local community! Start stocking up!
Monday: Heavy day! We are starting the week with some serious strength work! We will start with a couple sets of fives and then work to a heavy triple on the sumo deadlift! Remember this is our variation with a wider stance and ultimately a shorter range of travel on the bar. Remember like always to brace your core, front and back, and keep your chest up during your pull. We have not hit the sumo deadlift in a little while but we have done it in the past couple months so this will be a good chance to see if we can make some improvements. If you are feeling good then really go for it. You'll have the option of touching go reps or quick singles for your set of three. After this will have a little accessory piece with some toes-to-bar and double kettlebell front rack carries to finish off the day! All in all a great start to the week!
Tuesday: Retest Alert! We are hitting "Kelly" again today! Have hit this a couple times in the past so many of you will have some previous results to test against and compare with today. This is one of the more common CrossFit "girls" and certainly a tough one! It's tons of running, box jumps, and wallballs so be sure to scale things back as needed to make sure you get a great workout but don't overdo it too early in the week. The key to this one (like so many others) is going to be finding a good pace that allows you to stay moving but not burn out too early. This is 4 rounds and usually takes about 25-30 minutes so keep that in mind when scaling and pacing this one out. Just remember to keep good positions in your wallballs and watch your feet on the box jumps and you'll be fine! Easy day!
Wednesday: We have a really cool workout to get you over your hump day this week! This one is another interval style piece but not quite like the ones we have had the past two weeks. In this workout we will have four rounds that have a designated time cap: four minutes. Each round has a buy-in of a 500m row. After that 50 m row is complete you have the remainder of the four minutes to finish a short AMRAP of three muscle ups, five handstand push-ups, and seven deadlifts. With the remaining time you do as many rounds of the short AMRAP as possible. Then we will rest three minutes, and complete the four minute cycle again including the same 500m row for a buy-in. Instead of picking up where you left off, the AMRAP will start over in each of the four cycles… after your row buy-in of course! This is a really cool piece and you'll want to make sure that you don't rest too much but instead go ahead and knock out that 500m row at a strong steady pace so you have time to really get at least one round of the following AMRAP. Trust your fitness that you will recover sufficiently in the 3 minute rest. Have fun with this one!
Thursday: today is going to be a burner! Not necessarily a horrible workout and not necessarily a long workout, but definitely one that will sting if you hit it hard. This is actually one that we have tested but it's been quite some time so I can't recall the exact date. This one is five rounds of 15 heavy kettlebell swings (70/53) and 15 burpees. Much of this workout is going to be trusting your fitness that you can move from one moment to the next without too much rest or break. I would suggest maybe scaling things down to 10/10 on the reps and hanging with the heavier kettlebell and still trying to hit our goal time: sub 12 minutes. In general we want a kettlebell weight that we can grab and swing unbroken. As always on the burpees make sure we get our chest and thighs to the mat and then show a little air underneath our feet with a fully opened hip when we jump at the top of the rep. Really go for this one and try to hit that time goal so that we can get that desired stimulus and really work up a sweat!
Friday: Open workout 20.5! Like I mentioned above, it's very likely that we will see a thruster in this workout as well as some sort of pulling variation like a pull-up or a muscle-up. Get ready for some fun…Fun that sucks a little!
Saturday: We have a great day Saturday…that is…depending on how rough the Open workout is on Friday! This will be a 20 minute AMRAP where you will work with a partner to complete as many rounds as possible of five back squats, seven hang power cleans, and nine sumo deadlifts high pulls. If we have a lot of thrusters on Friday this could be a pretty challenging workout so we may address some sort of scaling or change up in the movements. Regardless, we always have a great day on Saturday and we hope you all will come out at 9am and start your weekend off right!
       What an awesome week we have ahead of us here at CrossFit Simplicity! as corny as it sounds, doing the Weekly Rundown every weekend gets me energized and excited for the week we have ahead. I'm always grateful for the opportunity to be a part of a community like you guys and to experience all the great personalities and phenomenal work ethic we have each and every day in the gym. There's lots of variance ahead of us this week and some really fun and different pieces that should keep things interesting and help us to push hard to get those results. As always, stay as consistent as you possibly can and you'll be on the right track to getting what you want out of the gym experience. Remember to go ahead and start bringing in some canned goods to support your classmates and our local community and let's make this canned food drive a huge success! Enjoy the rest of your weekend and we can't wait to see you all in class on Monday!
~Daniel