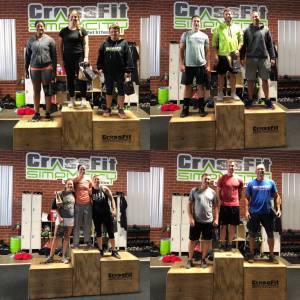 Hey guys,
      What an awesome week/weekend we had! If you haven't heard, or weren't able to make it, the CFS Halloween House Party (our in-house comp) was a huge success! We had such an amazing time just working out and cheering each other on! Another huge thanks to all our volunteers, judges, DJ-LA, and our event sponsors: Clair Rowe Reality, J.V. Blackwell & Sons Trucking Inc, and BRB Graphic Designs for making this event possible! Now…who is motivated to keep training hard and getting better?! Let's go!
Monday: Starting off the week with a classic CrossFit workout: "Filthy Fifty." This one is very light but also very long..lots of volume here so pace things out and be smart. If you are sore from the competition we are offering the "Filthy Thirty" option. If you have an RX "filthy 50" time that it's sub 25 minutes we are offering the option of wearing a weight vest and trying to match that time. Three good options to start your week off right!
Tuesday: We have a great one planned for you today. Certainly much shorter than Monday but equally tough in its own right. This one involves a lot of light weight thrusters so come up with a good strategy for breaking these up BEFORE the workout starts and your chances of success will be much higher! After this we'll get a little core work..it'll be summer before you know it!
Wednesday: Hump day! This is a solid one but certainly tough. This will be an alternating EMOM style workout with bike/row cals and heavy deadlifts. Your legs will be burning on this one but try to keep your work within the minute!
Thursday: Weightlifting day! These days are always great and this one will be no exception. We'll be working on hang squat clean doubles. This means you'll pick your bar up, stand tall, set a power position with your shoulders behind the bar, then bow over to a hang with a flat back, travel back up through your power position, extend, pull, catch, and repeat! Stay tight and keep your knuckles down in the set-up. This is a squat clean so make depth a major focus today and the weight will come…
Friday: "Monday you can fall apart, Tuesday Wednesday break my heart, Oh Thursday doesn't even start, It's Friday I'm in love" ~The Cure
Re-test day! Love these days! This is one we hit back on March 6th of this year. It's certainly a burner and has some burpees in there..still not one to miss. This one is three rounds with a little pulling, pushing, and a lot of lungs. Re-test days are a great chance for us to see how we are improving and growing. If you're having an off day and don't hit a PR then don't sweat it. But either way try your hardest today!
Saturday: this will be a fun one here! A Hero workout..but in teams of 2!  This is a 12 round workout and one that we've actually done before as individuals in class. Today you'll be alternating full rounds with a partner until your pair has completed all 12 rounds.
Altogether we have an excellent week planned for you all! I'm sure everyone is energized from the competition and ready to keep pressing forward! Thanks again to all who came out. If you couldn't make it we are so sorry and we certainly missed you.  This week wraps up October so stay committed and get these last couple days in before November! See you in class!
~Daniel