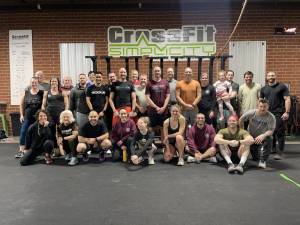 Hey guys,
     You know what day it is! The first day of the 2023 NASCAR season! Just kidding, it's Sunday and that means it's time for the CrossFit Simplicity Weekly Rundown! We have an epic theme this week in my opinion… Boy meets world! All you 90s kids get hype! We are also rolling into week three of our strength cycle and are going to be bumping up the percentages. Just a touch. All in all, we have some excellent programming for you guys and we hope you are excited to get in here and make it happen. Now let's check out a few announcements and then jump into the week!
Love Yourself February: We will be offering a free yoga class every Sunday in the month of February (12th, 19th, 26th) at 1pm here at CFS! Who will have an actual yoga instructor here but you guys will need to bring your own yoga mat. (You can grab a cheap one at five below which might not be the best but it will do the trick!)
CrossFit Open: We are gearing up for the CrossFit Open. We are going to do this "Friday night lights" style for the three weeks of the Open. This means there will be no not right no 4:30 or 5:30 class for these three weeks (beginning the 17th). Friday night lights will begin at 5 PM! The Open is a great chance to test out your fitness with the entire CrossFit community globally… And more importantly right here at CFS! (remember there is a scaled division in the Open as well and this is a very low pressure environment!) Get signed up with the link below!
Weightlifting: Here we go, Week 3 begins, and it's moderate lifting (70% of Heavy single) for the power lifts and some barbell cycling on power snatch.
Week 3 (Feb 6)
Mon: Every minute (10 minutes) 5 Clean and Jerks (+5lbs from Wk 1)
Tues: 5×5 Deadlift (70%)
Weds: 5×5 Back Squats (70%)
Thurs: 5×5 Bench Press (70%)
Workouts:  We now have strength starting, so let's keep the classes rolling from one to the next. Monday, we kick things off with a fun bodyweight/heavy wallball chipper that will attack the upper and lower extremities. For Tuesday, we dive into another workout where we perform a highly skilled movement under heavy duress. Then, it's an Open style workout for Wednesday with a great little primer for burpees over an object on Wednesday. Thursday, we hit you all with classic Assault Bike intervals with a moderate calorie count and intensity. For Friday, we have 18.2, a two-part workout that started off with a high-intensity ascending chipper into a one-rep max clean (power or squat). Ensure you are careful after the chipper; your legs will be shaky! Saturday is another long partner grind workout where intensity can be pushed on the row while being strategic on the movements.
     That's all we've got for this week's edition of the CrossFit Simplicity Weekly Rundown! And it's definitely looking like a great week here at the gym and another opportunity to grow and improve alongside you all. Remember to get signed up for the open as soon as you can and also don't forget these great opportunities for a little self-care yoga every Sunday during the month of February. Now enjoy what's left of your weekend, turn on the NASCAR race at 8 PM tonight to watch Kaulig Racing put in a little work, and get plenty of rest, relaxation, and recovery, so we can hit it hard on Monday. See you all in class!
~Daniel