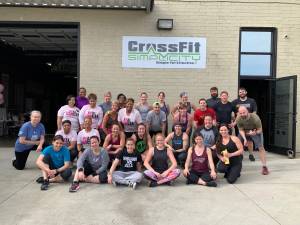 Hey guys,
       It's Rundown time! It's always nice to close out such a great week like we just had here at Simplicity and then start looking forward to the next one! We have a really solid bit of programming lined up for you guys, including the continuation of our deadlift cycle. You all have really been killing the cycle and we are seeing lots of result so far so keep it up. Hopefully we are rested up and ready to hit it hard and get back to work! Now check out the announcements and let's see what else this week holds!
Pink Ribbon Fund Workout: Thanks to everyone who came out to support our charity workout for the Pink Ribbon Fun for breast cancer. Special thanks to DJ-LA for donating her time and skills, and to coach Felicia for organizing the event! Let us know if you'd like more info on how to donate!
COVID-19: Just wanted to give everyone a quick update: We have no intention of closing the gym at this time. We just ask that everyone uses good judgment, and stays home if they are sick, wipes up after themselves with disinfectant wipes which we have, wash your hands before and after training, etc. Basic common sense which should be happening anyway. Gyms are a great environment for spreading germs so be smart, stay healthy, but come train!
At Home Workout: We will try to provide some "at home" variations of our workouts over the next couple weeks to help those of you that may have chosen to avoid the gym.  These will assume that you have a dumbbell at home and at least a door frame pull-up bar but if not just do your best to improvise. They wont be a perfect match but the goal is just to stay moving so get creative!
Monday: We have some higher skill work today and a good bit of volume and heavy loading. This one is going to take a while (about 20min) so settle in and be prepared to scale things back where needed to ensure we get that desired stimulus. This one has hang power snatches, overhead squats, bar muscle-ups, toes-to-bar, and row calories. If you'll notice there is going to be some movement interference here and lots of fatigue on the shoulders so break things up sooner than you think to ensure some longevity in your muscles. The hang power snatches should be something you can do unbroken throughout and still be able to flow directly into the overhead squats. So if not, scale things back! Overall this is a great day so get in here!
Tuesday: Deadlift Day! This is week 5 of our deadlift cycle and it's a good one. We'll have lots of good pulling today so be sure to get in here and stay consistent so that we get the most out of this cycle and hit some good PRs at the end! Today we'll start off with some heavier triples at 80% and then drop back for some triples at 65% for a little extra work. These lighter percentages should be a little refreshing after all the heavy work we have built to in the past weeks! As always focus on solid form and positioning. Good stuff!
Wednesday: We have a short one for you guys today but it's sure to get your blood pumping! This one is sort of a mixture between an AMRAP and a chipper…think of it's as a 9 min AMRAP chipper! You'll have nine minutes to get as far through this chipper as you can: 30 box jump overs, 60 dumbbell push-press, and 90 medball cleans! This one is going to be a bit of a sprint so stay moving. Try to think about big sets to start off and maybe using descending reps to make things easier on yourself mentally. Watch your feet on those high box jump overs but when you get to those medball cleans its time to really roll!
Thursday: We have a mighty aerobic piece for you all today! All you cardio junkies get ready! This one is 5 rounds of rowing and running! Each round will start with 2 minutes of max cals on the rower. After the 2 mins you're right out the door on a 400m run! When you come back you're right back to the rower for 2 minutes of max cals again then your 400m run! Five rounds of this! The goal here today is to just keep your calories and your run pace consistent across all five rounds.
Friday: This one is short and spicy! This is actually a retest that we did back in September of 2018. (first person to come tell/text me the exact date gets a free FitAid!) This one is 2 rounds of 20 clean and jerks and 20 bar facing burpees. It's tough! The clean and jerk weight should be something that you can do touch and go but you probably want to go with quick singles today to keep your heart rate down a bit. Just try to keep a steady pace in the bar facing burpees but really turn it on and go hard the last 10-15 of round two! Easy day!
Saturday: We have a pretty cool little two part workout for you guys for our Partner Workout today! This is one of those that keep both partners moving at little as you'll have a task to do while your partner is running or rowing. The work inside will be Cindy rounds for the first part then we'll switch to rounds of Nate in the later part. You all know Cindy, but Nate is rounds of muscle-ups, handstand push-ups, and kettlebell swings! This will be a fun day with lots of great variance in movements and a little something for everyone so get in here and let's have some fun!
       That's all folks! We hope you have enjoyed the CFS Weekly Rundown and are looking forward to another excellent week of training! We can't tell you all just how much it means that you choose to spend your time here in the gym working and growing with us and we really hope you're getting the results you're looking for. Remember just how important it is to stay consistent in the gym if you want to achieve the desired results in a timely manor. You guys have been killing it and we know you're not slowing down! Keep in mind that we want to be courteous to everyone here and those around us that might be more high risk to getting sick so stay home if you don't feel well. If you do feel good, then wash those hands, wipe down your equipment, and get in here to train! See you all in class!
~Daniel