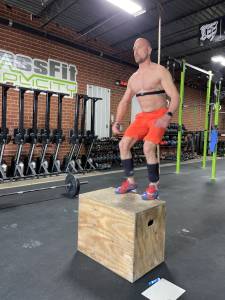 Hey guys,
      It's that time again! Time for another edition of the CrossFit Simplicity Weekly Rundown! We have an excellent week in store for you guys as we close out the month of March and head into April. We are also moving into a new nine week lifting cycle that will build on the success we saw in our last cycle. On top of that, as always, we have some great conditioning pieces planned for you guys so get in here consistently this week and let's make it happen!
You guys may have seen it on our social media but Craig, coach Holt, and Coach Chase all had some pretty epic fitness accomplishments this past week! Holt and Craig completed a 14+ hour Go Ruck event and Chase completed his first marathon! These are two very very gritty tests of fitness and mental toughness! Great work guys!

Also be sure to cheer on coach Hodge as she competes this weekend in the Masters Quarterfinals!
Weightlifting:
This 9-week cycle will focus more on the heavier Olympic lifting (Snatch/Clean). We will lift 3 days a week while mixing in some Jerks, Front Squats, and Deadlifts. We want to focus on replicating good quality lifts, rep after rep. The Jerk is separated from the Clean to fixate on one movement at a time. On days we lift we'll be going over snatch and clean drills with empty barbells. These are actually really important and help us get in good practice repetitions of these movements. This is super beneficial in building good movement patterns, so take these seriously and follow along with your coaches!
Week 1 (Mar 27th)
Mon: Heavy Single Snatch
Weds: Heavy Single Squat Clean
Thurs: Split Jerk Practice (working on the catch and recovery)
Workouts:
Here…we…go! Strength begins this week, so workouts will be a little shorter on those days. Monday, we bring a new style of burpees to the program, where you will aim for a higher target parallel to the wall. For Tuesday, we have some moderately-high intensity intervals where you will try and perform double unders under heavy duress. Then it's time for some grip and grind on Wednesday's pull-up bar and box stepovers combo. On Thursday, we have a much-anticipated workout where you are challenged to fight through the core burn. Friday will be a partner style, 1:1 effort where intensity and transitions should be aggressive. All the pushing and pulling will be performed on Saturday; partner up if needed and challenge yourself to push the pace. Good stuff!
    That's all we've got for this week's CFS Weekly Rundown…and that's a plenty! It's going to be a big week with the beginning of our new strength cycle. Remember when we are doing strength days in class that the hour will be full, so try to show up on time and ready to work and stay moving through each part of class. Congratulations on another great month of commitment and consistency. Let's finish out March strong and try to keep that motivation going in April. Now get plenty of rest, relaxation, and recovery so we can hit it hard this week. See you all in class!
~Daniel