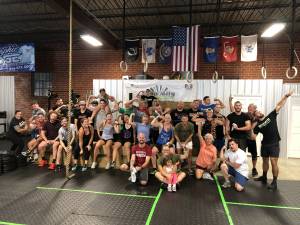 Hey guy,
       Hope everyone is having a great Sunday and is ready to dive into a new week here at CrossFit Simplicity! We had an awesome turn out and a ton fun at our Bring a Friend Day on Saturday and we wanted to thank everyone who came out to join us! If you missed out on this one rest assured that we will have another one just as good in September! We had a great week of programming last week and actually saw some really cool benchmark workouts and PR's for a lot of you guys. This week will be no different. We have some really great workouts planned as well as a retest of one of our favorite hero workouts. Hope everyone has a nice relaxing weekend and is ready for another great week of training!
Bring A Friend Day: Thank you so much to everyone who came out to join us on Saturday! Also thank you guys for inviting your friends. We had lots of new faces and a whole lot of fun! Be on the lookout for our next one in September!
Addiction Recovery Class: This class is free to folks in the community that are struggling with addiction and in recovery. The mission is to develop a positive sober active lifestyle through the vehicle of health and fitness and will be followed up with a devotion. Please share this information with anyone you believe may benefit from this program! (Also thanks for the support, class has been going great!)
Monday: We have an excellent piece to start the week off today. Remember that Monday sets the tone for the week to come to please try your best to get in here and hit it hard. We have a chipper today with runs, front squats, and bar facing burpees. This is a really cool piece today because the run distances decrease, the front squat reps decrease (although the weight increases), and the bar facing burpee reps increase. This means that your rounds may get a little shorter but also make it more challenging. Before we get into too much wishful thinking, the bar will be coming from the floor today so you may need to scale the front squat weights to something that you can clean without too much trouble. overall this is a great workout that has a really good mixture of strength work and conditioning which is going to make it really effective but also really challenging. Try to stay tough and get gritty at the end!
Tuesday: Back to Back AMRAPs! We have a pretty cool one for you guys today that's going to be a bit like our mash-ups except for these three workouts all favor each other in the way they look/feel. Each one will be five minutes long and will be followed by five minute rest. Each one will also include 15 row/bike calories yet a different accompanying movement with each. The first one will have box jump overs, the second one bar muscle-ups, and the third one handstand push-ups. this will be a really cool piece and a great challenge for you guys to see if you can keep your rounds roughly similar. This will also give us a great chance to work on some gymnastic movements that we may be struggling with so definitely get in here today!
Wednesday: Weightlifting Wednesday!  It feels like it's been a while since we had a weightlifting Wednesday so this will be much needed. Today we'll be focused on the snatch. We are going to be working towards a heavy triple on our power snatch and then moving to some accessory snatch grip push-press!  This is going to be a great day to work on some snatch technique and some explosive power. You'll have the option to do quick singles or touch-n-go reps for your triple so try both and see what fits you best. We also have a chance to work on a little strength in that snatch grip position with those snatch grip push presses! Overall it's going to be a great lifting day so don't miss out!
Thursday: Aerobic Day! You already know…so just show up and let's have some fun! Today is going to be arguably the easiest of our days as it is a cardiac output day. This means we are just looking for some good steady state work with nothing too out of control. Today's going to be a simple calorie piece. We are going to be looking for 500 cal on the bike or rower with a 45 minute time cap. If 500 sounds a little extreme we can cut that back to 300 or 400. We just want that good steady state work!
Friday: Hero Day! This is going to be a great day because we will be hitting a hero/benchmark workout and one that we have done before so this will be a retest for many of you guys. We actually hit this back in December 2019 so it's been a little less than a year ago. This also means we should definitely be seeing some improvements. The workout is "Hotshot 19!" This one is a little long so definitely settle in and think about some pacing here. The workout consists of air squats, power cleans, strict pull-ups, and running. The majority of the workout is certainly the power cleans because there are 19 in each of the six rounds. Make sure you are breathing steady throughout this workout and maintaining a pace that you believe you can keep through its entirety. A great way to approach this is to set a goal time for yourself and then do some math to figure out what kind of pace you need to keep each round to stay on track. Have fun with this one and if you are retesting really get after it!
Saturday: Today is little up in the air right now. Bouncing around maybe doing something a little different today with class but have no fear…Either way it's going to be epic like all of our partner Saturdays! More details coming soon!
        This is definitely shaping up to be an awesome week here at the gym. It seems like we blinked and August has flown by! Let's enjoy this last full week and get in some great workouts. Remember to keep staying consistent and you're certain to see the results come in. There's lots of opportunities to work on your weaknesses this week and also show where you are strong. Let's keep staying positive, encouraging each other, and making the most out of each hour we have in the gym. See you all in class!
~Daniel