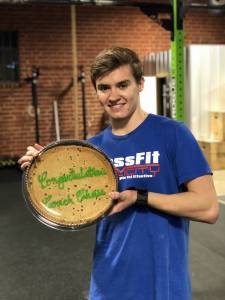 Hey guys,
      We have an awesome week ahead of us as we dive into November! Great job last month to everyone that put in the hard work! Remember that the Holiday season is an important time to stay focused and in the gym. That way we can stay ahead of those holiday calories and stay looking good for those holiday pictures! Be sure to check out the bottom of this post for some important announcements…
Monday: Starting your week off with a lifting day! We'll focus on the split jerk today. Remember that your dip should be short/shallow and have a rapid and aggressive change of direction upward. The leg drive is one of the most important parts of this movement! After this we'll finish with some single arm DB presses for the shoulders!
Tuesday: Today is going to really challenge you all. We have some good scaling options for this one so try not to stress if you aren't the best runner. This is how we improve on our weaknesses! This will be three separate but back-to-back AMRAPs with a mile run and then a specific task/movement for reps with the remaining time. Push yourself today!
Wednesday: this is a tough little chipper here. Lots of pushing and pulling and all in order. Meaning we'll exhaust the pulling movements then do the same with the pushing. Some of these our complex movements but remember we can scale everything in the gym to meet your abilities. Pacing and breaking up your reps wisely will be very important here!
Thursday: This is a bit of a mild day but certainly one that's pretty spicy for the shoulders. We'll be doing carries for distance here…but every 100m you'll have a small task to complete before you get back moving. After this we'll hit some core to finish out the day!
Friday: Lots of legs today! Great day! We'll start with a 5 round metcon including some overhead and back squats. This one will be fairly fast paced but still need to start mild and finish strong! After this we'll finish the quads off with some kettlebell split squats!
Saturday: Push Pull for Pancreatic Cancer! If you haven't signed up then follow the link in your Wodify app to get registered and donate to our team (CF Simplicity). You do not have to register/donate to participate but this is a great cause! Workout starts at 9am, please arrive a few minutes early!
Announcements:
There will be NO 6:30am class this Tuesday morning.
Push Pull for Pancreatic Cancer is THIS Saturday so get signed up and come have a blast with us and help a good cause!
The last Gymnastics Course we'll have for a while is starting Wednesday the 14th at 6pm. We know there were some of you interested in the course that we're not able to make Saturday's. This last course will run on Wednesday evening! It will take a short break Thanksgiving week and then resume afterwards. Please email us if you'd like to get signed up!
~Daniel