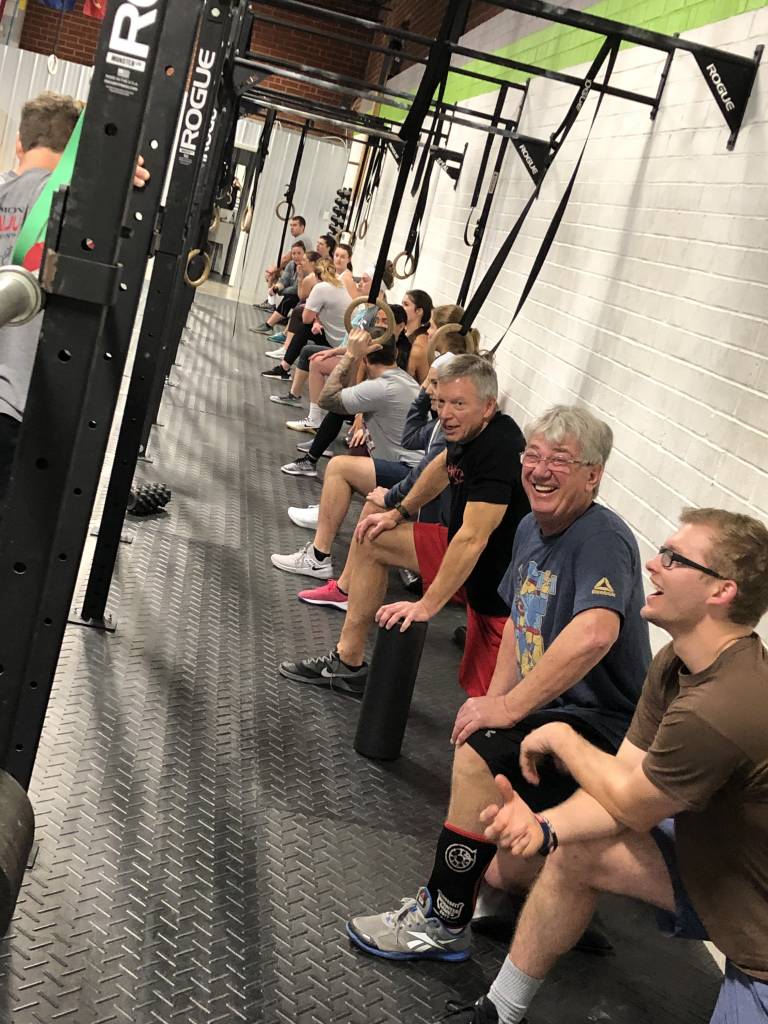 Hey guys,
       What an awesome week we just had, and an amazing 2 year anniversary! Thank you so much to everyone who was able to come out to workout and celebrate with us! If you weren't able to make it just know you were missed! We have a great week head of us as we get into the final workouts before the CrossFit Open so be sure to get in here as much as possible. If you are signed up for The Open and plan on hitting the workouts on Saturday remember that Friday will be sort of a "walk-through" and active recovery day where you will spend the class practicing the movements in that week's Open workout and working on some strategy for the following day. If you can't make it on Saturday then you will be hitting the workout hard with the class and getting a judged score. Now check out the announcements below and then see what we have in store!
LAST CHANCE! If you haven't signed up for The Open we will give you one more chance to get signed up and we will put you on a team. This is it, so don't miss out!
The Week One Theme will be "Superheroes" so keep that in mind and dress accordingly for some extra points on Saturday! (You can always change before your heat if you go all out!)
Huge thank you to Leslie (DJ-LA) for providing such an amazing atmosphere for our two year anniversary workout! She's in pretty high demand these days but if you have an event coming up definitely check her out!
Our next bring a friend day will be the third weekend in March so go ahead and mark your calendar's!
We have a new pre-workout drink in the fridge that many of you are familiar with. We will now be selling Bang Energy for $2.50. If you grab one be sure to market down on the tally sheet above the fridge.
Monday: We are starting off the week right! It's hard to imagine a better day! We will spend 15 minutes… And we mean 15 minutes with a hard cap… To establish a heavy single on your back squat. Remember that the goal is not a one rep max, but rather a heavy single. If you hit a one rep max then great! If you don't just make sure you get a good heavy rep so that we get under some weight and load the legs. We will break this down quickly and transition into an 18 minute EMOM with some rowing, air squats, and push-ups! Don't miss this day and let's start the week right.
Tuesday: PARTNER WOD! "What?! In the middle of the week?" Yes, we have a partner workout lined up for you guys on Tuesday. This will be a 15 minute AMRAP with a "you go/I go" style. The reps are very short here so you will complete the reps for each movement and then your partner. We will have some moderately heavy clean and jerks, some muscle-ups or pulling, and a tall box jump. This is a good one that's very well-rounded and incorporates a lot of variance. Because you're doing this with a partner really try to stay moving and push yourself!
Wednesday: Hump day is looking good! 2 parts to get done today. The first is a 21-15-9 style workout with a light overhead squat and deadlift. Remember that you may want to try to push the pace on the overhead squats and do them in as little sets as possible because getting back into position for the overhead squat can take some time. Conversely, you may be able to break up the deadlifts more frequently than planned and catch your breath. After the short conditioning piece we will have a little bit of accessory work in a circuit style piece that's not for time. 
Thursday: Aerobic Thursday! This one is very much heart and lungs! This will be our last programed day of the week until we find out what's coming up for the first Open workout. Remember that it will be announced live by CrossFit Thursday evening. The workout they announce will be programmed for the class on Friday. Thursday's workout is a great conditioning piece but one that you might want to take a little easier if you know you are going to have to submit your first Open workout on Friday rather than Saturday. If you plan to do your Open workout Saturday then go ahead and hit this with some vigor! This is a sort of chipper style workout with double unders, rowing, and burpee's! We will also throw a partner option in there!
Friday: as we mentioned earlier each week's Open workout will be programed in class on Friday. If you aren't signed up for the Open you will be hitting this just like a normal day in class. If you are signed up for the open and plan on coming Saturday you will take this as a day to practice the movements and get ready for the next day's event. If you aren't able to make it on Saturday you may get your workout judge Friday in class! (you may also make up an open workout on Sunday afternoon at open gym)
Saturday: This Saturday will be our first Open Saturday and we couldn't be more excited! Remember to be in communication with your team captains once you are assigned a team and make sure you try to make it on Saturday and coordinate with the theme for that week! Can't wait to see you all there! (Remember also that you will be judging your classmates and we will make sure we talk about standards for each movement. If you could, please plan to stay and judge at least one heat that you aren't participating in.
It looks like we are in for another great week! Again, we couldn't be more excited to begin our third year with you all. Can't wait to see how we will grow and evolve over this next year and how you all will do the same individually. This gym and this community would be nothing without the people who make it! Thank you! We are so grateful to be with and serve you guys every day!
~Daniel