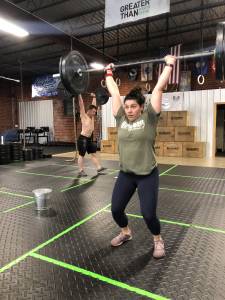 Hey guys,
       Hope everyone is having a fun and safe weekend. I imagine most of you are staying pretty close to home these days but I'm sure you're all finding things to keep you busy! Everyone is doing great at the gym and we can't thank you all enough for working with us and respecting our 10 class max limit. By following these orders we have been able to remain open and still operate within the guidelines of our local and federal government. So we encourage you all to still come in if you feel healthy and safe and we'll continue to provide a clean and positive environment to workout in during this time. Obviously this can be a stressful time and there's no better way to alleviate some stress than physical exercise. So whether you decide to come into the gym or stay at home, please stay moving! Now let's check some announcements and get to work on what this week holds!
We are currently operating at a 10 person class maximum and we will continue to do so unless we are told otherwise by our local or federal government. We want to thank you guys so much for how well you are handling this and how well everyone is signing in and showing up to classes! It's this commitment that has allowed us to remain open and still offer you guys a safe and clean environment to work out in so let's keep it up!
We are continuing to be ever more diligent with cleaning and sanitizing our entire facility before during and after class. We want to ensure you guys we are doing everything in our power to make sure all of our equipment and surfaces are wiped down on a regular basis. However, if you feel unsafe or feel the need to self quarantine please do so and take advantage of our at home workouts! Still be sure to sign in and get credit for your class!
Starting this week we will be teaming up with NCFIT, former Games athlete Jason Khalipa's company, to offer you guys 30 minute in-home workouts each and every day that will be a little more comprehensive than what we have been posting currently. Remember during this time it's even more important that we take care of our mental and physical health so please take advantage of these resources if you decide not to attend our physical classes.
As always our concern, no matter what's going on in the world, is the health of our members! Now more than ever we are committed to that so we asked you guys to please reach out to us with any kind of concerns or anything we might be able to help you all with during this time. It's times like these where our CrossFit community is more valuable than ever and we want to make a commitment to be here for you guys anyway possible!
Monday: We have a cool little piece to kick off your week here with us today! This one is an EMOM/interval of sorts. You'll have five rounds, each one three minutes long, where you'll have to complete a set amount of work. The idea is that this work will only take you about 1.5-2 minutes so you'll get some built in rest. The "work" today will be 9 squat cleans, 7 bar facing burpees, and 5 ring muscle-ups! (Or a pulling variation)  This is no easy feat. The 9 squat cleans are going to get your lungs burning and your heart racing right from the start. Try quick smooth singles to manage this and pace the burpees out so that you can get right to the rings or pull-up bar without too much delay. The key here is good steady work that allows you a little rest to recover before the next round. Anyway you slice it expect to be pretty gassed going into round four and five though, so just try to hang on!
Tuesday: We have a monostructural day today that some of you may not particularly love…but these days are important too! This is a 5k run test! We don't throw it out there often but when it comes up it's important to give it a shot! We will also be offering a 5k row option so keep that in mind if you'd like to avoid the run and still get some good aerobic work in today! Try to keep a positive attitude and stay moving as best as possible today!
Wednesday: Deadlift Day! This is week 6 of our cycle and we are rolling strong! The percentages are climbing back up a bit this week on our way to a new one rep max! Today we'll have a heavier double at 85% and then three sets of three at 70% for some added volume and speed work! After this we'll have some cool accessory strength work so try to get it in and let's make the most of this heavy day! Good stuff!
Thursday: We have a sweet little dive round piece today that shouldn't be too bad! This one has a couple different movements that'll also keep things interesting! We will start with 10 strict toes-to-ring (or bar), then 25 DB/KB box step-ups (to a 20" box), and lastly 100 double unders! Don't worry too much about time on this workout but more keep a good steady pace and focus on good quality of movement! Easy day!
Friday: This is a really cool piece today and really unique! This one is almost all unilateral movements! Think: single arm! This one is three rounds of single arm deadlifts, suitcase carries (that's a single arm farmer carry), single arm thrusters, and row/bike calories! You'll do all three movements with your right arm, take a break to row/bike, then do all three with your left arm. This workout will be super effective and you can expect to be pretty sore since a lot of this will be pretty uncommon for most of us! Pick a load on the DB or KB that you know you can do quality reps with and try to get most sets unbroken. Just have fun with this different piece and do your best!
Saturday: We are going to run our same to class schedule that we did this past Saturday with a 9 AM and a 10 AM class each capped at 10 members. This seemed to work out quite nicely and we will try to open registration 48 hours in advance this week. This past Saturday was not a partner workout and this Saturday will be no exception… Although there is a way we can run this as a partner workout option and still not share equipment so that might be a fun way to go about things! Today will be all dumbbell snatches and box jumps! It will be in an AMRAP style with an ascending rep ladder. This should be a great and simple workout to keep us moving and have a little fun. Remember to get signed up and we will see you all there!
        We know times are a little tumultuous right now but we hope that during all of this CrossFit Simplicity and our community can be one steadfast thing in your life. As we mentioned before, we are going to do our absolute best to ensure a clean and safe environment for everyone to come and continue their fitness. However, if for some reason you need to self quarantine or you aren't feeling well please take advantage of our online resources so that you can continue to workout at home and feel your best throughout this time. We have some really great workouts ahead of us this week and we are excited to continue our fitness no matter what! Again, please let us know if there's anything we can do for you as a community or if there's any areas where you could use our support. Let's have a great week and we look forward to seeing you all in class… Or at least on the whiteboard!
~Daniel