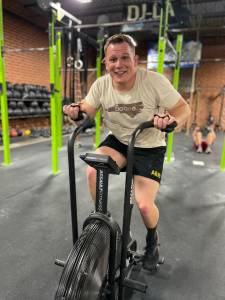 Hey guys,
       It's Sunday, and that means it's time for another edition of the CrossFit Simplicity Weekly Rundown. It's a beautiful sunny day here in Burlington North Carolina and we are ready to wrap up the weekend and kick off another week of fitness with you all here in the gym. You guys did great with week one of our new short strength cycle and we are rolling right into week two with some great lifting pieces and accessory work. We also have a very cool winter/holiday theme for you all this week that should add a little bit of festivity to your workouts. Be sure to get in here ready to put in some good work and see some progress!
T-shirts: New shirts are still on sale at the gym and we have a few left. Ask your coach if you still need to snag one!
Christmas Bring A Friend Day: We will have a festive ugly sweater Bring A Friend Day December 18th at 9am! We will have an ugly sweater contest, a couple fun Christmas games, an awesome workout, and of course DJ-LA in the house with some great music! Hope you all can join us to celebrate the holidays and our fitness family!
Monday: We are going to kick off the week with a little bit of clean work. We will start off working to a heavy triple hang squat clean. Remember this means that the bar will not touch the ground once we pick it up for our first rep. This will be three reps unbroken. Your clean will start anywhere above the knee and will finish with the catch position being in a squat below parallel. After this we will get three sets of three on our clean grip deadlift. This is some great technique work today so really fight to stay in position. Next we will hit a two-part workout called "Winter Wonderland." Part one will be a Fran-style workout of push press and pull-ups. You'll then have until the 10 minute mark before starting part two which will be less reps but more weight and a more challenging pooling variation. This will be shoulder to overhead and chest-to-bar pull ups. Shouldered overhead means you'll be able to get the bar overhead using any method you would like. Most likely a push press or a push jerk. This one's going to be taxing on the shoulders so remember to scale accordingly and break up reps wisely.
Tuesday: Today we are moving forward on our squat progression. This will be similar to our back squats last week except we will be working to an eight rep max for the day. If you hit last week you'll have a good number to go off of for your 10 rep max and should be able to bump up the weight for eight reps. After this we will have two back offsets. One at 90% and one at 80% of your eight rep max for the day. Next we will hit a crowd favorite…"Hot Cocoa." This workout will be three sets, one every six minutes, of calories on the rower, a 300m run, and then another set of calories on the rower. This piece is all conditioning so buckle up. Stimulus for today is moderate to high intensity while still keeping effort a level that is maintainable and repeatable across all three rounds. First round is a tester and the next two rounds are all about holding on!
Wednesday: paying a little homage to our Christmas Bring A Friend Day with this workout! "Ugly Christmas Sweater" he's going to be a very interesting piece. You have three choices today. Each choice amounts to the same amount of work for all three movements but a different number of rounds. Hopefully that makes sense. Less rounds with more reps or more rounds with less reps… The choice is yours! Your movements today will be Devils presses, dumbbell thrusters, and Burpee box jump overs. Obviously you're strategy will greatly depend on which option you choose so pay attention at the whiteboard today and have fun with a little bit of autonomy here in this workout!
Thursday: Another Christmas party classic here today: "Dirty Santa." However, unlike the game you guys will not be able to swap or trade any part of this workout! This will be a 24 minute EMOM of alternating movements and a minute of rest built into the EMOM. Your movements today are calories on the assault bike, kettle bell swings, and GHD sit ups or v-ups. This is definitely a moderate to high intensity piece. You should prepare to move constantly for five minutes without much rest until that last round where you'll have a minute to rest and recover. Each movement should take about 40 to 50 seconds to complete and then begin transitioning to the next movement. If you run over the 50 second mark for any movement make sure you back the reps off to preserve the stimulus. Like that prized gift…See how long you can hold on!
Friday: Like our back squats we'll be looking for an eight rep max on our shoulder press today. Remember again that you have a 10 rep max to work off of so try to build from last week. After this hit you're to drop sets at 80% and 90% and then let's get ready to move! "Fire Side Roast and Toast" is likely going to live up to it's toasty name today. You have three sets of a three minute AMRAP. Each one will begin with 75 double unders, then 25 wallballs, and then max effort double dumbbell box step ups in the remaining time. You only have a one minute rest between rounds and your score will be the number of step ups you complete each round. Be careful because today is going to be extremely spicy on the legs. Test and paste things out on route one and then get gritty!
Saturday: "Milk and Cookies" on the menu today! (Don't you wish it was everyday?!) Well don't get too excited because this workout isn't going to be quite as sweet or satisfying…but it might be sweaty and gratifying! This will be a two-part workout. Part one will be five rounds of assault bike calories and power snatches. You and your partner will be trading movements. You'll have a rest and then you'll complete five rounds of assault bike calories and power clean and jerks. Your rest between each part will be the time it takes you to complete part one. The snatch and clean and jerk weigh today is on the moderate to heavy side but the reps are low. Make sure it's something you can pull in smooth methodical singles. This is actually a great work out today with your partner so have fun and encourage each other!
     Well, that's all we've got for todays episode of the CFS Weekly Rundown! It's definitely going to be another great week here at the gym and we hope you guys can continue to stay consistent and motivated despite all the holiday hustle and bustle comes around this time of year. Always remember that a great goal would be to simply make the Committed club board and you know you are on the right track. You might also score a sweet gift card in the process! We hope you guys have enjoyed reading and can all make it to our Christmas Bring A Friend Day event December 18th. Now enjoy what's left of your weekend and get plenty of rest, recovery, and relaxation so we can hit it hard Monday. See you all in class!
~Daniel