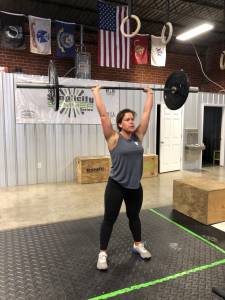 Hey guys,
       What another beautiful Sunday in Burlington North Carolina. We are getting so blessed with sunny days, warm weather, and epic workouts. This week is going to be no different! We have some really exciting stuff coming down the line for you guys so be sure to get in here as much as possible so you don't miss any of the action. This is an extra special week for us because Saturday is our next Bring A Friend Day with DJ-LA Events! It's been a minute since we've had one of these so be sure to spread the word to all your friends so we can show them this amazing community we have built! Now I've got a bit of a confession to make… I'm not really up on this weeks theme: Tenant. Maybe some of you guys have seen the movie and can help me out but I'm a little bit behind on this one so expect the least witty Rundown you've seen in a while. It is what it is…now let's dive in!
6:30am Class Under Review: The 6:30 AM class has drastically dropped off in attendance and we are putting it up for review again. As a probationary period we'll be running this class for the next couple weeks but know that there's a good chance that it may disappear again based on lack of necessity and attendance. Remember also that if you are planning on attending a 5:30 AM or 6:30 AM class you need to register the night before to ensure we have a coach there available!
Bring A Friend Day: We are super excited to announce that our next Bring A Friend Day in here with DJ-LA will be May 8th! So spread the word and get here for a good time and a great workout!
Christmas Cheer Cash Raffle: Every year we partner with Christmas year to provide for a local family in need. This year we really stepped it up and you guys came through in an amazing way. Because of the Covid situation Christmas Cheer had to cancel a couple of their major fundraising events and asked us to help out in selling some tickets they are doing for a cash raffle. Contact Daniel at the gym if you'd like to purchase some tickets. Top prize is over $1000!
New Shirts: New house tees are coming! As well as a new summer tank so stay tuned!
Memorial Day Murph: The last weekend and May we will be having our Memorial Day Murph event! You'll start noticing some prep pieces to get you all ready!
12 Week Mile Progression: Remember to do your six minute max distance run test for our 12 week mile progression. These workouts will be posted every week and will build off each other so that you can PR your mile at the end of the 12 weeks!
Monday: Murph Prep Monday! Whoop whoop! We're going to open up the week with "Tenant." This will be one of the workouts that we will be referring to as "Murph prep" and will be designed to help us tackle that awesome hero workout memorial day weekend. First off let's define Murph. Murphy is a hero workout consisting of a 1 mile run, 100 pull-ups, 200 push-ups, and 300 air squats, all followed by another 1 mile run. Many times athlete or choose to partition the middle of this work out into rounds of Cindy. One round of Cindy's five pull-ups, 10 push-ups, and 15 air squats. As you can see 20 rounds of Cindy would equal 100 pull-ups, 200 push-ups, and 300 air squats. Today's workout was going to utilize rounds of Cindy and running to help us get in some volume and get prepared. Tenant will be a 500 m run followed by five rounds of Cindy, a 400 m run followed by four rounds of Cindy, etc. etc. until we finish things out with a 100 m run and one round of Cindy. We want you guys to finish this up and around 20 or 22 minutes and intensity should be moderate throughout this entire work out. Focus on steady pacing through all the runs and rounds of Cindy. Today's total is only 1500 m, 75 pull-ups, 150 push-ups, and 225 air squats so it's a good look at how Murph will feel later this month. Be sure to scale accordingly to hit that goal and get the desired stimulus for the day. Good stuff!
Tuesday: Those of you who participated in or followed the quarterfinals this year will recognize this next work out immediately! "Neil" will be 120 wallballs and 120 calories on the rower (90 for the ladies). There's going to be a slight change today though. In the quarterfinals workout athletes had to complete this as a chipper where all the wallballs had to be done first before you could move on to the rower. Today reps can be partitioned and you can move between movements until all the total reps are completed. This definitely adds in a little bit of strategy and some extra fun! You want to focus on strategic sets and avoid burning out if possible. Make sure that you pick a wallball weight that allows you to complete at least 20 smooth reps unbroken when fresh. Make sure you're breathing each rep and consider doing descending reps sets to help boost your morale mentally. Focus on long strong pulls on the rower and be aware that the wallballs will heavily affect leg drive during this movement. Have fun with this one I'm really do your best!
Wednesday: Another quarterfinals workout? That's right! "The Protagonist" will be quarterfinals event one. This is a two-part workout, each consisting of three rounds. Your first three rounds will be strict handstand push-ups, dumbbell hang power cleans, and double unders. You'll have a one minute rest before you start your next three rounds of kipping handstand push-ups, dumbbell push press, and double unders. The goal today will be 9 to 11 minutes but we are going to extend the cap out to 14 minutes rather than the 10 minute in the quarterfinals. This is going to be a moderate to high intensity workout accompanied by massive shoulder fatigue! If you are able to perform at least five unbroken strict handstand push-ups then you'll probably be fine to attempt a strict handstand push-ups today. If not be sure to modify this movement to something that's going to keep you moving. Ask your coach for help! The dumbbell hang power cleans are in essence a double dumbbell curl but be sure that the dumbbells start in the hang position above the knee and a full rep is completed when you reach for extension of the knees and hips with the dumbbell heads in contact with your shoulders. They should definitely be something you can complete unbroken. If you need to shorten the double under reps to hit the goal please do so or consider doing the same number of single unders. There are a lot of fast transitions in this workout so make sure you are set up properly and maybe have some back up movements ready for yourself if your shoulders start to fatigue too heavily.
Thursday: Again, I haven't seen Tenant so I have no basis for this next workout title… But if I had to guess I would say there's probably some direct relation in the name and the actual workout…"Don't try to understand it. Feel it." I think you guys will certainly "feel" this one with your partner today! That's correct, Thursday is a partner workout! You guys will be working through a descending rep chipper of GHD sit ups, rope climbs or strict pull-ups, and assault bike calories. Volume is relatively high here but remember that you are splitting the reps with a partner. This is a variation of quarterfinals event two. It has been modified to be a partner workout and also has pistols replace with assault bike calories in order to avoid repetitive movement with the earlier programming from this week. It's always fun to suffer with someone else so don't miss out on this partner workout! Be sure to share the load between yourselves and feel free to modify these movements so that you can stay moving. Total reps for the GHD's today are 180 so you may want to consider lowering this number or going to an abmat sit-up. It's also nice that today you can choose between rope climbs or strict pull-ups and either variation is considered RX. Have fun with your partner on this one and just stay moving!
Friday: After everything we've seen this week what would you expect other than another quarterfinals workout? Today will be 9-6-3 reps of power snatches and burpee box jump overs. Like the quarterfinals workout the weight will be moderate/heavy and the box will be high so be sure to adjust these two so that you can hit the target time and not risk a time cap. This one is meant to be fast and aggressive but do be cautious on the burpee box jump overs. Make sure the weight you choose today is movable and the height of the box is comfortable for a safe and explosive workout! Think about maybe 70 to 80% of your one rep power snatch as a good jumping off point. We want the goal to be smooth singles and no missed reps. The burpee box jump overs will be the scary part of this workout. Heart rate will be high and legs will begin to tire. Really jump with everything you've got so that your feet safely clear the box and don't be lazy! Really attack this one with some intensity today!
Saturday: Bring A Friend Day! It's time to get in here and celebrate this awesome community that we have here at CrossFit Simplicity Today you get the chance to share that with your friends and family. We can't wait to see you all there for a fun, first time friendly workout with your coaches and live beats from DJ-LA!
        What a week we have in store here in CrossFit Simplicity! I never tire of going through the week and reviewing all we have coming up for you guys. We are so pleased with the programming lately and how you guys have come in and executed it week after week. It's really paying off! Huge congratulations to everyone last week as we saw a tremendous amount of PR's in the culmination of our eight week string cycle. Continue to trust the process and get in here as consistently as possible and the results will continue to pour in over the next couple weeks and months. We hope you guys are enjoying this beautiful Sunday and you get plenty of relaxation, rest, and recovery so that we can have a great week. See you all in class!
~Daniel