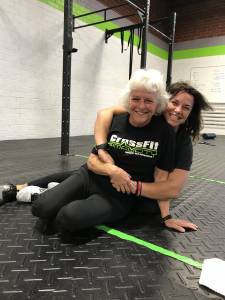 Hey guys,
     It's a beautiful Mother's Day here in Burlington, North Carolina! We want to wish all of our CFS moms, a happy Mother's Day! We are so thankful for you ladies and all you do inside and outside the gym. Hope you guys feel the love and appreciation today. We have an excellent week ahead of you all as we go into a deload week in our strength cycle. This will allow our bodies a chance to recover before we test out some new maxes the following week. Our theme this week is "Back to the Future" and we have some great workouts to go along with it. Be sure to glance over the announcements because we have some important things coming up in the near future. Now let's dive in!
Memorial Day Murph: Murph is fast approaching! We will be hitting this on Monday May 29th in two heats. We'll have a heat at 7am and one at 8:30am. There will be links sent out where you can reserve your spot in advance. Drop-in and friends are welcome to hit Murph with us but dude to space and availability there will be a drop-in fee.
Weightlifting:
Week 8 (May 15th) (Deload)
Tues: Every min (10 mins) 1 Squat Snatch (Don't go over 75%)
Thurs: Every min (10 mins) 1 Squat Clean (Don't go over 75%)
Fri: Every min (5 mins) 2 Split Jerks (light/moderate) Into – Every min (5 mins) 2 Snatch Drops(light/moderate)
**Deload week will give our bodies, muscles, joints a chance to rest and recover so we can give it our best shot next week when we max out so stay light and focus on form!
Workouts:
Let's kick off with "Murph Prep Monday!" On Tuesday, we'll start with our first workout from individual Quarter Finals (and were surprised to see the Single Under Crossover introduction). Moving on to Wednesday, we have another quarterfinal metcon, featuring a new movement in the competitive realm, the V-Up. Thursday will be a "Just Move" day, giving a break to those who have been working hard during the week, while whoever wants to push themselves can still get a great workout. The week finishes off with an ascending reps scheme of Wall Walks, with Front Squats before every set. Those who attend Saturday's session will experience a great upper-body workout from the Age Group Quarterfinals, in a partner style.
     It's looking like an excellent week as always here at CrossFit Simplicity! That's all we've got for the Weekly Rundown but again I want to wish all the mother's a Happy Mother's Day from all of us at CFS! Hope you ladies have a great weekend. Let's also keep up the good work in the gym. You guys have been really hitting it hard as it warms up in the gym so stay with it! Now get plenty of rest, relaxation, and recovery so we can hit it hard. See you all in class!
~Daniel