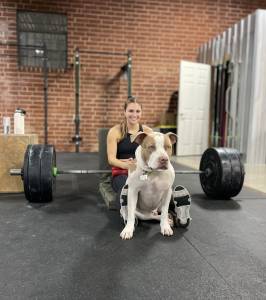 Hey guys,
      Are you ready kids? I can't here you! Are you ready kids? It's time for…another CrossFit Simplicity Weekly Rundown! it's a beautiful, cooler, Sunday morning here in Burlington North Carolina and we are ready to dive into the week! We were on a bit of a hiatus here for the last two weeks but we are back and better than ever! We have an awesome week in store for you guys with a SpongeBob SquarePants theme and the continuation of our six week strength cycle! For some of you guys this theme will be pretty nostalgic so enjoy. If not, just remember that in reality these themes have nothing to do with the actual workouts which are always amazing and super effective! Do keep in mind that we are back in the swing of doing lifting and conditioning during class so be sure to show up on time, stay focused, and stay moving! Now let's check out a few announcements and jump in!
Bring A Friend Day: Our next Bring a Friend Day will be October 30th at 9am! DJ-LA will be here of course so spread the word! Costumes strongly encouraged!
We will have some new shirts on the way soon, as well as some cold weather gear so stay tuned!
Monday: Who lives in a pineapple under the sea? Absorbent and yellow and porous is he. Thats right, you guessed it. SpongeBob SquarePants! That's our theme this week and the first workout we will hit. We will kick your Monday off with a snatch grip push press and overhead squat complex where you will be doing to snatch grip push presses and one overhead squat. The goal will be to build to a heavy set of this complex while maintaining proper form and overhead position. Remember to press up on that bar and keep those shoulders active. After this "SpongeBob SquarePants" will be a chipper style workout with burpee box jump overs, calories on the rower, and light power snatches. The stimulus is moderate to high intensity today and the volume of reps is on the medium side, meaning you can push the pace through this workout but just be careful that you don't go so hard that you cannot maintain the same pace on the backside. This workout will be worn and lost on the snatches. Make sure you stay light to keep the stimulus! Easy day!
Tuesday: Our lifting today will be a clean and jerk complex consisting of five clean deadlifts, three hang power cleans, and one push jerk. This is a longer complex so be mindful that your grip will fatigue and you are not allowed to drop the bar until after the push jerk. Maintaining form and a good hook grip is going to be important today! After this we have a break from my workout theme to hit an old classic CrossFit benchmark workout, Diane! This is 21-15-9 of deadlifts and handstand push-ups and it's a burner! This is definitely a hot intensity workout but take special consideration of the increase shoulder fatigue from the pulling and pushing. Strategy is going to be all over the place just depending on the person. Some of you guys can push for higher reps while others may take quick breaks. Regardless the intensity should stay high and you should continue to attack until the end! If you're scaling this remember that you should use about 50 to 60% of your one rep max deadlift. After this we will have some strict pull up accessory work to round out the day. Good stuff!
Wednesday: You will definitely earn your Krabby Patties today when you're finished hitting "The Krusty Krab!" This is going to be an 18 minute AMRAP of calories on the assault bike, double dumbbell walking lunges, and push-ups. We want some moderate pacing today where are you can stay steady throughout the workout and maintain similar times across rounds. Pushing too hard on the bike will put you in a deficit when working on the lunges and push-ups so be smart there. Our goal time is going to be about 3 to 4 minutes around if you're looking to get within the target. Ideally the dumbbell lunges will be completed unbroken but it might be smart to break up your push-ups into short quick sets to avoid burnout. After this we will do a little bit of handstand work to finish things out.
Thursday: We are going to have a good little clean and jerk technique day today. Be sure that you keep in mind that this is the goal for today. To work on technique, not to build to a super heavy single or a one rep max. We will have 10 single clean and jerks all performed between 70 and 80% of your one rep max. The focus is technique so keep it there! After this we have a great partner workout called "Goofy Goober." This will be laid out in a style we are fairly familiar with. You and your partner will each be responsible for four rounds of the work out yet you will complete a full round by yourself while your partner rests, and then switch. Rounds will consist of wallballs, pull ups, box jumps and then another set of wallballs. You are going to need to work fast and aggressive in order to finish with the target time. Make sure that you scale to keep the stimulus. Also remember, and we say this often, that your first round should be your slowest and then we want to see your pace increase as you go on. Everything should be virtually unbroken today but if you need to complete your pull ups in 1 to 3 sets that would be acceptable and should still land you in the target time. Rep counts are low today so try to keep moving and have some quick transitions. You'll be getting a big rest while your partner works so send it!
Friday: You guys will usually hear me say that these workout themes are super fun but really don't relate much to the actual workout themselves. Let's pray that's the case today when we hit, "The Chum Bucket!" (PSA: if you ever get sick please do it in the toilet or the outside trashcan) Okay, all jokes aside, we have a solid piece today. This is going to be a five round workout with three minute rest between each round. Your round will consist of a 300 m run, 20 GHD sit ups, and 60 double unders. Try to find a moderate/fast pace well obviously aiming to get slightly faster each round. Remember that the first set is a tester and after that it's all fight and will power to get better. Make sure you run at a pace that allows you to immediately get to the sit ups when you come back inside. If you can string together 15 to 20 double unders at a time then go for it today and see how it works. If you have to drop the double under reps or go to singles to keep the pace. Let's see who can get negative splits today!
Saturday: As always we have a fine partner work out for you guys today. "The Hash Slinging Slasher" Will be multiple eight minute AMRAPs of calories, burpee box get overs, kettlebell swings, and power cleans. Each AMRAP will consist of calories but the movement associated with each AMRAP will change from burpee box get overs in the first, to kettlebell swings in the second, two power cleans in the third. This should be a fun and interesting piece to keep you moving and get a good start to your weekend. As always remember to work with and encourage your partner and just have fun!
        That's all we got for this weeks edition of the CrossFit Simplicity Weekly Rundown! We hope you guys are excited to join us in Bikini Bottoms this week and get in some solid work together. (In case you're not familiar with SpongeBob SquarePants, that's where he lives, please don't show up to the gym in bikini bottoms!) You guys really crushed the last lifting cycle so be sure to stay consistent during this cycle and let's see some similar results. Always remember to listen to your coaches about the stimulus and the goal for the day whether we are lifting or conditioning. This is what's going to make your workouts the most effective and get you the results you are looking for. Now enjoy the rest of your weekend and get plenty of rest and relaxation so we can hit it hard on Monday. See you all in class!
~Daniel