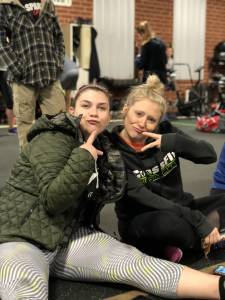 Hey Guys,
        Great job last week! Thank you to everyone who came out to the Push Pull for Pancreatic Cancer workout! That was a great workout! And we have some more great workouts this week. Remember it's important to stay ahead of the holidays and be consistent. It's not always important that we have amazing days when we are in the gym, but it is important that we come in and put in that work/"check the box" every day! Check out below to see what's in store this week!
Gymnastics Course: We are about to begin our next (and possibly last for a while) 4 week gymnastics course. Due to feedback we are excited to offer this class on Wednesday nights now at 6pm; beginning THIS Wednesday the 14th. The course will focus on basic motion, handstands, ring and bar muscle ups.  To get signed up email daniel@crossfitsimplicity.com
Monday: Time to kick the week off right! If you cheated a little this weekend then fear not..this workout will get you back on track. This one is a simple 2 movement chipper with lots of burpee box jump overs. Some of you will fly through this but most of us will really need to pace these out and move smoothly until the last 15-20 reps. Be smart and watch your feet on that box!
Tuesday: Another great EMOM for you all today. This one will certainly favor the body weight/gymnastics ninjas but it's still a good one for all of us. This will be a 30min EMOM, although one minute will be a rest minute. The minute before this is a round of "Cindy" so go all out on that and let's get ready for "Murph" this Memorial Day right?!
Wednesday: It's time for another "Weightlifting Wednesday!" Today's lift will be a snatch double. You decide whether it's a power or a squat snatch but we want it "touch and go" (TNG), meaning you will not release the bar between reps. The work will be on the "2 minute" for 14 minutes. Giving you seven sets to work up to a heavy double. After this we will finish off with a behind the neck snatch grip press to build some strength in the overhead position of the snatch.
Thursday: We have a solid 3 round workout for you all today. This one is a good mix of shoulders, legs, and skills…meaning we have some handstand walks if you're "up" for it or some shoulder taps if you aren't. Either way this is a solid WOD. We'll be using the wallballs for a medball clean as well as some wallballs and both will need to be paced a little early on. Sometimes breaking up things early will allow you to really push yourself in the final round.
Friday: "Monday you can hold your head, Tuesday, Wednesday stay in bed, Or Thursday watch the walls instead, It's Friday I'm in love" ~The Cure   This a pretty cool little workout we have today. There's a double kettlebell swing which is always pretty uncomfortable. You'll need a wider stance for these and remember that they are "Russian" and not fully overhead. The hand release push-up will sneak up on you so don't underestimate these in the first round or 2. We have 100 total today so break things up smart and we can always go to near failure at the end..NOT the beginning! To quote Holt, "don't go full dummy!" Overall this is a great workout to cap off a great week.
Saturday: Saturday is still TBD but you can rest assured, as always, it'll be a good partner/team workout to kick off your weekend right.
I just want to take a minute to say how thankful I am (and we are) for all of you here at CFS. It's amazing how this place turned into a community and a family that has been so impactful to myself and so many others. We look forward to seeing each and everyone of you in class daily and we want you to know that! This place wouldn't be what it is without YOU. I am so grateful for you all. Enjoy the rest of your weekend and we'll see ya Monday!
~Daniel