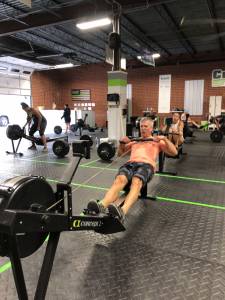 Hey guys,
       It's that time of the week where we put the past behind us and look forward to what's ahead…the Weekly Rundown! We did an excellent job of getting in the gym and putting in good work last week. We saw some pretty tough workouts but you guys really killed it. I'm sure this coming week will be no exception! Remember if you need to hit Open workout 20.3 there is still time on Monday as long as you get your scores submitted by 7-8pm. This week is looking really good. We have some solid workouts with a good but of variance to keep things interesting and to keep your body guessing! Be sure to get in here as consistently as possible so we can get those results! Now let's check out some quick announcements and see what the program is looking like…
Hoodies/Sweatshirts should be in by the end of the week or beginning of next. You will not be charged until they arrive. When they do, you'll be charged, and you'll be able to see a coach about picking yours up!
Bring A Friend Day was awesome! Thanks to all those who came out and thanks to DJ-LA for the tunes! The next one will be Nov 16th!
Monday: We need to talk about some "Monday mindset" before we unveil this one today! It's easy to get down on Monday's and be a little negative but this is NOT how you want to start! Try to roll into Monday positive and knowing that how you treat today will set the tone for the rest of your week! Ok…that being said: we have a 20min EMOM alternating between 12 Box jump overs in the first minute and 12 burpees in the next minute. That's right…burpees on a Monday. Coming to class today will be a real test of will power and commitment! In all seriousness though guys, this is a great aerobic workout and one that will really help you build a motor so don't skip out! We can always scale the reps per minute as needed.
Tuesday: We have a great piece for you guys today but certainly not an easy one. This one will be a great practice for the Open season because it incorporates a lot of movements that's we've seen in the past and are likely to see in the future. This one is an AMRAP with overhead dumbbell walking lunges (these are tough), alternating dumbbell snatches, and chest-to-bar pull-ups. These are movements that are a little more skilled and are good to practice now and then. The overhead lunges take an unusual amount of mobility so if you can't do these don't get frustrated. Just lower the dumbbell weight or lower them to a front rack. We are looking for about three or four rounds on this one today so try to keep the pace moving that be careful to break things up enough so that you don't blow up your shoulders in the first round or two.
Wednesday: Hump day is looking really good this week! Not that this one is particularly easy but it is certainly a great workout! This one is a really cool set-up and some great movements. Similar to one we had last week we will have alternating intervals of work and rest. You'll have 4 rounds of hang "squat" cleans, row calories, and wallballs. But the kicker is you'll have to work in 4 minute intervals with 3 minutes of rest between each. Because the rest is so long you'll really be able to push the pace during your work interval! Try to do the cleans in no more than 2-4 sets and try to get the wallballs unbroken. The row calories will be a separating factor for some of us so just take things strong and steady to knock them out! Easy day!
Thursday: Heavy day! This is great day to work on some power clean technique and get in a little bit of rest before Open week 4 workout is programmed on Friday. Today we'll be working towards a heavy power clean. Today we will use an EMOM where we begin with 70% of our one rep power clean max and increase weight each minute for 10 minutes. If you get to the end of the 10 minutes and feel like you have more in the tank then definitely take another rep or two and keep increasing weight. If for some reason you max out or begin to fail reps before the 10 minutes is up then drop back to a manageable but heavy weight and work on technique for the rest of the EMOM. After this we will break down and do a little bit of handstand push-up accessory work! Good stuff!
Friday: Open workout 20.4! Any guesses on what it'll be? All we know so far is what it WONT be: burpees, ground to overhead, toes to bar, dumbbell thrusters, double unders, deadlifts, handstand push-ups, and handstand walks…everything else is on the table!
Saturday: We have a really cool and really tough workout today! This is a fun partner one but one that's not your typical work/rest layout. There will be a bike/row buy-in/buy-out but for the rounds in between you'll be working at the same time as your partner to complete opposite parts of the round then switching. So the only real rest you'll get is if you beat your partner on their part. The middle rounds are: 4 hang power cleans, 8 alternating front rack lunges, and 12 toes to bar. This is a great workout that will really challenge your strength and your conditioning!
       We have another epic week here at Simplicity! None of these workouts are really ones that you guys should feel anxious or worries about. These are some solid pieces with lots of cool and interesting variety for us. Be sure to get in here as much as possible so you can take advantage of this and continue to work on being more and more well rounded. Remember that the workouts you like the least are arguably the workouts that will benefit you the most! Let's have an amazing week and keep chasing these goals and getting great results! See you all in class…
~Daniel