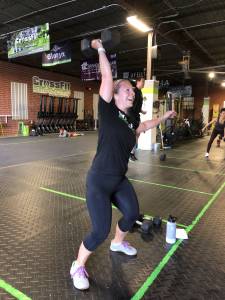 Hey guys,
      There's no denying it's been a bit of a gloomy weekend here in beautiful Burlington North Carolina but that's all about to change! Just over the horizon is another addition of the CrossFit Simplicity Weekly Rundown and the forecast is looking like exciting workouts and warmer temperatures as we dive deeper into the week. This is also an exciting week for us as we will be wrapping up the month of April and kicking off May. And last, but certainly not least, it's an exciting week because we will be wrapping up our strength cycle and maxing out our lifts! We talk about this so often but remember to stay committed in order to see the results you're looking for and also for a chance at that committed club drawing every month. Attendance has been great so I'm sure we will see lots of you on the board! Our theme from Mayhem this week is one that may be familiar to some of you out there as it comes from the all-time best selling book in the world…the Bible. We will have some interesting characters and some very interesting workouts so let's check it out below…
6:30am Class Under Review: The 6:30 AM class has drastically dropped off in attendance and we are putting it up for review again. As a probationary period we'll be running this class for the next couple weeks but know that there's a good chance that it may disappear again based on lack of necessity and attendance. Remember also that if you are planning on attending a 5:30 AM or 6:30 AM class you need to register the night before to ensure we have a coach there available!
Bring A Friend Day: We are super excited to announce that our next Bring A Friend Day in here with DJ-LA will be May 8th! So spread the word and get here for a good time and a great workout!
Christmas Cheer Cash Raffle: Every year we partner with Christmas year to provide for a local family in need. This year we really stepped it up and you guys came through in an amazing way. Because of the Covid situation Christmas Cheer had to cancel a couple of their major fundraising events and asked us to help out in selling some tickets they are doing for a cash raffle. Contact Daniel at the gym if you'd like to purchase some tickets. Top prize is over $1000!
Monday: We are kicking off Monday in style with our first one rep max…The back squat! You'll have 10 to 12 minutes to work to a heavy single for the day. Try to make smart jumps and get there in about 5 to 8 sets. Get after it today! Next we will be hitting an awesome two-part conditioning piece called "The Chosen." This will be very similar in layout to Tuesday's workout from last week. You'll have three rounds of muscle ups, hang power cleans, shoulder to overhead, and double unders. Then you have a rest followed by a chipper of the same four movements with the same total number of reps from the first three rounds. The workout stimulus for today is moderate effort and steady pacing. The barbell work should be challenging but you should be able to do it unbroken for the first three rounds. The goal today is to stay moving through the entire work out. If you get stuck due to skill or bar weight then make adjustments to keep the intensity high! One interesting fact about this workout is that you'll be able to choose between ring or bar muscle ups. If you don't have these you'll be able to do burpee pull-ups instead!
Tuesday: We have a really cool two-part workout lined up for you guys today called "I am He." There will be two sets to this work out with a three minute rest between each set. Each set will consist of three rounds of running, sit ups, and handstand push-ups…strict ones! This means you'll have six total rounds of this workout but it is separated into two sets of three rounds with a three minute rest in between. We want you guys to try to find an intensity that you can hold steady across the rounds and the goal for this workout is to achieve a similar time for both sets. We will score each set separately. Because the reps are short and the runs are sure it's going to be tempting to want to come out of the gate super hot but try to resist this urge and maintain a good strong steady pace throughout. Easy day!
Wednesday: Hump day! (And weightlifting Wednesday!) We are going to try something a little different today. Bench press! We've been doing lots of floor presses as an accessory through this cycle and it's time to pull out some benches and see what we can do. We will be slightly limited on the number of benches we have so come to class prepared to share and work together. We will partition a certain amount of time for you guys to work on achieving a heavy single on your bench press. After this we will be hitting "Hope." This is going to be a three round workout where you'll rotate every minute through different movements. Your goal be to get max reps of each movement within that minute before you rotate. The movements they will be burpees, light power snatches, box jumps, light push presses, and calories on the rower. Luckily you will get one minute to rest before resetting each round. Good stuff!
Thursday: Big strength day coming up for you guys today! We're going to kick the day off working to a one rep max deadlift. I want you guys to really go for it here if you're feeling good. Tighten up that core and really drive through the floor as you squeeze the bar and see what you can do! After this we have a interesting little piece that's going to be called "Peter." You'll have 100 back squats for time directly into 100 abmat sit ups. The back squat weight is light and you'll have to follow a Tabata layout. Meaning you're trying to complete 100 reps as fast as you can but you can only work for 20 seconds at a time before you are forced to take a 10 second rest. Once you have completed your 100 back squats in this Tabata fashion you will then go directly into abmat sit ups as fast as you can with no sort of time constraint on the clock. You're going to need a strong mental push on these back squats. You will be battling leg burn so go lighter than you think. This needs to be under 40% of your one rep back squat…for most of us well under. The goal for most rounds will be to complete them without dropping the bar and make sure you're able to get at least 10 reps in the 20 seconds of work. Get gritty!
Friday: Partner workout alert! Love these…especially on a Friday or Saturday! "When he saw their faith" It's going to be a 30 minute partner AMRAP of calories on the bike, pull ups, and power cleans. Like a lot of our partner workouts lately you'll be alternating full rounds back-and-forth. Because these rounds are a little bit bigger you'll certainly have some more rest today so try to keep the intensity consistent and moderately high across all rounds. We want to hold the bike at a moderate pace, stay close to unbroken on the pull ups (1-2 sets), and then really attack the barbell. Utilize the rest to recover and try to keep round times relatively close throughout the workout. Think about a power clean weight that is moderate to heavy…somewhere between 70 and 75% of your one rep max. It's always more fun to throw down with a friend so make sure you get into class today and let's put in some solid work on this one together!
Saturday: Some of you guys might need a drink after this one! "Water into Wine" is going to be a really cool team workout… That's right, not a partner workout, a team workout! Teams of three will rotate through 100 alternating dumbbell step ups while one partner holds a plank, 200 wallballs while one partner holds a handstand, and another 100 alternating dumbbell step ups while one partner holds a plank! This means at any given time one partner will be working on the task, another partner will be in a static hold, and the third partner will be resting. The stimulus for today's workout is definitely high intensity. When it's your turn to go you need to MOVE! You guys can really strategize and have some fun with this one. You do not have to keep the same rotation through the workout and can only accumulate reps when one partner is performing the hold. A good rotation might be work, hold, rest or hold, work, rest. Up to you!
       That's all we've got for you guys today! Even as I look outside it's a beautiful Sunday and I know it's going to be a bright week here at CrossFit Simplicity. Keep walking through the door each and every day bringing your positive attitude and energy that make this place so special. We are going to need that high energy as we max out the strength cycle this week and really go for some new personal records! We have lots of cool things coming up this summer and lots to be excited about so continue to stay consistent and keep working on achieving your goals inside and outside the gym. Enjoy the rest of this beautiful Sunday, get plenty of sleep and recovery, and we can't wait to see you all in class!
~Daniel