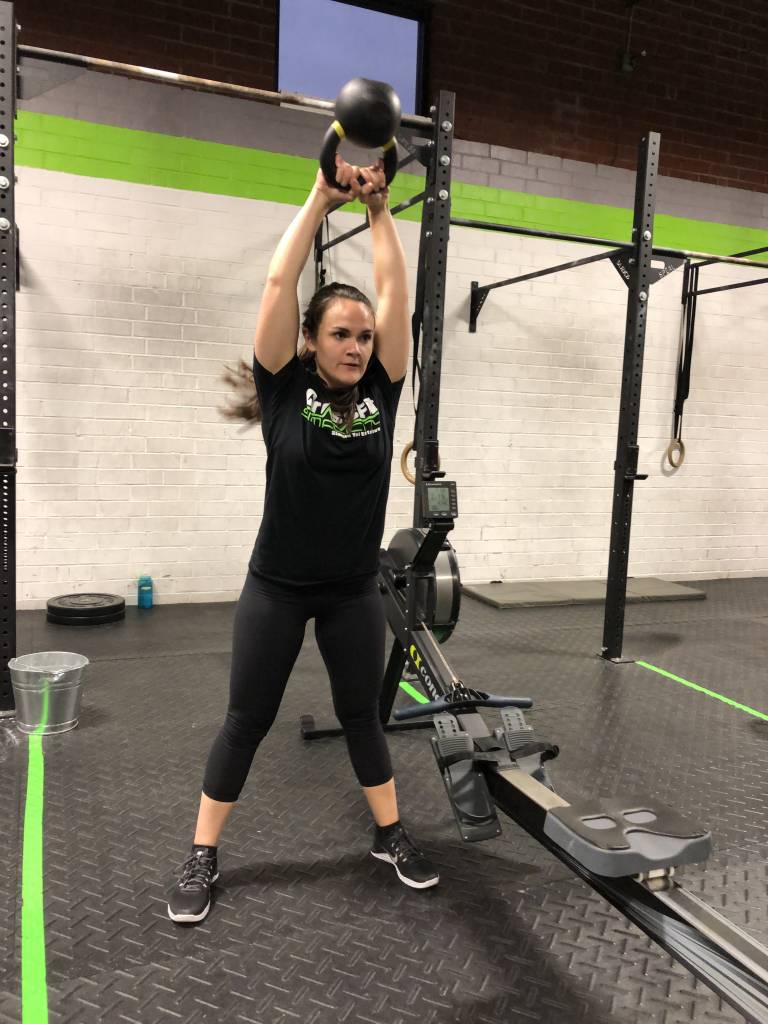 Hey guys,
It's that time again! Time to start a new week and keep working on those goals! We had a great assessment week last week and saw tons of PRs and improvement. We also established a great baseline and recorded some good data so that we know how to work the rest of the year. Now..it's time to get on that work! Be sure to check out the announcements and then see what the week holds..
"Bring A Friend Day" is this Saturday at 9am! It's going to be a great one so be sure to spread the word! DJ-LA will be dropping the best workout beats for us as well!
The trophies are finally here so we'll be announcing the 2019 crossFit Simplicity Open Team/Individual winners!
We will also be awarding the Feb and March Committed Club winners this Saturday!
Monday: We have a great workout to start your week! This one will be using a couple of  movements we haven't seen in a while. The push press and the medicine ball clean. Remember on the medball clean that you want to pass through the full extension phase of the clean pull and then receive the ball in a full squat below parallel… This is a great chance to work on your bottom position so try to take this movement seriously and treat it just like you would a barbell clean. The push press weight is a little in the moderate to heavy side so remember to scale this movement to make sure you complete the workout close to the goal time. It's going to be five rounds so use the first one to feel things out and then build in intensity from there.
Tuesday: We have a heavy power clean day for you today. This will be a chipper style workout with some heavy power cleans to start and a row/bike to round it out. The idea here is to keep the power clean weight to something challenging that you'll have to use singles on. This will be a 9 min AMRAP and should give you time to complete about 1 round. This means you can expect to spend about 5 minutes on the cleans alone. Make sure to keep your feet under you in the catch and your elbows fast! 
Wednesday: I can hear it now…moans and groans…but…remember that the more you hate it…the worse it looks…the more accomplished you'll feel when you knock it out! This one is 2 rounds of….thrusters and burpees. Possibly the most hated movements in the gym. But this one is good! It'll get you the strength and endurance that most of us are looking for. We'll have two options here today and both are pretty high volume. The thruster a normal (95/65) weight and the burpee is standard. The key here will be pacing that first round and not getting to ahead of yourself. You'll want to get through the first round with a little in the tank and then hit it hard on the second round. If these are movements that aren't in your wheelhouse then be willing to scale the weight and the reps! 
Thursday: Weightlifting day! We'll have a two part day today with the split jerk to start out and then some kettlebell front rack carries as an accessory. We'll be working towards a 1 rep on the split jerk with some triples and doubles to build up. The key here will be to keep a tight core, a tight and fast dip and drive, and then push yourself under the bar! The split jerk is one of the most aggressive lifts. You'll need to drive up hard and then split under hard! Dip. Drive. Dip!
Friday: Absolutely great workout to cap off the week week for us today! This one is going to be a great mixture of pushing, pulling, and aerobic work! It's a 21-15-9 style workout with heavy deadlifts, handstand push-ups, and double-unders! This is one you will want to pace out but not too much…sometimes you just have to go! Know your capacity for heavy deadlifts or handstand push-ups and set a strategy from there. If you know that heavy deadlifts blow up your lower back and make sure to break those into smaller sets… The same goes for the handstand push-ups. Always try to be conservative where you are weak in a workout and make up ground where you are strong. This will be a great well-rounded workout to kick off the weekend so go for it and have fun! 
Saturday: Bring A Friend Day! It's back and better than ever! This Saturday, April 13th at 9am, will be our next chance to share CFS with all those in our lives! Be sure to spread the word get yourself in here! This will also be the day we'll award our Simplicity Open winners and the Committed club! DJ-LA will be here as well to make sure we are pumped up and ready to hit it hard! 
Great week last week guys! It was a lot of fun got all of us CFS coaches to see you guys testing and hitting new PRs! It's always fun to see how far we have come or to set new baseline numbers to build on in the future! We have a lot of great programming and fun events coming up this spring so get ready! Now…let's hit this week with some renewed rigor and dedication!
Success isn't owned, it's leased…And rent is due.
~Daniel