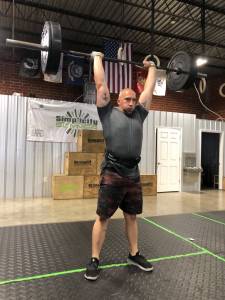 Hey guys,
      It's Weekly Rundown time! (the abbreviated version) That's right, today is going to be a bit of a "run" down for our Father's Day edition. Why? Because I'd rather be a father this morning than write to Rundown to you guys so I do genuinely apologize, but let's dive in! Since we are on the subject happy Father's Day to all of our amazing CFS dads out there! Being a dad is a huge responsibility and one that takes physical, and maybe to a greater degree, mental strength! Hope you strong dads have a great day and spend plenty of time with your kids! The theme is a little confusing to me this week so we will take it day by day and you can interpret it how you want. The most important thing though is that we do have a really awesome lineup of some effective workouts and the continuation of our strength cycle. Get in here as much as you can this week and let's crush it!
Bring A Friend Day: What an amazing Bring A Friend Day! You guys really showed up and brought an awesome energy and a lot of fun! Again another huge thanks to DJ-LA for always showing up and giving it her all to provide a great experience for us! Can't wait until the next one…Details below!
MS Strong: Our very own Tiffany Light is hosting an event right here at CFS to raise money and awareness for MS! This is going to be a fun CrossFit event Saturday, July 24th at 9 AM! This event is for all levels of fitness so invite your friends! It's $25 to register and all of the proceeds go to the MS Run Organization! (Oh yea…and DJ-LA will be here!)
Monday: Lots of running and dumbbell thrusters on the menu for today. The dumbbell thrusters are going to decrease every round going from 18 to 3 by threes and there will be a 200 m run in between each set. This was a workout from the 2021 Granite Games but we scaled it down a little bit to keep the intensity up so have fun! After this we are going to continue with our snatch complex which will be a snatch deadlift followed immediately by a snatch. We will be working off some percentages today so stay in those ranges and hit your marks!
Tuesday: We have a really nice aerobic piece to kick off Tuesday. This is a little bit like Fortitude but with less intensity. Every two minutes you'll need to complete a set of calories on the rower and burpees. You're gonna be working hard on the rower and the burpees but you'll need to find a balance between intensity and recovery so that your results are repeatable across rounds. The goal is consistency today. After this we will have a clean complex consisting of a pause clean, a clean, and then a pause jerk. Be sure to pay attention to your coaches as they go over this complex at the whiteboard so that you know when to pause and for how long. Spoiler…a three second pause in the bottom catch/squat position of the first clean and a three second pause in the catch/receiving position of the jerk.
Wednesday: Hump day is going to be filled with rope climbs, handstand push-ups, and alternating dumbbell snatches. This was a workout from the Mid-Atlantic CrossFit challenge but it's been altered a little bit for class. These rounds consist of low reps but the volume will add up so be sure you focus on transition times and move quickly between movements so you don't lose excess time. After this we have our front squat/back squat complex. We will be doing three of each squat back to back and we want five total sets to get heavy!
Thursday: Thursdays are more and more becoming team days and we love it! This will be a 16 minute partner workout where you'll alternate full rounds back-and-forth of calories on the bike, GHD's or sit ups, and box jump overs. Intensity is going to be moderate today but we want there to be a particular focus on intentional effort when getting off the bike. Hit your bike and then get to work hard and fast! Next we will be going into a fun little power snatch session that's going to help some of you guys who are struggling to pull under the bar and also struggling to find the overhead mobility for a squat snatch. You'll be completing one pause power snatch where you will pause for one second in the catch position of your power snatch. This is above parallel. You will then stand up and complete that rep and then flow immediately back down into an overhead squat. We are going to be working off of percentages here so follow these or let mobility determine how heavy you can go for the overhead squat.
Friday: Super cool piece today! This is going to be multiple sets of pulling movements and back squats. The pulling movements will get more challenging and the back squat will get heavier! After this we will have some fun power clean and push jerk waves. These will be based off of percentages of your power clean but will get heavy at the end so move fast and have fun!
Saturday: We are going to have a three person team workout today which is going to be really cool. One partner will be going off on a 400m run, the other partner will be using that time to AMRAP a short couplet of power cleans and burpee box get overs, and the third partner will be resting. You guys will rotate through. This is going to be a super interesting piece and should be a lot of fun. If you're resting be sure to push and encourage your partners while they are working!
       OK guys, that's all we have for today. I said this was going to be brief so I could get to my Father's Day but I got a little more long-winded than anticipated…Who would've thought? I was out of town last week and it always gives me a great opportunity to realize and reflect on just how much I miss you guys and the community and atmosphere we have created at this gym. I can't wait to be back and put in some solid work alongside you guys this week. Enjoy the rest of your weekend and get plenty of rest, relaxation, and recovery. See you all in class!
~Daniel