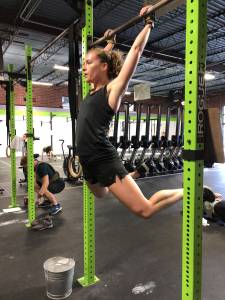 Hey guys,
      I hope everyone is having an awesome weekend and is ready for another exciting week at CrossFit Simplicity! Hopefully you guys are getting in some good recovery if you hit Murph with us on Saturday. Thank you so much to everyone who came out and know that we definitely missed you if you are able to make it!  if you did miss Murph then rest assured we have another he will work out plan for you guys this Saturday to celebrate the Fourth of July! We have a great week ahead of us filled with a lot of variety that will keep things interesting and fun. You guys have been super consistent lately so let's keep it up and have another great week!
We will have a normal 4th of July class schedule for Saturday at 9am with a great hero workout for you guys!
Be on the lookout for a Bring a Friend Day later this month so go ahead and start thinking of that special someone you'd like to invite!
Aerobic Thursdays are still a thing and you all have been crushing it! Just want to say that we are really proud of you guys for putting in the work and showing up on these Thursdays!
Monday: We have a great EMOM to start off the week and get everyone back into the swing of things! This one is going to be a little different as it is a E4MOM… meaning that you will start a round every four minutes. This round will include a cool pull-up/toe-to-bar complex, some power clean and jerks, and a run! You'll have the entire four minutes to complete a round. Any time you have left over in the four minutes is your rest. Our little gymnastics complex today will be very similar to one we had last week in a warm-up where we practiced transitioning from pull-ups directly into toes-to-bar without coming off of the pull up bar. This is when your kip swing and rhythm will really come in to play! Have fun with this one today and do your best.
Tuesday: Burn baby burn! Today is going to get a little spicy! We have a quick and fast workout for you guys today and we want you to really push the pace and try your best on this one. This is going to be a chipper of sorts where we will start with a set of 50 burpees and then finish off hard with a set of 50 row or bike calories. The idea here is to set the pace high and not stop moving. If these numbers are a little large for you we will cut things back to 35 reps on each movement so that we can keep the intensity stronger throughout the entire workout. After this we will finish off the day with some front rack carry accessory work. Good stuff!
Wednesday: Love this workout we have in store for you all today. This one is simple and definitely effective! Today will be a 10 minute Amrap where you will be mainly married to the wallball. You'll start out with a 50 foot walking lunge…holding your wallball of course…and then carry it directly to the wall for 25 wallballs. After this you will finish off the round with 50 double unders and then start things all over again for round two. In 10 minutes we are looking to get about four rounds so you need to focus on staying moving and limiting big chunks of rest as much as possible. Try to break the wallballs into no more than two sets if necessary. you can hold the wallball anyway you would like during the walking lunges but it cannot touch the ground.
Thursday: You know what day it is! Aerobic Thursday! Today will be an aerobic capacity day. Remember that this means we will be trying to sustain a higher heart rate for a longer duration of time…In today's case 24 minutes. This will be broken into 3 rounds…each round consisting of 4 two minute intervals. You'll have 2 minutes to run 400m, two minutes to complete 24 burpees, two minutes to complete another 400m run, and finally 2 minutes to row 28 calories (26 for the ladies). This workout, by design, is not going to allow you a lot of rest. I would expect no more than 15 or 20 seconds of rest for each round so just go ahead and plan on staying moving at a consistent rate the entire time and remember the goal of these Thursdays!
Friday: We have an awesome little piece for you guys today! This one is going to be a good mix of barbell and gymnastics! This one will work on descending reps and the movement will change slightly each set. You'll start out with 20 power cleans, then move to 15 shoulder to overhead, and then finally 10 squat cleans. The weight will not change from movement to movement. The kicker is that between each round you'll have a 50 foot handstand walk! Don't worry, we have some great scaled variations of this including handstand push-ups and even shoulder taps! It's days like this that really shows the importance of practicing and working on some of those skilled movements during our warm-ups! Have fun with this one today and just keep moving.
Saturday: happy 4th of July and happy birthday America! Can't express to you guys how much of a privilege and a blessing it is to live in America amongst all the resources and freedoms that we have. We love this holiday and we can't wait to celebrate the day by kicking it off with an awesome hero workout! Hope you guys can all make it!
       Epic weeks are the new normal around here at CrossFit Simplicity so don't expect this one to be anything less! Hope everyone had a great weekend again and is ready to hit things hard as we close out the month of June. Remember always that consistency is going to be one of the most important factors in getting the results you are looking for so try to continue to come to class, bring a positive and coachable attitude, and just show up to do your best each and every day! Look forward to seeing you all in class…
~Daniel