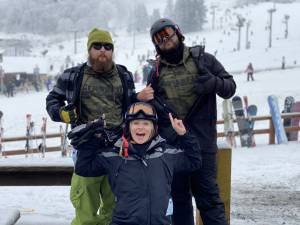 Hey guys,
       It's time for a chilly Sunday Rundown in beautiful Burlington North Carolina. Writing this today I couldn't be more blessed to be a part of this amazing community and begin another week with you all. You know some might say that the Weekly Rundown is somewhat of a "current" events journal. Giving us the lowdown on the ebb and flow of what's going to be happening each week at CrossFit Simplicity. Some might even say that getting that Weekly Rundown notification on your smart phone device is even "electric." Or maybe that chime from your phone is "music" to your ears… Either way this AC/DC themed week is sure to be filled with plenty of puns and tons of great workouts. Slide down to the announcements below and make sure you give them a hard look because we have a lot going on this week and this month at CrossFit Simplicity!
Christmas Party: Our annual CFS Christmas party will be Saturday December 19th! Like always it's going to be an epic event with food, fun, and all your favorite friends and family. We will have an ugly sweater contest, Dirty Santa, and more!
Christmas Cheer: We have an amazing local family we are helping for Christmas this year. Take a tag from the tree in the gym, purchase the gift item on the tag, and then return the gift and the tag to the gym unwrapped and we will do the rest! We still have a few tags left and we need your help! Items due December 12th!
Bring a Friend Day: Our next BAFD will be THIS Saturday December 12th with DJ-LA! Mark your calendars And spread the word!
Gymnastics Skills Class: Our next gymnastics class with Stewart will be December 13th! Don't miss this chance to focus on these skills for class!
Monday: Lifting day! Love starting the week out with some back squats! We are still in phase 2 of this lifting cycle and today we will be working to a heavy single!  Our last lift will be 1+ reps at 95%. This is getting very close to a maximal load so be sure to brace your core nice and tight and stay very upright in the bottom. Two or more reps would be a huge victory here so focus on getting a clean first rep and everything else is a bonus! After this we will be kicking off our AC/DC themed week with none other than "AC/DC." This one is going to be just as intense as the band itself. The weight is light and the reps are high so the pace should be quick. We will have a sort of two sided pyramid workout where we start with a large set of deadlifts and then into a smaller set of hang power cleans. After this the middle of the workout is 20 bar facing burpees before we turn and go back up the pyramid ending with the big set of deadlifts. We are looking for big sets on this chipper today. You want to knock out some big sets, take a quick rest, and then get back on the bar. Grip and lower back will definitely be a little fatigued on this one so try to manage that and stay moving as best as possible. We want to knock this out in under 10 minutes today. Good stuff!
Tuesday: We are moving right along with our lifting cycle today as we increase our snatch EMOM to one rep every minute on the minute at 80%. This is going to be a touch higher than last week but it's still something we would consider working weight that will allow you to focus on good form and technique. Remember to keep that bar close to your body and keep it moving in a straight line. After we are done with this we will transition into some interval conditioning for the day. "TNT" will be 5 sets of a max effort 20/15 calorie assault bike sprint. You will have four minute intervals to complete this work. This should be an all out sprint for those calories. You'll be looking at about 20 to 30 seconds of work followed by a big rest. This one can definitely be a gut check so try to go as hard as you can each round and trust your fitness to recover!
Wednesday: We've got some shoulder presses to start out your weightlifting Wednesday. Like our back squats earlier this week we will be working to a set of 1+ reps at 95%. As we mentioned earlier this week two or three reps here would be amazing so just focus on getting one good rep in the books and then doing your best to keep pressing through that second and third rep if possible. After this we have a short 10 minute AMRAP called "Thunderstruck." This one is really cool and one that we think a lot of you guys will enjoy. The reps are short here today and the movements are pretty diverse so you should be able to stay moving throughout the entire day of the workout. You have box jumps, push-ups, and toes to bar. We want to see 6 to 8 rounds here today so this means you'll be getting just shy of a round each minute. Try to go unbroken through the box jumps and complete all of your push-ups and toes-to-bar in no more than two sets. You're definitely going to feel this one in the lungs, legs, and arms so it's a great piece to round out the day!
Thursday: This one might not leave you dumb struck but it will certainly leave you "Thunderstruck!" This is a wicked little play on benchmark workout "Jackie" today that's going to really test your conditioning. The intensity is going to be a little bit more moderate to steady today than a typical Jackie because the reps are basically doubled. You have a 2K row to begin with (1,500m for the ladies) and then 100 empty barbell thrusters and 50 pull-ups. We will want you guys to hit some pretty big sets on the thrusters so maintain a pace on the rower that allows you to come off and get right to work. By the time we get to the pull ups you may be pretty fatigued in your shoulders so you might want to think about breaking these pull ups into short manageable sets to stay moving. Think of this one today is more of a chipper than a typical sprint for Jackie. Easy day!
Friday: We have an awesome workout to kick off your weekend! "Back in Black" is an AC/DC icon and we hope this commemorative work out doesn't disappoint. This one has a really unique layout today so listen up. You will have a basic goal today of completing 63 handstand push-ups. The kicker is that every three minutes you'll have to first complete 25 abmat sit ups and three (two for the ladies) rope climbs. The remaining time is yours to work on completing your handstand push-ups. When three minutes is up you'll get a one minute rest and repeat the three minute AMRAP again. You will continue to do this until you have a cumulated all 63 of your handstand push-ups. Obviously we will have some good scaled variations for this so never fear. Overall this is a great little gymnastics triplet that will challenge you mentally and physically. It's going to definitely push the limits of your muscle endurance because you're going to be trying to knock out as many handstand push-ups at the end of each AMRAP as possible. The goal here is to have at least 45 seconds to a minute to complete handstand push-ups so be sure you scale the first part accordingly. Because arm fatigue is going to set in pretty quickly we would recommend opening up with a big comfortable set to get it out of the way and then transitioning to shorter quicker sets as the workout moves on to save your arms. Go for it today and have fun! Oh yes, one last thing…be sure on your rope climbs to get a tight grip, lean back, and bring your knees to your chest and re-grip the rope with your feet so that you can stand your way up the rope rather than pulling yourself hand over hand up the rope!
Saturday: Bring A Friend Day! Mark your calendar's for an awesome Bring a Friend Day event this Saturday at 9am! Of course DJ-LA will be here pumping out the sickest music and your CrossFit Simplicity coaches will be here providing you the sickest pump! Really though, all jokes aside, these are just amazing events that we look forward to each month and we hope to see you all there!
       It's time to rock 'n' roll this week at CrossFit Simplicity. These AC/DC themed workouts are sure to light you up and get you some great results so try to get in here and stay as consistent as possible! December is a big month here at the gym so take a second to run back up through the announcements and mark down any important dates. We have a lot to look forward to this month as we dive deeper into the holiday season with you all. Enjoy what's left of your weekend and come to class on Monday rested, recovered, and with a positive attitude and we will make it happen! See you all in class…
~Daniel