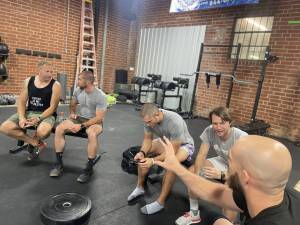 Hey guys,
      It's a beautiful Sunday here in Burlington North Carolina and an excellent time for the CrossFit Simplicity Weekly Rundown. We have a super big week ahead of us so be sure to check out the announcements! Last week we wrapped up our strength cycle so we will be taking a two week break where we focus on some skills and accessory work in class and then start our next eight week strength cycle on June 6th. This is also our last week of Murph Prep Monday before our Memorial Day Murph! You guys have been preparing for this so don't be nervous! This weeks theme is anyone's guess so let's go ahead and dive in…
Memorial Day Murph: We will be having two Murphy eats this year. One at 7 AM and one at 8:30 AM to try and beat the heat! I will be releasing a link this week where you guys can sign up. There will be a $15 drop in fee for anyone outside the gym that would like to participate with us just due to space and availability. Also we highly recommend you guys bring your own face or hand towel to the gym where you can wet it and then throw it in the refrigerator so you'll have a nice cold wet towel when you are done!
T-Shirts: New shirts should be in this week! They will be $20 and will be first come first serve.
Monday: Last Murph Prep Monday! This is going to be a fun but tough piece today. You guys will have five sets of a 200 m run, 15 pull-ups, 30 push-ups, 45 air squats, and another 200 m run. You will get a three minute rest between each set. Remember that you want to tackle this first step moderately. Think of it as a test pace. Then maintain or build into a steady pace and intensity for the remainder of the workout. Easy day!
Tuesday: "Hayley" is on the menu today! This one is going to be eight sets, a set every three minutes of calories on the bike, a 45 second rest, and then a set of row calories. Then you have the remaining time in the three minutes to rest. Stimulus is moderate to high effort today on both machines. Focus on maintaining the pace across all sets. You guys should not begin at a pace so fast that you will fall off in the later rounds. In order to keep this work out running for our larger classes we may pair up and start on opposite machines if needed. After this will have a little bit of accessory tricep work to round out the day! Good stuff!
Wednesday: We have a cool hump day piece here! "Tyler & Baylee" Is 10 rounds of 15 wallballs and two rope climbs, or eight burpee pull ups. That means that either variation will be RX today. We are looking for steady pacing today across rounds. Watch your round times and attempt to stay steady throughout the workout. Planned rest between rope climb reps will allow you guys to maintain effort as the workout progresses. Wallball weight should be something you can do virtually unbroken for the majority of the workout. After this we have a little bit of lower body accessory work to finish off the day.
Thursday: We have a partner workout today called "Paige." This is actually going to be teams of three where you guys will each complete seven sets of a short row, 20 jumping split lunges, and four squat cleans. You will be completing full rounds which means you will have the amount of rest it takes each of your other two partners to complete around. This means intensity should be high when it's your time to go! Although effort is high the pay should be maintainable and similar across all seven rounds.
Friday: "The Flying Hutchman" is up! This is a little partner throwdown today! You guys will have three sets of synchronized toes to bar, double unders (each at the same time), synchronize bar facing burpees, more double unders, and then strict pull-ups which you will split. You will get a three minute rest between each set which is good because most of your partner work will be done at the same time. We are looking for moderate the high intense today with consistent increasing set times. Make sure you guys work together and plan a pace to maximize your potential for repeatable efforts across the sets. Remember that first set is kind of a test set for your pace.
Saturday: Of course we have another partner workout today! "Alex Vigneauly" is going to be rounds of rowing or C2 bike and squat snatches. Yeah looking for steady and consistent pacing across rounds. This is gonna be a lower body dominant workout with some high skill on the Olympic lift. Don't sell out on the bike or the rower only to suffer on the snatch. You need to play your cards right early to avoid any mist reps. This workout should be a little bit more on the cardio side than the strength side so choose your weights right so that you can stay moving and have a few to no misses! Easy day!
     Well that's all we've got for this week's installment of the CrossFit Simplicity Weekly Rundown. It really is a beautiful day and we are expecting to have an amazing week in here with you guys! You guys have been super consistent and Murph prep has been going great. I hope this brings you all a lot of confidence when Monday comes. Remember to work smooth and smart and don't be afraid to scale things back if you need to. Let's have an awesome week and keep the energy in the gym high. Now enjoy the rest of this beautiful day and get plenty of rest and relaxation so we can hit it hard on Monday. See you all in class!
~Daniel