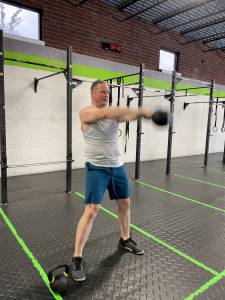 Hey guys,
      It's another glorious day in beautiful Burlington North Carolina and it's time for the CrossFit Simplicity Weekly Rundown! I'm on vacation this week so I'm going to try to be a little more brief with this one but still fill you in on all the important details. Remember that we are starting a new lifting cycle this week that's going to run about 4 to 5 days a week and will be mostly more traditional lifts like the deadlift, back squat, and shoulder press as well as some snatches and cleans. Because the volume will be bumped back up for each class make sure you are getting in on time and ready to rock 'n' roll so we can fit everything into the hour. I'm loving the Rocky theme this week and I'm not sure there's anything more inspirational out there…Maybe The 300? Anyway, let's check out a couple announcements and then dive in…
MS Strong Event: Thank you guys for coming out and supporting Tiffany and the MS Strong foundation on Saturday! Although the event is over reach out to us if you would still like to support her as she raises money for this great cause! Also thanks to DJ-LA and coach Maryann for helping make it a great day!
Monday: We are taking off the week with the hero workout, "Mr. Joshua" and its going to be a good one! This will be a 20 minute AMRAP of running, GHD's, and deadlifts that's going to put you to the test. It has been changed to an Amrap to allow time for the strength portion afterwards. This one is going to test your midline endurance and pacing. The stimulus today is moderate intensity with consistent pacing on movements to stay moving and aggressive on round times. Make sure you pace your run out so that you can maintain a decent clip throughout the workout. Be careful if you decide to go with GHD's instead of sit up on this workout because it's going to be a lot of volume and we want to be able to move well the rest of the week. Deadlift weight should be moderate today…think somewhere around 60 to 70% of your one rep max. When you're fresh you should be able to hit 10+ reps without hesitation but for the longevity of the workout I would recommend breaking each round of deadlifts into 2-3 sets. After this we are going to work some back squats. We are going to stay moderate today and will be doing six sets of two at 75% of your current one rep max. Easy day!
Tuesday: "Rising Up" is going to be a tough little workout that ironically might make it harder to stand later in the day! We will have five individual two minute AMRAPs of 30 air squats and then max calories on the bike in the remaining time. You will have a two minute rest between each set so think a one to one work rest ratio. Stimulus today is definitely moderate to high intensity. Each round will be score by the number of calories accumulated on the bike. The goal is to find consistent pacing on the squats and the bike to have repeatable scores across the rounds while pushing the pace as much as possible. This workout is really all about pushing the bike. You've got to find a way to motivate yourself to really give it a good effort each round after those air squats. After this we are going to run some floor presses to get a little pressing work!
Wednesday: If Tuesday was "Rising Up"… Can you fill in the blank? You guessed it… "Back On The Street!" This is going to be a fun little piece with clean and jerks and burpee box jump overs. I guess depending on your definition of fun! The reps are relatively low today and will run in a sort of pyramid scheme where we will start low at three reps for each movement and work our way up to 12 and then back down to three. Stimulus is moderate pace in today and we want you to move consistently throughout the increasing reps. If you feel like it's possible it would actually be good to begin to push the pace as the reps begin to decrease on the backside of the workout. Stay calm and just keep moving. Basically want to start off steady and see if you can flip the switch on the downhill side of the workout! The clean and jerk weight needs to be moderate today and somewhere around 55 to 60% of your one rep max. Watch those feet and keep moving on the burpee box jump overs. Like our back squats on Monday we will be doing six sets of two deadlifts at 75% of your one rep max after our conditioning piece. Good stuff!
Thursday: We have a little shoulder burner for you guys today that's also going to get your heart rate spiked. "Face to Face" is going to be 10 rounds of 35 double unders and eight handstand push-ups or five strict handstand push-ups…Your choice today! Make no mistake, stimulus for today's workout is high intensity! You need to be prepared to push the pace on each round with the mindset of keeping each round under a minute with fast transitions. Since we are offering two options today for the handstand push-ups you want to choose the one that will allow you to keep the stimulus and stay close to unbroken for the majority of the workout. I hate to beat a dead horse but like our other lifts this week we will be doing six sets of two shoulder presses at 75% of your current one rep max. Remember these are strict so use no knees or hips. Grab that bar and drive it overhead in a straight line!
Friday: "Did My Time" is going to be a two-part workout today with a five minute rest between each part. Part one will be three rounds of rowing, overhead squats, and toes to bar. Part two will be the same movements but in a chipper style. We are looking for a good, strong, moderate intensity on both workouts. In the first one you want to look to be smooth and steady, though trying to hold on to large sets while taking a quick rest between movements. The second workout will put it all together and you want to try to hold a consistent pace that allows for smooth workflow with planned breaks to keep up intensity. You have a pretty good rest between each part so try to push the pace a little on the first one and see if you can hold onto the second. After this we are going to revisit our strict pull up EMOM from last week to work on that pulling strength!
Saturday: It's the weekend! We always have a great day at Simplicity on Saturdays and, "Took my Chances" will be no different! This will be a partner work out where you guys will work through a large chunk of calories on the assault bike, a large chunk of rope climbs (or bar/ring muscle-ups, or burpee pull-ups) and then another large chunk of assault bike calories. Today's workout was really cool because we are going to give you and your partner some options with that middle movement based on what you need to work on and what movement will allow you to stay moving steady. We want to keep the intensity hound this one because you will be alternating work with your partner. Certainly have a strategy for the first set of bike calories but you may want to have a back up plan for that second set of bike calories as they will hit hard after the gymnastics. This workout is definitely going to creep up on you so make sure you choose wisely on the gymnastic movements in the middle. Let's have fun with this one today and remember to encourage your partner!
      And that's all we've got for this week guys! As I mentioned I am on vacation this week so I'm going to keep this closing brief as well. Thank you guys so much for being a part of this amazing community here CrossFit Simplicity! Remember to stay consistent this week and let's really see some progress on those goals. Now get plenty of rest and relaxation so that we can hit it hard on Monday! See you in class (kinda).
~Daniel