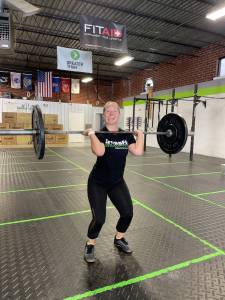 Hey guys,
       It's another beautiful Sunday in booming Burlington North Carolina and we have an awesome edition of the CrossFit Simplicity Weekly Rundown! Last week was our best week ever at CrossFit Simplicity…Until this week! We are going to have a week full of awesome programming and then wrap things up with our MS Strong event on Saturday so get signed up! Remember that this will be our last week before we begin our new strength cycle on the 26th. During this new cycle we will bounce back-and-forth between lifting first and doing the conditioning first which will be a nice change for most of us. This new cycle will be a version of the Russian squat program. The lifts we will mainly focus on will be back squat, deadlift, and shoulder press along with some snacks and clean and jerk on the minute work. This new cycle will last eight weeks and will have lifting 4 to 5 times a week. I'm going to be honest with you guys, just looking at the workouts I can't really figure out the theme for this week. So after you guys give this a read the first person who submits what they interpret as the workout theme for this week will get a little prize at the gym! So without more delay let's hop in!
MS Strong:

 Our very own Tiffany Light is hosting an event right here at CFS to raise money and awareness for MS! This is going to be a fun CrossFit event Saturday, July 24th at 9 AM! This event is for all levels of fitness so invite your friends! It's $25 to register and all of the proceeds go to the MS Run Organization! (Oh yea…and DJ-LA will be here!)
Monday: We are going to kick the week off with a bit of a shorter piece called "Over and Over." This one is going to be burpees over the rower, a short row, and then more burpees over the rower. Stimulus is moderate intensity day on the burpees and moderate to high on the row. You guys should look to increase intensity as the workout goes on. Start off smooth and then burn it down at the end! Just a quick note, make sure you allow the seat to slide all the way forward when exiting the rower so that you don't trip over the seat during your burpees. Anytime we end workout with burpees you guys need to push! Make sure that first set is controlled and the row isn't max effort so that you can really send it at the end! After this we are going to hit a pull up your mom to work on that strict pulling strength. Good stuff!
Tuesday: "Pedal the Metal" is going to be a descending rep ladder of double dumbbell power cleans and GHD's or sit ups. Beginning with 21 reps and decreasing by three until we reach six reps of each movement on the last round. Stimulus is moderate pacing today. You guys will be performing opposing movements with the explosive hip opening of the clean and the hip closing of the sit ups. Be aggressive with the hips and remember to scale the GHD's accordingly to avoid wrecking your core too bad. Note today that these dumbbell cleans are not from the hang. Dumbbells will start on the ground and must be cleaned up to the shoulders. You guys can touch the dumbbells to the floor on the outside of the feet or on the inside based on your preference but one head of each dumbbell must touch the floor between reps. You guys should aim to complete nonstop reps on the dumbbell cleans while recovering your grip on the sit ups and using the transitions as a quick break. Stay moving!
Wednesday: Hump day is full of bike action! "Echo Chamber" it's going to be 15 rounds of 30 seconds on and 30 seconds off of calories on the assault bike or echo bike! We want you guys to aim for 10/8+ calories on each set. Stimulus is moderate high intensity but there needs to be some awareness of pacing for repeatable efforts across each round. Just remember it's important to keep effort at some thing that will result in some consistency across all rounds. Do not go max effort in the first round and burn out on the following rounds. Also remember that there is no paddling during the 30 second rest. The workout will be scored by total calories so don't try to get a couple extra during the break! Our accessory today will be the same as last Wednesday, some Kipling chest to bar pull ups and high box jumps!
Thursday: Partner Thursday! "Walking in Memphis" Will be a partner workout where you guys will complete three rounds of a 200 foot synchronized walking lunge and then 40 burpee box jump overs. Teams will move together through all the movements. Reps will be split on the burpee box jump overs while walking lunges are to be treated as a station where partners are working at the same time and communicating on pacing. This workout is pretty straightforward but make sure that whoever is starting on the burpees is especially mindful of their first jump due to some leg fatigue coming right off the lunges. I would recommend at least 3 to 5 reps back-and-forth on the burpee box jump overs to allow for a good rest. Work hard on this one with your partner and have fun!
Friday: Woahhh! Benchmark workout today! I'll be honest it's been a while since we have seen one of these and this is one of my favorites! Today we will be hitting, "Helen." This is three rounds of running, kettlebell swings, and pull ups. This is an old classic CrossFit workout that never disappoints. This workout is meant to be high intensity where you will be in the fight of your life to keep consistent (or even slightly faster) round times throughout. Buckle up and hold on tight! You guys want to make sure you run with about 75% plus effort so that we can come inside and get right to work on the kettlebell swings. Definitely select a weight that you'll be able to complete unbroken. Next we aren't going to be giving the forearms much rest as we jump right on the pull up bar. Ideally these would also be unbroken, although due to grip fatigue and the intensity of this workout you may find yourself having to break into two sets. Have fun with this one today and really attack it and let's see if we can't get a PR!
Saturday: MS Strong event right here at CrossFit Simplicity! Get signed up to attend!
      Well that's all we've got today for this edition of the CrossFit Simplicity weekly Rundown. I apologize for the late post today as I have been running around like crazy with these little girls…And I wouldn't trade it for the world! Hopefully you guys will have time to give this a read and get ready for another awesome week here in the gym. You all have been killing the consistency game so keep it up and those results will be pouring in as we wrap up July. Remember to have a look at the announcements, get signed up for our MS Strong event this Saturday, it's going to be awesome! Now enjoy what's left of the weekend and get plenty of rest and recovery so we can hit it hard tomorrow! See you all in class.
~Daniel