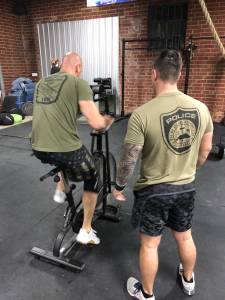 Hey guys,
       Happy Easter to all you beautiful CrossFitters out there! We hope you are going to enjoy this beautiful Sunday in Burlington North Carolina and that all your eggs are easy to find. We have a few little Easter eggs hidden away in this week's edition of the CrossFit Simplicity Weekly Rundown. It was tough to be away from the rundown for a couple weeks during the CrossFit open but we are so glad to be back and present with you guys on Sunday. Rumor has it there are actually more subscribers to the CrossFit Simplicity Weekly Rundown than there are to the Burlington Times… so thank you for all the support. We have a really great week ahead of us here at CrossFit Simplicity with some cool sports movie themes that you guys may be familiar with. Remember that we are still going strong with our strength cycle so be sure to check out the day descriptions below and be sure to attend when you see these lifts. We only have a few more weeks before we will be putting this cycle to the test and we want to see some big PR's from you guys so get in here and stay consistent. Now let's "hop" in! (Bunny joke)
CrossFit Open/Quarterfinals: Great job to everyone who competed in this year's CrossFit open! We also wanted to give a special shout out to our CFS athletes who will be advancing to the quarterfinals around this weekend! Congratulations Amanda Hodge, Erin Moore, Aly Quintana, Stewart Spanbauer, Nick DiMarco, Dylan Amorocho, and Daniel Blackwell. These folks will be competing once again this weekend so wish them luck!
Gymnastics Skills Class: Our next free gymnastic skills class will be Sunday, April 18 at 3 PM!
Monday: If you can dodge a wrench you can dodge a ball! But don't dodge this workout…And never dodge a Monday! "Dodgeball" is going to be all about the dumbbells today. This will be a bit of a two-part workout that will start with a couplet of double dumbbell front squats and burpee pull-ups. Immediately finishing this couplet you'll go right into one long set of alternating dumbbell snatches. We want to have some steady pacing throughout this workout and a pace on the first part that will allow you to go directly into the dumbbell snatches. The squats and pull-ups will definitely challenge your legs and your grip going into the snatches so be ready. Ideally we'd like to see you guys be able to go unbroken on the opening set of 21 with the weight that you select. For the burpee pull up today you'll have the choice of jumping into a pull up or jumping to a dead hang and kipping the pull up. Try to make sure the bar is just out of your reach when standing tall with your arms extended. Remember to set your feet directly under the bar for each burpee rep that way you don't inch away as the workout goes on. This is a great start to the week so really get after it!
Tuesday: Squat Day! That's right, we will be continuing week five of our strength cycle with our squats. Just like last week the weight should be increasing on your five sets of five and the pause back squats will be going to two reps. Hopefully you'll see a weight increase on these as well. This workout may not be as hard as fighting 6 foot four, 261 pound Soviet Drago; but "Rocky IV" is going to be tough! This workout has a very cool layout for a 12 minute AMRAP. You'll have a good mixture of box jumps, deadlifts, strict handstand push-ups, and power cleans. The cool part is that the weight will stay the same for the deadlifts and the power cleans. Making this a white dead lift but certainly a moderate power clean. Luckily the reps will be cut in half for the cleans. Overall this is a relatively low rep workout so we should be seeing virtually unbroken sets and quick transitions. We are looking for about 4 to 5 rounds inside the 12 minute window so think about moderate to high intensity. You're dead lift weight should be some thing around 40% of your one rep max and the power clean around 65 to 70% of your one rep max. However we do want to try to use one bar so don't get too hung up on exact percentages. Lastly try to keep your set up relatively close so that you don't over rest moving from movement to movement. Adriaaaan!
Wednesday: There will be lots of riding and walking in today's "Glory Road" workout…unfortunately not much basketball. Today you'll have five sets…each with a two minute rest between…of calories on the assault bike and sandbag carries or dumbbell farmer carries. We want each round to take about 2 1/2 to 3 minutes so get to work! Stimulus today should be moderate to high intensity with a hard push on the bike and I don't quit mentality on the carry! We want to really encourage you guys to attack the bike. Maybe not all out but also don't settle for the same every day pace. Get gritty! After this we'll have some fun accessory work with some pulling and pressing! Easy day!
Thursday: Two part Thursday is back again this week with a nice little run piece and our deadlifts. "Chariots of Fire" is going to kick things off with us today with some run intervals. We will have a few rounds of some running and rest. Each run gets shorter, as does the rest, and we want your pace to increase with each shorter distance. You will have a 600, a 400, and a 200m run. No certain goal for today but do work on dialing in these paces and make sure that you do increase your intensity with each run. After this we will be running five sets of two in our deadlift cycle and the weight will be increasing from last week. Stay tight, stay tough, and keep driving that floor down with your legs! Good stuff!
Friday: Mama says we have an absolutely amazing partner workout for you guys today! Don't drink any Gatorade for this one…You'll need nothing but high-quality H2O to knock out "The Waterboy" with your friend. In this one you will have four 4 minute AMRAPs (two min rest between). During each one you'll have a set of synchronized burpees, synchronized air squats, double unders that you complete the same time, and then you will work with your partner to complete as many wallballs as possible in the remaining time. You'll have to put in some real work to earn some time on the wallballs. Only one partner may work at a time when you get to the wallballs and your score for each round will only be the number of wallballs completed so scale accordingly to make sure you get there. The stimulus for this workout is FAST! No other way to put it. You're going to have to sprint through that first part so that you have at least a minute to accumulate wall balls. Really get after it today and get aggressive!
Saturday: Nothing better than a solid Saturday at Simplicity! "Hoosiers" is a great partner workout for you guys where you'll alternate full rounds with your partner in an effort to complete as many as possible in a 35 minute window. Each round will consist of one squat snatch, four toes to bar, and eight alternating box step ups. As I mentioned above you must complete a full round and then rest while your partner completes a full round. Today is going to be a bit of a grinder so settle into a good moderate pace that you think you can maintain. We'd like to see a round in under a minute at max. Make sure you pick your snatch wait where there is no risk of failing. We are looking for around 70% of your max or less. Remember not to rush to lift but to get a nice hard pull and a solid catch position. Reps are short on the toes to bar so go unbroken but understand that over the course of 35 minutes you will accumulate a lot of these. Remember to watch the clock to help yourself set a good pace and maintain it throughout the workout. You also might want some sort of whiteboard or system to keep up with how many rounds you have completed with your partner. Have fun with this one and encourage your partner while you rest!
      That's all we have for the Rundown on this beautiful Sunday. I've got to start packing and hiding eggs…And maybe sneaking a couple deviled eggs if possible!  It's looking like another epic week here at the gym and I'm excited to get us into some warmer weather and get us outside of the gym a little more during some of these conditioning pieces. Everyone's really been doing an amazing job lately and we couldn't be more thrilled at the direction of the gym and our community here. We are so blessed and grateful to have each one of you guys here with us and we hope that you always understand just how important you are to this gym and your coaches! Again we hope everyone has a beautiful Sunday filled with lots of rest, recovery, and fun. Can't wait to see you all in class!
~Daniel