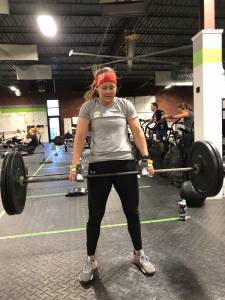 Hey guys,
       It's another beautiful…and crisp…Sunday here in Burlington North Carolina. And that means it's time for another edition of the CrossFit Simplicity Weekly Rundown. In this episode we will dive into all things CrossFit Simplicity. Including announcements, workout descriptions, strategies, and clever commentary. Would you expect anything different? We have a really awesome week coming up for you guys with some very solid workouts, some open prep, and a great retest on Friday! We also have a pretty cool old-school cartoon theme this week that will keep things interesting. This week is all culminating in our next Bring A Friend Day and our four year anniversary celebration on Saturday the 27th. You don't want to miss that! Take a few minutes to check out these announcements and then glance through the week so you'll know what to expect. Let's get after it…
Bring A Friend Day/Four Year Celebration: this Saturday, February 27, we will be having our next Bring A Friend Day event which will also double as our four year anniversary celebration for CrossFit Simplicity. We will have an awesome workout with DJ-LA in the house and then some light brunch options as we hang out a little while afterwards! Mark your calendars and invite your friends as we celebrate four years of this awesome community!
CrossFit Simplicity Open: Every year we hit the CrossFit Open as a way to celebrate and test our fitness…and have a little fun! Also every year at CrossFit Simplicity we like to host an intermural Open so that we can get some teams together and make things a little more lighthearted and fun for you guys. Expect the same thing this year so please get signed up at games.crossfit.com so that you can join in our CrossFit simplicity open as well!
CrossFit Shirts: it's getting time for some new T-shirts here at the gym so be on the lookout for a little survey so we can find out exactly what you guys are looking for!
Parking: Since we are always growing and adding to our community I wanted to send out a reminder about parking. Our parking lot is good to go, anywhere up and down the street on the road is also available, as well as the asphalt parking lot across the street and adjacent to the right. Spaces that are not available would be anywhere blocking a driveway for another business, and in front of the roller doors at Absolute Glass. Our neighbors Absolute Glass have a massive asphalt parking lot to the right of us and are totally fine with us parking there but we cannot block their garage bay doors.
Cubbies/Lockers: Be on the lookout for some emails regarding lockers and cubbies this week. We are getting a lot of things stored in there all the time and it's making it difficult for people to come in and put their personal items in during class. In the next week or two we are going to need to clean out these cubbies so that they are available for people to use as they come and go to each class.
Monday: We have a big day to kick off the week for you. Starting things off on Monday with the continuation of our Olympic lifting cycle. Today you'll have a three rep complex consisting of one power snatch, one hang snatch from the knee, and one snatch on the floor. Note again that only the first snatch from the floor is a power snatch. The next two will be received in a full squat. You will notice that the percentages here are pretty light as we are taking a bit of a deload week from the complex to give your body a chance to recover. So really focus on perfect technique and good positions. After this we will be hitting "The Flintstones." This is going to be a short 12 minute AMRAP with lots of barbell. You will have power clean and jerks, power snatches, and thrusters. Each movement will be less reps but more physically challenging. The weight here today is moderate/light and should be something you can move consistently and touch-n-go. A good guide would be to use about 50% of your one rep max snatch. The weight on the bar stays the same across all movements. The thruster will get a little heavy but make sure it's a weight you can perform the first round unbroken (ten reps). If you struggle a little bit early with the weight we want to be quick to lighten it or make adjustments so that you can move safely and effectively to keep the stimulus. Good stuff!
Tuesday: Flying into Tuesday with The Jetsons!" This one is going to be tough but it has a really cool layout that should keep things interesting and mix it up just enough to keep you pushing. The constant throughout this one today is going to be calories on the assault bike. Remember we can also use our conversion chart to sub out for another piece of equipment if desired. This workout will be three different five minute AMRAPs with a one minute rest in between each. Your first one will be calories and toes-to-bar, then calories and burpee pull-ups, and finally calories, toes to bar, and bar muscle ups. Legs and gymnastics! We would like to see about four, three, and two rounds respectively on each AMRAP. You at least need to make sure you can get two rounds or we need to think about scaling. The stimulus today is definitely high intensity. The round times and rips are low enough that you should be pushing the pace on all the movements. Each workout will gradually get harder so try not to go all out at the beginning because 60 seconds of rest is never enough!
Wednesday: Weightlifting Wednesday is here with our clean complex for the week. Remember that we mentioned earlier that we will be on a deload but we will still reach 80% today on these. This will be the exact complex as Monday except with the clean being our movement instead of a snatch. We will have one power clean, one hang clean from the knee, and one clean from the floor. Note again that this means the last two reps will be received in a full squat. You may drop the bar after the hang clean to re-grip and reset if desired. After this we are going to play a little cat and mouse with "Tom and Jerry." This one is going to be wallballs and row calories and it's really going to test the heart and lungs…As well as the legs and shoulders! You are going to have a 21-15-9 couplet of these two movements….three times! That's right, you will have three individual scores as you hit that couplet three times with a two minute rest in between each. As always we would love to see some negative splits so don't go full dummy on the first round! The wallballs should definitely be something you can go unbroken on so keep that in mind when choosing a weight and have fun with this one today!
Thursday: We have a cool little partner workout for you guys this Thursday with "Underdog." This is going to be a You go/I go style workout where you'll be responsible for finishing a full round of the workout while your partner rests, and then you switch. You will continue this pattern until you have both completed five rounds…one full round at a time. Each round will consist of double unders, heavy power cleans, and push-ups. We want the intensity to be high for this work out when it's your time to go. Think about keeping intensity and effort around 80 or 85% due to the fact that you're going to get an almost equal amount of rest that you spent working. The goal on the double unders should be unbroken sets and we want to pick up a power clean weight that's challenging but still allows us to do quick reps as singles. Push-ups may get challenging so try to break them up early and look for quick sets so you can stay moving. Easy day!
Friday: we've got an exciting Friday in two ways. First we will be focusing specifically on some push jerks which we have not done in a little while, and secondly we will be hitting an old Open workout…17.1! Push jerks will be from the rack and the weights will be relatively moderate so the focus today should be on form, a big leg drive, and good speed under the bar. If you are newer to this movement we will just take about 10 minutes to work up to a comfortable set of three reps. After this we will be retesting previous Open workout 17.1! This is a great piece with lots of dumbbell snatches and burpee box jump overs. We actually saw this workout in 2017 and then again the very next year as a retest in the 2018 Open. You will have ascending rep sets of dumbbell snatches, yet in between every set of snatches you have to complete 15 burpee box jump overs. Obviously we have a prescribed weight for the Open but if you are scaling this for the proper stimulus the dumbbell weight should be something where going unbroken it is definitely a possibility. If you need to take a short rest that's fine but make sure you get right back to work. The key to the burpee box jump overs is going to be maintaining a steady pace. This is really the heartache of the workout and will make things difficult when you get back to the dumbbell snatches. If this is a retest for you really push the pace and let's see if we can't walk away with a PR!
Saturday: Bring A Friend Day/CFS 4 Year Anniversary Celebration! We can't express how excited and humbled we are to celebrate our fourth year here at CrossFit simplicity and this amazing community we have all built together! We hope you'll be able to make it out Saturday to celebrate with us! We will have a great first time friendly workout, your favorite DJ providing the music, and all your CFS friends!
       That's all we've got for this week's edition of the CrossFit Simplicity Weekly Rundown. We covered a lot of information so be sure to reference the Rundown throughout the week as needed. I always think an interesting way to approach it is to check out the Rundown for each day the night before you come to class. This way you can view the workout in Wodify and hear a little bit of strategy and talking points so that you'll have a game plan established when you get to class. Also be sure to go back up and run through the announcements one more time because we threw a lot at you this week and we want to make sure you're in the know on what's happening at the gym. Remember to stay as consistent as possible like we always talk about and the results will follow. Now enjoy the rest of this sunny Sunday and we can't wait to see you all in class!
~Daniel