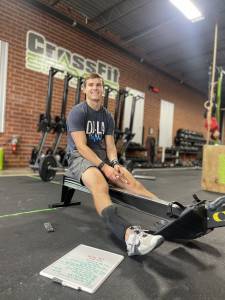 Hey guys,
      It is a beautiful and mild Sunday here in Burlington North Carolina and a perfect time to crack into another episode of the CrossFit Simplicity Weekly Rundown! We have a very exciting week ahead for you guys as we jump into another eight weeks strength cycle! Is it going to be a fun cycle with lots of simple strength lifts that will help us build a good case for more Olympic lifting in the future you also have some gymnastic progressions thrown in there. Have them this week is from the hit TV show, Friends, so I'm sure we have some fans out there! Lastly this week is going to be a little tight in class as we are trying to test some lifts and get in some conditioning. So be sure you get here on time and are ready to work! Now let's dive in…
Lifting Cycle: As I mentioned above we are starting a new eight week strength cycle. We will be focusing on the front squat, bench press, and dead lift. We have purchased some new benches for the cycle so we hope you guys are all excited. This will be a more strength-based cycle which will help us build a good foundation for our Olympic lifts. We will also be doing some gymnastic work in this cycle to help you out in those areas as well. This would be a good complement to our strength movements. Or to listen to your coaches and try to get the most out of the cycle by showing up on the days we lift!
Monday: We are kicking the week off with a one-rep max front squat. This is a chance to work up to a heavy single for the day and this number will set our max for the rest of this eight week cycle. We will also test out a max weighted strict pull-up. If you don't have your pull up yet we will just be working some pulling strength. After this we are hitting "Ross and Rachel." This is a 10 minute AMRAP of overhead squats and double unders. Each round your overhead squats go up by three reps and you have 30 double unders after each set of overhead squats. You guys should try to start with moderate intensity and look to hold a steady pace throughout the entire time with an extra hard push at the end. The struggle here is going to be keeping yourself from coming out too quickly in the early rounds so be sure to pump the brakes a little bit. This workout is not won in the first half. It's won based on whoever has gas left in the tank at the back end.
Tuesday: Testing out our one rep max bench press today! This is exciting. Be sure to listen to your coaches for some set up tips. After this we will test our max height box jump. Be careful here and listen to your coaches. Also remember that confidence is key so don't stare at a box too long and get inside your own head. "Chandler Bing" is the workout today. This is going to be a couple of wall balls and GHD sit ups. The kicker is that you will have a buy in and buy out of calories on the assault bike. The reps of the couplet are descending so that will help. Stimulus is moderate to high intensity today. Effort applied to the first bike should allow you to move directly into the wall balls. Effort on the second bike can be at a high pace due to no work following it. This workout is going to sneak up on you so be careful!
Wednesday: Taking A break from our lifting cycle today and hitting a five set piece called, "Joey a.k.a. Dr. Drake Ramoray." This one is going to be five sets of six clean and jerks at 135/95 and 10 burpee box jump overs. You'll have a minute and a half rest in between each round. Stimulus is moderate intensity today. You guys should aim to achieve similar times across each round. Both movements will be tempting to go too fast on initial rounds so you should be mindful of your starting pace for the work out. Choose your weight wisely or it won't end well. Don't come out too hot and test a moderate to fast pace at first and then see how you feel. Easy day!
Thursday: Testing our one rep max Deadlift today. Be mindful of form and positioning here but really get your mind right to go for it and get a heavy pull. Your coaches will be able to watch your last couple of reps and advise you if they think you should increase your weight or not. After this we will hit a max set of strict handstand push-ups. We are going to be looking for a proper form and set up today. After this we have a partner work out called "Gunther." Teams of two will do three sets of calories on the rower and power snatches. Reps on the rower and reps on the power snatch will decrease as the workout progresses. You guys will be alternating full rounds with each other. Power snatches are moderately heavy and should be something you can hit either touch and go or quick methodical singles. Lots of transitions in and out of the rower so think about lightly strapping your feet.
Friday: Another partner workout for your Friday enjoyment! "Monica Geller Bing" will be 5 sets (a set every 5 minutes) of chest to bar pull-ups, box jumps, and thrusters. You guys may split the work as needed. Pacing should be a sprint! You guys will work together on all sets, splitting reps as needed to maintain efficiency. The goal should be to set the tone early and hang on throughout the next four sets with consistent to decreasing times!
Saturday: "Princess Consuela Bananahammock" is also a partner workout today. You guys will be working on lots of row calories and rope climbs! This is going to be a fun piece with some rest built-in so really attack it when it's your time to work! Easy day!
     Well, that's all we got for this weeks CrossFit Simplicity Weekly Rundown. It truly is a beautiful day here in North Carolina and we hope you all are enjoying your weekend. You guys have been extremely consistent in the gym lately and we want you to keep it up as we dive deeper into June. We know that a lot of you guys will begin to travel for summer vacations so just as a reminder you can still hit a workout on the go and sign into class to show your dedication and commitment. These sign ins would count towards the committed club! Now keep up the good work and get plenty of rest, recovery, and relaxation so we can hit it hard in class on Monday. See you all there!
~Daniel