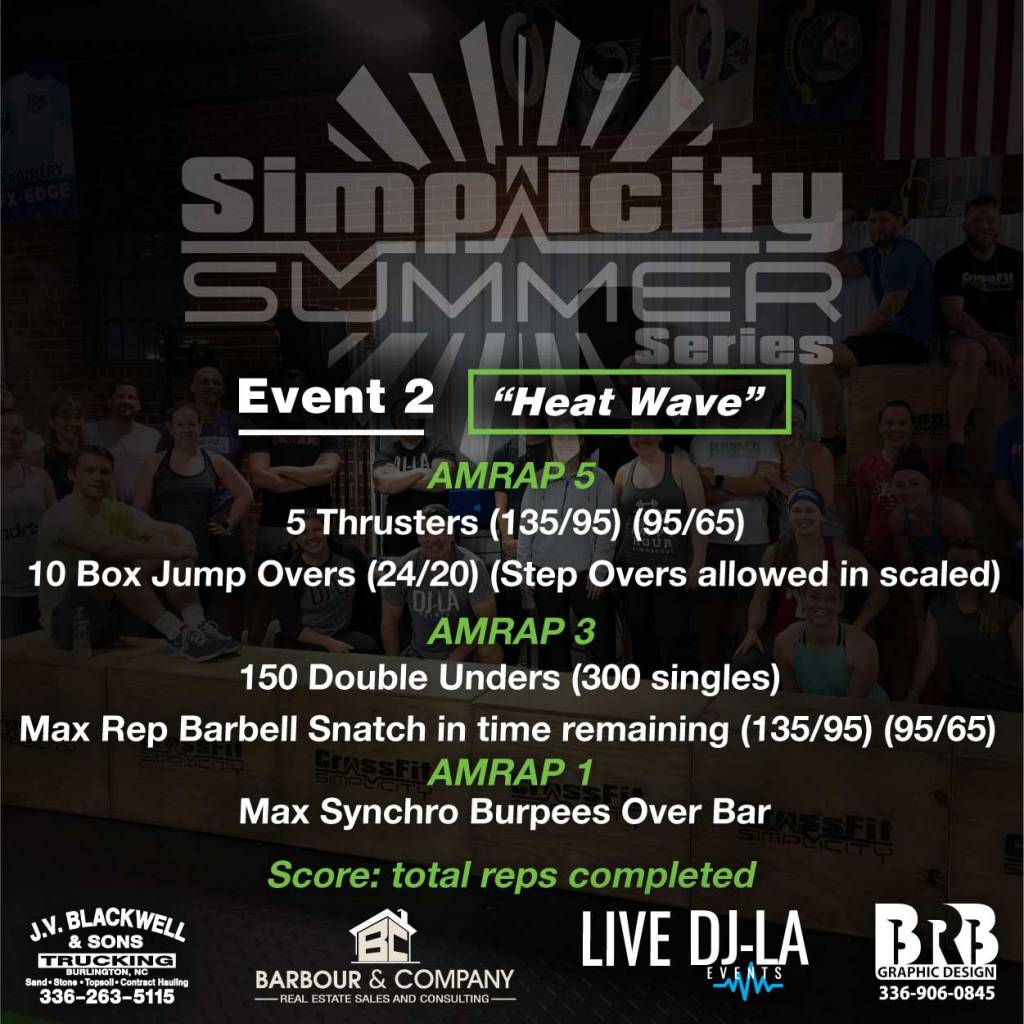 Hey guys,
Time for the inside scoop on what's coming up this week at Simplicity and some important announcements you don't want to miss. So be sure to give everything a good read and get excited about the coming week! (Also notice there are a couple gaps in the schedule this week so plan accordingly). Hero month has been going great! We have backed off the total number of hero WODs but we are still throwing them into Wodify as an option for those of you who enjoy the extra challenge. This week will follow a similar schedule with only 2 or so hero workouts throughout the week. You guys have been hitting these really hard which is great because it's a great way to honor and remember those who have sacrificed it all for us and these are benchmarks we can retest. Now, without further ado, let's get to the week head…
Registration is LIVE for the Simplicity Summer Series so get signed up ASAP! We need to get these sick t-shirts on the way!
There are still some women's tanks available on the front counter at the gym!
As well as the new unisex house t-shirts! All are just $20.
We have some exciting new drinks coming to the gym. In addition to the FitAid, GreaterThan and Bang Energy, we will also be adding some Celsius drinks that have a touch lower caffeine count for those of us who don't like to be too jittery and some Amino Energy drinks that have some BCAAs and caffeine to fuel you during your workout. We will also be getting some new wafer protein bars!
We are sorry for any inconvenience but we will have a few gaps in the schedule this week. There will be Open Gym hours from 8:30am until and then from 4:00pm-5:30pm on Monday. We will have a normal schedule for all other classes. Then Wednesday we will have Open Gym hours from 8:30am until . There will still be a programmed workout on the board!
Monday: Hero/Benchmark day! This is definitely not one to be worried about but it is one that will leave you panting and your forearms burning! This is also a retest so try to beat your old time! It's "Randy": 75 power snatches (75/55) for time. This one is all out so grip it and rip it! If you keep your hips higher as you cycle the snatches you will get quicker reps and save your quads but at the expense of your hamstrings and your lower back. If you keep to a more traditional bottom position with a lower hip you will use a little bit more quads but you might not enjoy as fast of a rep as you would get otherwise. The key here is to figure out how you want to break up the 75 snatches from the start and then try to stick to that game plan. This one is going to burn, but like Fran, if you hit it all out the pain is short-lived! 
Tuesday: We have an awesome AMRAP for you guys today! Testing this we all really enjoyed it and thought it was challenging but fun! This one follow a cool descending rep scheme with short transitions. You'll want to think about a little strategy for this one…but it's obvious and your coaches will help you out! Most of this workout is barbell cycling but with a pretty heavy bar. However, there are some toes-to-bar thrown in there each round for the gymnasts on the group! This is only 9 minutes long so go hard and try to keep those rests/transitions short! Breathe and move! 
Wednesday: Another one! That's right, another Hero workout today, but again another one that's nothing to be too worried about. This one is going to test your motor though, that's for sure! We have done this before: "Jerry!" This one is all aerobic so wear your running shoes. This is a good bit of running and rowing so pace it out and then give it your all on that lash run. As mentioned before this is a benchmark and a retest so really go for it! If you blow out that first run you'll regret it so settle in and work steady at first. Easy day! 
Thursday: Lifting day! And arguably the best lift: back squats! This will be a bit of a heavy day. We'll be starting with 5s and working our way to a heavy triple for the day. Remember to fight for a good upright position in the bottom and keep your core tight. If it feels good then really go for it today!
Friday: We've got a nice little chipper planned for you guys today! These are always fun because of the Variety of movements we get to experience and because the fact that once you're done with a movements that's all you'll see of it for the day. This one has a little bit of everything so you'll have to come to class to find out! 
Saturday: Bring a Friend Day!! This is our next one and it's going to be great! The last one was a lot of fun and we had an amazing turnout. We'll have a Facebook event made so feel free to like and share!
Overall we have a great week planned for you all! Then we'll cap it off with another amazing Bring a Friend Day on Saturday! You guys be sure to check out the announcements and take note of our different Open Gym/class schedule this week so you don't get surprised! And get signed up for our Simplicity Summer Series! This is going to be an awesome partner competition that you don't want to miss!
~Daniel