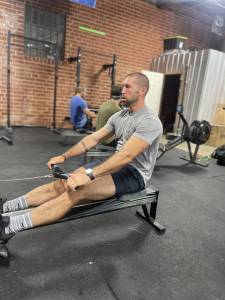 Hey guys,
      Burlington, what is up? It is a hot and beautiful Sunday here in North Carolina and time for the CrossFit Simplicity weekly rundown! We have a great week ahead of you guys filled with lots of good strength work and some awesome conditioning pieces. I'm not saying this is going to be the best week we have ever had at CrossFit Simplicity, but I am saying that the theme this week is Garth brooks songs. So if you don't like 90s country music please bear with us at the start of class each day…we didn't choose this theme, it chose us. Now, let's jump in and see what we have going on at CFS!
Monday: Of course we are kicking off the week with some front squats. We will have five sets of one pause front squat at 80 to 90% of your one rep max. If you are feeling good go heavy! As always we will mix these them with some strict weighted chin-ups. What do our front squats and Garth Brooks friends have in common? They are both in low places! "Friends in Low Places" is up next today! This is going to be a descending rep workout of moderate weight squat snatches and burpees over the bar. Stimulus is moderate intensity today. You need to find a pace that can be maintained on the barbell and the Burpee throughout this entire workout. Inefficient lifting technique by keeping the hips too high will most likely result in low back fatigue when combined with the Burpee so make sure you are focusing on good smooth snatches. Think about a weight that is around 60% of your one rep max.
Tuesday: Bench press today! I will be hitting five singles at 80 to 90% of your one rat Max. We will be working these them with some high box jumps. Next up we will have a little conditioning piece. You could certainly miss the pain of this conditioning piece but then you'd have to miss the dance… "The Dance" is going to be seven sets of a minute and a half AMRAP. You will have 10 deadlifts, five box jumps, and a max distance row in the remaining time. Resting a minute and a half between. Stimulus is definitely high intensity across all sets. You guys should move fast on the deadlifts and the box jumps and maintain a good push on the row. We are aiming for consistent scores on each round. Deadlift are light so go unbroken!
Wednesday: "The Thunder Rolls" is on the menu today… and we aren't talking post Taco Bell. Classic Garth today! This one's going to be five sets, one every five minutes, of calories on the ski or rower, GHD sit ups, and pull ups. The goal today is to finish a round in about three or 3 1/2 minutes. Stimulus is moderate intensity. You guys should aim to complete all work in under four minutes at most so you get about a minute of rest. We are looking for similar times across all round so take the first one a little conservative and then see if you can increase the pace on the next four. This is very heavy core workout so make sure do use your whole body on all the movements.
Thursday: Deadlift day! We will be hitting five sets of one at 80 to 90% just like the rest of our lifts this week. We will mix in some strip handstand push-up work around these. After this we will hit, "Callin Baton Rouge." This will be a partner workout. You guys will have to complete a big set of calories on the assault bike and then 125 synchronized air squats! You split the bike calories as needed. We have actually done something similar to this in the past. It's a repeat from February 24, 2021. Stimulus today is moderate to high intensity. You guys should look at completing bike sets that will allow for intensity to be kept up and completing squats in either quick fast sets or moderately paced larger sets.
Friday: "If Tomorrow Never Comes" He's going to be three rounds of 30 toes to bar and 50 foot overhead walking lunge with a 95/65 pound barbell. Stimulus for today is moderate intensity with consistent pacing across rounds. You guys need to go into this work out with a plan for sets on the toes to bar while grinding through the lunges. Use the clock and try to keep times similar across rounds. A great place will be sub three minutes per round. Easy day!
Saturday: For some reason the workout has not been published for Saturday. So I'm sure it will be a partner workout and I'm sure it will be exciting. You guys stay tuned!
      That's all we got for this weeks edition of the CrossFit Simplicity weekly rundown. It would be hard to hide the excitement for this Garth Brooks themed week so feel free to do a little bit of homework tonight and listen to a few of these classics. You guys have really been killing it in here lately so be sure to stay consistent and keep up the good work so we can see these goals realized. I know it's hot in here so make sure you get plenty of water throughout the week and some good sleep. Now enjoy what's left of your weekend and get plenty of rest and relaxation so that we can hit it hard on Monday!