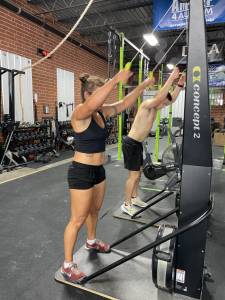 Hey guys,
     It's a warm and beautiful Sunday here in Burlington North Carolina and time for the CrossFit Simplicity Weekly Rundown! We had an amazing week last week and I'm excited to turn around and do the same thing as we roll into a new month! We have officially wrapped up two months of our NBD programming and the results have been next level! Congratulations to all of you guys that have gotten your first double unders, strict pull up, or handstand push-up! If you're not quite there yet just trust the process and stick to these progressions and it will come! We have some really great programming for week nine so let's dive in below!
AMRAP 4 Autism: What a blast! Thank you so much to everyone who came out and participated in our A4A event! We raised a lot of money and had a lot of fun for this amazing cause. As soon as I have a final count from the organization I'll shoot out an email letting everyone know just how much money we raised and how much we were able to donate to our local organization: Abundant Life Christian Ministries. Again thank you guys so much for showing up physically and financially and being a part of this great community!
New Shirts: It's past due! I'll send out a survey to see what everyone is feeling as far as colors!
Affiliate Programming:
Week 9
Monday
Performance Prep
Coach led – hips and shoulders focus
Weightlifting: Snatch
3×1 Power Snatch + High Hang Squat Snatch Start at 60% max snatch and increase weight each set.
Gymnastics: Pull-ups
Accumulation emphasis
7×30% of max set. Rest as needed – 7 min cap
Conditioning: Intervals
Echo Bike. 3 RFT 30/24 cals. Work 1:30, Rest 3 min
Optional Accessories
Tuesday
Performance Prep
Coach led – full body focus
Strength: Back Squat
3×6
Work up to heavy set (9 RPE) for set 1. Sets 2 and 3 are 10% less than set 1.
Engine EMOM
24 min EMOM.
1.) 10/8 cal ski + 5 Thrusters (95/65)
2.) Rest
3.)10/8 cal echo + 5 Power Clean (95/65) 4.) Rest
5.) 10/8 cal row + 5 DB Box stepovers (50/35) 6.) Rest
GHD Progression: Week 9
Max emphasis 2xAMRAP. Stop at 8 RPE
Optional Accessories
Machine Zone 3 Progression – see coach for details
Wednesday
Performance Prep
Coach led – lower body focus
Aerobic Power
2 min work, 5 min rest. 2 rounds 400m run
Max echo cals in remaining time
Aerobic Capacity
30 min EMOM 1.) 15 cal row 2.) 15 burpees
Stop when you fail to complete a round.
*If you do not think you can complete 5 rounds (10 minutes), scale:
1.) 12 cal row 2.) 12 burpees
Optional Accessories
Sled push/pull & Plate pinch walk
Thursday
Performance Prep
Coach led – full body focus
Strength: Push Press + Bench
3×6 Push Press. Work up to heavy set (9 RPE) for set 1. Sets 2 and 3 are 10% less than set 1.
3×6 Bench Press. Work up to heavy set (9 RPE) for set 1. Sets 2 and 3 are 10% less than set 1.
Gymnastics: Strict Handstand Push-ups
Max emphasis. 2XAMRAP
Conditioning: Metcon
AMRAP in 15 min
3 wall walk
6 ring dip
18 box jumpover (24/20″)
Goal: 7+ rounds
Optional Accessories
Seated Band Anterior Tib Raise + SL DB Heel Raise
Friday
Performance Prep
Coach led – full body focus
Weightlifting: Clean and Jerk
3×1 Power Clean + High Hang Squat Clean + Split Jerk.
Start @60% max clean and jerk and increase weight each set.
Gymnastics: Double Unders
Technique focus.
10 min EMOM
Odd – 45 seconds max double unders Even – 45 seconds max single unders
Conditioning: Zone 3 AMRAP
AMRAP in 15 min
10 DBL DB Power cleans (50/35) 10 DB lunges (50/35)
200 m run
10 alt. db snatch (50/35)
10 DB OH Lunge (50/35) 200m run
25 GHD
Zone 3 AMRAPs are intended to be completed at a sustainable pace. Move through this workout at an intensity that feels challenging yet sustainable for the full time domain. You should pick a pace that you may be able to say a few words in but likely cannot hold full conversation. If you are focused, you should be able to breathe in and out of your nose for the majority of the time.
*If you use a fitness device that tracks your heart rate, you want to work in HR Zone 3.
Optional Accessories
Copenhagen Iso + GHR/Razor/Nordic
Saturday
Performance Prep
Coach led – full body focus
Strength: Deadlift
1×1 @100% or more.
2×3 @75%. Hands stay on the bar each rep, full reset (no TnG reps). Hit a set every 1:30.
Conditioning: Metcon
25 min AMRAP
Partner A: Start on Echo Bike. Partner B: Start on chipper.
Switch as desired, both partners working at all times – 1 partner on bike and other partner working through chipper.
Chipper:
125 Double Under
100 wall balls (20/14)
75 DB Goblet Squat (70/50) 50 Burpees over DB
25 DB Thrusters (70/50)
*Score is total Echo cals completed. Chipper MUST be finished by 25 min time cap for Echo score to count. If chipper is not finished by end of 25 min, final score = 0.
Optional Accessories
Bodybuilding Circuits – see coach for details
Sunday
Optional: Low intensity
aerobic session
     Time to bring this thing to a close! It's looking like another great week of training here at CFS! I know it's hot out here these days so please do your best to prepare. Start hydrating as soon as you wake up, get plenty of sodium and electrolytes, and manage your performance expectations when you feel a little drained. You guys have been doing an amazing job of being consistent so keep it up. We really love the dedication to the new programming and we are seeing some really amazing results out of you all. No doubt this will be an awesome Open season for us her at the gym! Now get plenty of rest, relaxation… And hydration so we can hit it hard this week. See you all in class!
~Daniel