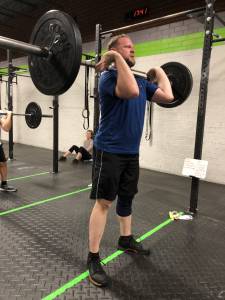 Hey guys,
       It's no secret that consistency is king in almost any endeavor or goal we set out to accomplish, and it's also no secret that there's nothing more consistent than the CrossFit Simplicity Weekly Rundown! For years now the Rundown has been released every Sunday without fail…This is the Way. Now if you're a Star Wars fan and have Disney+ you already know this week's theme for our workouts…The Mandalorian! If that means anything to you then you know this is going to be an epic week. If you don't watch The Mandalorian then just know this week is going to be full of lots of action and some great workouts. It's going to be gritty, it's going to be tough, but it's also going to be super enjoyable and rewarding if you get in here consistently! So now let's have a quick look at the announcements because we have some great stuff coming up, like our next Bring a Friend Day on Saturday, and then let's dive headlong into the programming.
Bring A Friend Day: We are super excited about our next BAFD with the amazing and talented DJ-LA THIS Saturday at 9am! The vibe will be next level today and we'll have a first time friendly workout for your guests so spread the word!
CrossFit Open: The CrossFit Open is coming up in March so get signed up so we can have some fun hitting these workouts and testing our fitness together as a community! Here at CrossFit Simplicity the Open is no pressure, just fun! games.crossfit.com
Gymnastics Skills Class: We had to move our next free gymnastics class to Sunday Jan 24th at 3pm! Hope to see you there!
CFS Joggers: Unfortunately due to some shipping delays our joggers were pushed back but they will be in the gym Monday or Tuesday of this week!
Monday: Kicking off the week with none other than, "The Mandalorian." Much like the hero of our tale we will be looking for toughness and consistency in this workout today. This one's going to be on the longer side so be sure you come in to class on time, focused on your coach, and ready to roll. We will have four rounds today, one set every 10 minutes. You'll have three sets of assault bike calories in each round. After each set of assault bike calories you will have a descending number of dumbbell thrusters to knock out. As the reps decrease on the dumbbell thrusters the weight will increase. If the dumbbell thrusters give you mobility trouble in the bottom then kettlebells may be a good option. The intensity will be high here and you need to be aware that both these movements are going to fatigue the arms and legs so there's not going to be a lot of opportunity to rest within rounds. I want to encourage you guys to move with a purpose today and attack each movement. Scaling is going to be very important because you need to get at least 3+ minutes of rest in every round! Good stuff!
Tuesday: We are back today with our snatch complex but we are going to be increasing the percentages a little bit. We still need to have a good focus on form and position so pay attention to both of these as you warm up. Remember the complex is one power snatch, one hang snatch, and one snatch. As we talked about last week if you don't see the word "power" before a snatch then it is implied that it is going to be a full snatch with the bar received below parallel (in a squat). Today this means the second and third snatch. After this we have a really cool kettlebell swing and double under workout called, "This is the Way." The kettlebell swings go from 10 to 1 reps decreasing by one every round. But in between every set of kettlebell swings you will have a set of double unders. The kettlebell should be something that you can knock out every round unbroken and the double unders should be something we can complete in 1 to 2 sets. There's definitely going to be some shoulder fatigue today so try to be efficient with your double unders and really use those hips on your kettlebell swings. If you want to attempt double unders but you're not too efficient think about potentially doing double unders every round but after to mess ups within a round switch over to singles. Easy day!
Wednesday: We have a truly special treat for your hump day workout enjoyment. Whether you watch The Mandalorian or not you've probably seen the baby Yoda craze sweeping the social media nation. That's our workout today: "Baby Yoda." This is actually going to be a partner workout consisting of wallballs, sit ups, and synchronized push-ups! Like any partner workout this is going to be pretty high intensity. When it's your time to work you need to push the pace knowing that you will have a rest while your partner is working. Break up the wallballs and sit-ups strategically to minimize your rest time, but also be mindful of the time it takes to transition. When you get to the push-ups you'll be working together meaning each person must complete the total number of reps. For these to be synchronized you guys must be locked out at full extension at the same time as your partner. Doing them synchronized makes them a little bit more difficult so teams might want to think about doing fast quick sets of 5 to 7 reps of the time to avoid unnecessary fatigue.
Thursday: What a day we have lined up for you guys here on Thursday. "The Gunslinger" is going to be a combination of three 10 minute EMOMs. Each one with a different movement. Your first 10 minute EMOM will be meters on the rower, your second one will be power snatches that must be touch and go, and your last one will be 10 minutes of….bar facing burpees! You're row minutes will take you about 40 to 50 seconds, your power snatch minutes about 15 to 20 seconds and your bar facing burpee minutes about 30 to 45 seconds. Make sure that you scale so that no single minute ever takes you over 50 seconds. You want to work fast to get your reps done in the required time. This workout is all about high output and recovery. We want you to push the pace but not to the point of red lining. Everything should be adjusted to where you can stay within the target times! Easy day!
Friday: We have a double treat for you guys today with a continuation of our weightlifting cycle to start things out and then a conditioning piece called, "The Rescue." Like our snatches earlier this week we will be on a clean complex consisting of one power clean, one hang clean, and one clean. This will follow the exact same form and style as the snatches earlier this week and will also increase the weight percentages a touch. "The Rescue" it's going to be a very "open style" work out with deadlifts and handstand push-ups. The reps for each movement will remain the same throughout but every round the deadlifts will increase in weight. This is very much like something we may see in the Open this year so use it as a great opportunity to practice and push yourself. We will also offer you some percentages as a guide for how heavy your deadlifts should be across all five sets so that you can still hit the target stimulus and not time cap. Part of this workout is being able to change your own weights so make sure you have everything set up before we takeoff. The deadlift weights should probably be something that you can hit unbroken when fresh but it would be smart to complete these in 2 to 3 sets so that you save shoulder and low back fatigue for the handstand push-ups. If you're performing this workout RX make sure that the handstand push-ups are something you can comfortably complete in 2 to 3 sets throughout all five rounds. Kipping or strict will be allowed today. Have fun with this one and really get after it!
Saturday: Bring A Friend Day! By far these are the best days of the month at CrossFit Simplicity! Bring a Friend Day is always a super high energy class with lots of fun and an amazing atmosphere. This one is going to be just the same. Mark your calendar and spread the word to show your friends and family what CrossFit Simplicity is all about!
        You don't have to travel to a galaxy far far away to experience some fitness, fun, and friendships! We have all those right here at CrossFit Simplicity this week. It really is going to be an awesome week here at the gym and we hope you all will be able to get in here as consistently as possible and then wrap things up with a great Saturday class. I can't express to you guys enough just how amazing the energy, atmosphere, and just general motivation has been around the gym this month. It really is something to witness! From me and all of your coaches, thank you! We want you guys to know each and every day how grateful we are for you all and what a blessing it is to be serving you guys and having a lot of fun. Now enjoy the rest of your weekend and we will see you all in class!
~Daniel