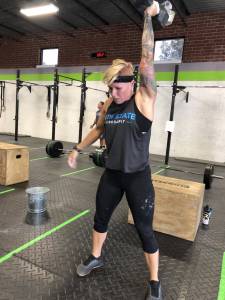 Hey guys,
       Hope everyone had an awesome weekend and got lots of good sleep, nutrition, and recovery! We have an amazing week ahead of us at Simplicity to look forward to. Lots of fun stuff both inside and outside of the gym including our very first community outing of the year! (See announcements below) This week's programming is excellent and lots of fun! We'll be testing out all the Rogue invitational online qualifier workouts. Don't be alarmed…these are not so rough like the actual event workouts but they are very challenging and very well written. We had an absolute blast testing this out for you guys last week and we hope you guys will have just as much fun hitting them this week! Now let's check out some announcements below and then hear about these workouts!
Community Outing: Our first community outing of the year will be this Friday evening! Meet us at Country Club Lanes bowling alley in Burlington at 7pm for some fellowship and fun!
Martin Luther King Jr Day: We will have an abbreviated schedule on Monday for the holiday! We will be having a 5:30 AM, 12 PM, 4:30 PM, and 5:30 PM class.
CFS 3 Year Anniversary: Feb 15th march 3 year anniversary of CrossFit Simplicity and we will be celebrating with an epic Bring a Friend Day event! This is one you definitely don't want to miss out on as we celebrate this community we've all built together!
Monday: We are starting off the week with Rogue Invitational online qualifier Event One! (Isn't that what you'd expect?!) This one is an excellent little workout that's going to be a short, fast, little burner! This one is a 10 minute AMRAP consisting of a 1k row and 75 thrusters at 75/55lbs. The goal here is definitely to try to finish one round so keep that in mind when deciding to maybe scale the distance of the row or the weight on the bar to make this possible. There's not going to be a lot of time to rest in your transitions and you want to think about how to break up those thrusters and spend the majority of your time on the bar working instead of resting. One thing to think about might be a good descending rep schedule to look something like this: 20, 15, 12, 10, 8, 5, 5. If you do get back to the rower then shut your eyes and GO until you hear that clock!
Tuesday: Guess what? Another RIOG workout today! This one will be Event 3! This one is a bit of a chipper style AMRAP but with some double unders between each movement. This is a longer one and we'll have 20 minutes to get as far as possible. Your movements today will dumbbell snatches, toes-to-bar, dumbbell squats (front rack/shoulders), and strict handstand push-ups. All these will be broken up with a set of 100 double unders.  Meaning we'll start with a set of 100 double unders then roll into the dumbbell snatches, another set of 100 double unders, into the toes-to-bar, etc until we finish the strict handstand push-ups. If you finish those in 20 minutes then grab your rope and start over! The key to this one might be pacing out those double unders if you think these are going to give you trouble in the later rounds. It's also a good option to maybe scale these reps back a touch. If you can't do double unders we'll sub them out for 100 singles!
Wednesday: Hump Day! And it's time to jump back up in the events and hit Event 2 since we got a little out of order! This one is just as good as the rest but may get those legs and lungs burning a little more. This one is back on the shorter end (12 minutes) and has a really cool rep scheme. We'll go 3-6-9-12 of pull-ups and squat cleans at (135/95) and then back down through 12-9-6-3 of bar muscle-ups and squat cleans at (185/125). This is going to be hard for us to complete in 12 minutes so just work as hard as you get and get as many reps as possible. Really think about where you are strong here and focus on pushing the pace in those areas. These squat cleans are going to get your legs and lungs going to try to be methodical and steady through these. Remember to breathe, breathe, breathe!
Thursday: Heavy Day! This is one that will be really cool to test and also something we don't test often. Today we'll be finding a one rep max thruster! Don't worry, this will be from the rack! We will work our way to a heavy single for the day then finish off with some good, but tough, tempo dumbbell thrusters. On your one rep thrusters be sure to keep a very upright position in the bottom and a solid front rack. This is going to be crucial to getting a good stand up, and hard drive/hip opening at the top, and a good press. When things get heavy you'll need to really get a hard drive and keep pressing even if the bar slows down overhead. Have fun with this one and see what you can move!
Friday: We are finishing out the week with our last Rogue Invitational online qualifier..Event 4! This one is short and sweet but it'll still get you breathing heavy. We'll have a quick 6 minutes AMRAP of 3 box jump overs, 6 deadlifts, and 9 bar facing burpees. If these are good moments for you you'll really be able to push the pace on this one and keep moving. The dead lift weight is pretty typical here and should be something you could knock out in 1 to 2 sets or some pretty quick singles. Depending on how efficient you are with your burpees you might want to think about doing some step down and step up reps on these since they are bar facing and will take up a little bit more of your time and really get your heart rate up. This is probably the only place you'll need to think about paving in this workout. Try to set a tempo that allows you to continue to knock out reps even if you have to slow things down a bit to catch your breath. Have fun with this one and really go for it because it's only six minutes long!
Remember that this evening at 7 o'clock we will be heading over to the bowling alley to hang out and have some fun as a community and we hope you all can make it!
Saturday: We have an awesome workout to start the weekend for you! This one is not a qualifier workout but it's definitely a good one! This one will have a buy-in and buy-out of muscle-ups and then some solid movements in between. We'll be looking at 5 rounds of some push-presses, box jumps, and double unders! This one isn't going to be the hardest one we do all week but it'll still get you a great workout and remember that you always get out what you out in so really go for it and have some fun!
        This week is going to be legit with all these Rogue online qualifier workouts! As I mentioned before, we had a lot of fun with these and we really hope you'll enjoy them as well! It's always a lot of fun and a neat feeling to test out workouts that people all over the world I've been hearing as well. Kind of gives us an even greater sense of the community we are involved in. It seems like we mention this every week but morale, attitude, attendance, and just the vibe around the gym in general has been amazing so far this month. We are very proud of the work everyone is putting in and we've been seeing tons of PR's lately…Even on days we weren't expecting! Let's keep this thing rolling as we wrap up this month and get deeper into the new year!
~Daniel