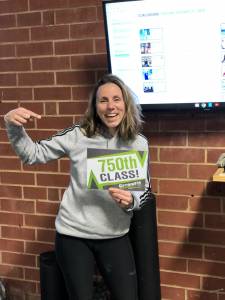 Hey guys,
       And now for the moment you've all been waiting for: The CFS Weekly Rundown! (Cheers, applause, etc) OK guys settle down, settle down, let's get down to business now. We have a pretty awesome week of programming ahead of us and it's also interesting that will be transitioning out of January and into February and our second month of the year! Again we can't express enough how great 2020 has started off here at CrossFit simplicity and how excited we are for this community the rest of the year! You guys have done an amazing job at staying consistent and pursuing those new goals and we want to keep that drive going throughout February as well! Let's have a look at a few announcements and then get right to this weeks workouts.
Thank you to everyone who came out to our first community event of the year at the bowling alley Friday night. We had a great time hanging out and having fun with all of you guys and we can't wait to do another event like this in February so stay tuned to find out what this next one will entail!
CrossFit Simplicity is turning three! That's right, our three-year anniversary is February 15th and we will be having a celebratory Bring a Friend Day to ring in our third year! We hope you all can make it to celebrate our community with a little fitness, fun, and friends!
Monday: Heavy Day!!! We have deadlifts on the menu for you guys and we'll be looking for a heavy triple. We want to have at least 5 heavy sets today. If you're feeling good then increase the weight across each set as long as your form is in check. If you feel form slipping then it's a great idea to get to a heavy weight and stay there for all 5 sets. As long as we get a heavy triple we are good to go! After this we have a pretty cool little accessory piece! You'll have a light barbell and you'll do 10 reps of this complex: barbell lunge (R), barbell lunge (L), then a good morning. Good stuff!
Tuesday: Heavy Day? Not quite…but we are doing "heavy Grace!" A typical "Grace" is 30 clean and jerks for time at 135/95lbs. This is normally a very fast and intense workout that should be completed in 2 to 5 minutes. However, heavy Grace will be significantly more weight on the bar and we will be shooting for a goal of around 10 to 11 minutes. The weight as prescribed today will be (205/145). While this may be too heavy for some of us, we'll still want to use a weight that's challenging and forces us to go for methodical singles. The idea here is good, smooth, steady work. After this we'll get a little pull-up strength/accessory work!
Wednesday: "Death by" day today! These are always tough ones to work through but that's how we like it anyway! Today will be death by row/bike calories. This means that we'll start with 8-10 cals in the first minute and then increase by one calorie every minute until we bust/can no longer complete the desired reps within the minute. But there's also a twist today…after we bust we'll rest two minutes then start back with the last completed round and work our way back down if desired. If you're looking for some extra conditioning then definitely go this route today!
Thursday: "little ditty 'bout Jackie and Diane…." wait maybe that's not quite right..regardless, we'll be talking a lot about Jackie and Diane today because those are the TWO benchmarks we'll be hitting today. That's right, both! We have done something similar to this in the past and we are bringing it back. It'll work like this: you'll have ten minutes to complete "Jackie." Any time you finish before the 10 min clock will be rest you'll have before the next ten minute clock. When the clock reaches ten minutes you'll start another 10 min clock where you'll complete "Diane." Generally we try to really lay it all out and sprint these benchmark workouts. However today we'll need to pace things at least a bit on the first workout so that you don't just crash and burn for the next one! Most of you guys are familiar with these benchmarks and these are ones we've done multiple times in the past so think about adding a minute or two to each of your best times and pace off of that! Easy day!
Friday: This one is fire! Well really just on your lunges! But really, all jokes aside, today actually is a little burner! This one is challenging with the heart rate and the loading. We'll have 5 rounds of 20 wallballs and 10 hang power cleans at (155/105). The reps are just low enough relative to each movement that you'll really have to think about breaking things up or going unbroken. One strategy might be picking the movement that gives you the most trouble in breaking it up while attacking your best movement a little harder. We are lucky that the clean is a "hang power" today, meaning that we can go from the thigh on each rep and don't have to squat it down below parallel. This will definitely save time and energy. Overall today just try to keep breathing and keep your heart rate down as much as possible leading up to the last round or two then really turn it on and go for it!
Saturday: Today's workout is going to be…interesting! Definitely something a little different than we've ever done before and one I think you'll enjoy! This will still be a partner workout so don't sweat that. However, that's all the information you're going to get right now….
        This is looking like an excellent week at Simplicity as we round out the month of January. Every week sitting and going through the programming and writing this rundown only increases my excitement for the week to come and we hope that this little taste of the future gets you guys excited and ready to come into class and give it your all as well! This week has lots of variance and some really excellent workouts that should continue to push you guys closer and closer to reaching your goals. Can't wait to see you all in class!
~Daniel