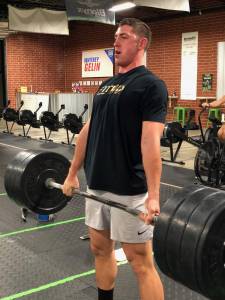 Hey Guys,
Great work last week! Really felt like everyone put in a solid effort and we got a lot done! This week is looking like a great start to the new month a signal that our in-house competition is coming up soon! Registration is closing soon so don't miss the chance to throw down with all your friends! Sign-up Here!
Monday: If you're feeling "dead" because it's Monday and you need a "lift"…we have you covered! (I'll be using this joke in class all day so prepare accordingly) We'll be going heavy today but with a little different deadlift variation!
Tuesday: Great tester right here from the folks at CrossFit Linchpin! This is one that we'll likely retest in the future so try your best on this one and focus on moving really well. This one features one of our CF "girls" and some running. It's going to be frantastic!
Wednesday: Fun EMOM planned for today! This one is a little different and it's longer than most we do. Don't worry though, this is nothing like the rough EMOMs from last week, but it is a great workout. Odd objects, burpees, rest minutes..need we say more?!
Thursday: Today will be a good chance to flip things up on their head and break away from the usual. If you've been practicing your handstands you just might be in luck today! If not, you'll still get your shoulders burning with a different variation. This is a good one!
Friday: Great day planned for Friday! Love these days where we lift AND get in a short conditioning piece. Snatching will be the theme today and we'll have a benchmark workout to hit at the end!
Saturday: Saturday might be another "CFS Special". Only time will tell…but it'll be good either way!
Another great week ahead of us here at CFS and we can't wait to kick it off!  As our community grows it seems to only get better and better and we couldn't be more excited.  Hope to see you all in here this week!
Sign-up here for the CFS Halloween House Party!
~Daniel