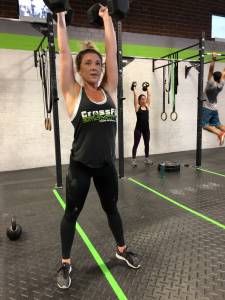 Hey guys,
       New week, who dis? It's the CFS Weekly Rundown…time to crack into the week and see what we have in store. We had our first week of the 2020 CrossFit Open and it went really well (so far…you can still hit it Monday if you need to submit a score). Like we talked about before, we aren't doing a huge Open this year but we still have quite a few of you guys that are signed up. Remember you'll have until about 7 PM Monday evening to submit your score in the Games app or on the Games website. Again, if you aren't signed up that's no sweat at all but it would still be great to try to hit each of these workouts each week on Friday. These workouts are a great test of fitness and ones that we would use as benchmarks to test and retest in the future. Apart from the Open we have a great week of programming ahead of us with some really fun and interesting pieces! Let's check out a few announcements below and then dive into the week…
New black on black CFS shirts are here! These look really cool and they're available for purchase at the gym for $20
We just got back the mock ups for some new hoodies! These will be thicker than last year's and a more traditional style hoodie. Look for pre-orders coming this week!
Our next Bring a Friend Day will be October 26 at 9 AM! Start spreading the word!
Monday: we are actually taking off the week with a work out that's not too different from our open work out last week… However, it's significantly shorter. This will be three rounds of 10 ground to overhead (meaning you can snatch or clean and jerk your barbell) and a 200m run. The barbell weight is light/moderate meaning we really want to push the pace on this one. The goal for this workout will be sub six minutes! Try to pick a weight you can do unbroken on and one that allows you to get right back on the bar when you get in from the run! After this we will get into a little bit of overhead work and core accessory work! Good stuff!
Tuesday: Lifting day! Doesn't get much better than a Heavy Day does it? Today we'll be focused mainly on the upper body/pressing. We will start off with some push press work from the rack and then move into some dumbbell accessory lifts involving some pressing and pulling. We will also have some optional dumbbell bench press work thrown in today as well! All around it should be a great day to get under him move some weight! Don't miss it…
Wednesday: We have a pretty rough one plan for you guys today and one that will definitely require some mental toughness and some pacing. Although this one will be challenging it might actually be one of the more effective workouts we do all week. This was a very good make sure of conditioning and some really good weightlifting/barbell cycling work. It will be a 20 minute AMRAP of Two rounds of Cindy (5 pull-ups, 10 push-ups, 15 air squats) followed by one round of DT (12 deadlifts, 9 hang power cleans, 6 push jerks all at 155/105)… You will do as many rounds of this as possible within that 20 minutes. This one is a real burner and can give you quite the challenge. Don't shy away from coming today but do be sure to scale or modify the work out so that you can stay moving and get in a good workout! I would suggest breaking up the rounds of DT from the start to save your grip and try to keep your heart rate as low as possible for as long as possible.
Thursday: We have a really cool workout for you guys today! This is different than anything we've ever done before… Or at least in quite some time. It's a three round workout with a 21-15-9 style rep scheme except you do three rounds of this. But that's not the different part. What's different is that you'll be trying to complete all three rounds as fast as possible but you have to stop every 1:30 for a :30 rest! This definitely changes your strategy some. You'll be able to push really hard for 1:30 because you'll be forced to rest for :30 after. After the :30 rest you'll pick up right where you left off in the workout and keep going! We thought this one was very fun when we tested it and we think you guys will feel the same! The movements are pretty basic today with lots of row calories separating sets of burpees, kettlebell swings, and handstand push-ups. Really push the pace on this one and trust your fitness during the rest that you'll recover and be ready to go again for the next 1:30 window. Easy day!
Friday: This will be week 2 and the day that we hit Open workout 20.2 for the first time. Like last week we won't know what's in store for us until Thursday night during the live workout announcement. No matter what it is we know you guys will be prepared so trust yourselves, don't be anxious, and just have fun! If last week wasn't your week then maybe this one will be right in your wheelhouse!
Saturday: We have another awesome partner workout for you guys today! This one is lots of squat snatches, running, and bar muscle-ups! (Don't worry, we can always throw in a pull-up variation there) We think you guys will really enjoy this one and the fact that you're working with a partner allows you to really go for it! Have fun and let's get a good start to the weekend!
         Overall it's looking like a great week here at Simplicity with lots of cool workouts to look forward to. It's always nice to keep lots of variance within each week so that things stay interesting and you can also keep your body guessing. You guys have been performing really consistently lately and we've been seeing lots of great results. We had lots of really good snatch PR's last week which was very encouraging for us as coaches. Remember to keep pushing day in and day out and you are sure to see the results you're looking for. We hope everyone had a great weekend and we can't wait to see you all in class on Monday!
~Daniel