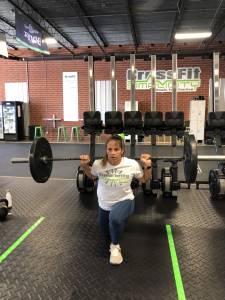 Hey guys,
      What an awesome first week we just had back at the gym! It's really encouraging to see how much energy and enthusiasm you guys are bringing the class each and every day! By no means did we have an easy week last week but you guys stepped up to the challenge and we are back rolling strong! as you guys might've noticed we introduced some new elements to our programming like some more skill focused warm-ups and some really good aerobic work on Thursdays! we really hope you guys will trust the process and really put some strong effort into these two elements and we know you'll see great results! We have another great week of programming ahead of us but a lot of good variance and some really interesting pieces so let's check out some announcements below and then have a look!
We've been doing a great job cleaning up and sanitizing equipment at the gym but please remember to continue diligently washing your hands before and after class and taking personal responsibility for wiping down all of your equipment.
New CFS shirts are on sale at the gym for $20!
Remember to share our "Quarantine 15" deal with your friends and family and earn you BOTH 15% off your month! We have already had a few of you guys take advantage of this so be looking for your discounted month in July!
Monday: We have an awesome workout for you guys to start the week and one that is a twist on a workout we hit back in January. In January this workout was set up as an EMOM but today we'll set it up as an AMRAP and see if you can still keep the same pace and intensity. This one will involve some calories on the rower or bike, toes to bar, and rope climbs! We will address some skill work on the rope climbs in the warm-up and remember that we can always sub these out for another pulling variation during the workout to keep you moving! You'll want to keep a strong pace on the rower or bike but not so fast that you can't get right on the toes to bar when you come off. This should be a good one so really go for it!
Tuesday: We have an awesome chipper on the menu today and it's gonna be a bit on the long side so get ready! This one has a little bit of everything and some really interesting movements as well! We'll start off with some wallballs and then move to some dumbbell snatches, double unders, running, single arm farmer carries, and then finally a movement we've never done before which will be medball box step overs! There's a ton of variance in this workout which keeps things very interesting. It's also nice when we do a chipper because once we finish a movement we generally don't come back to that same movement within the chipper. Mentally this will help you push through and keep a good pace knowing that if you can fight through that movement you won't have to do it again! Good stuff!
Wednesday: Weightlifting Wednesday is back! Back with the snatch! Today we will be working on the power snatch again but working on some sets of two and three before we eventually go for a heavy single. Remember to really focus on a good start position with your knuckles down and chest up and then be patient in your pull and try not to open up until that bar is in the hip pocket and your back is vertical! After this we will actually break things down and have a little burner with some row calories and burpees. This one's going to be full send and we are looking for times around the 4 to 6 minute mark! Easy day!
Thursday: Back to our aerobic days! Today's workout will be anaerobic capacity piece!  This will also be another one of our tester workouts so be sure to get into class today so that we can record a score for this one that we can test and retest down the road! This one is an interesting piece that's going to be structured as an EMOM. It'll be 20 minutes alternating between row calories, burpees, box jump overs, and double unders. Each one of these minutes will be for max effort work. Now slow down before you have that knee-jerk reaction because there's a catch…Your score will be your lowest round for each individual movement. Meaning if you sprint the burpees on round one and do 21 but then on the fifth round you only get 7 your total score for that movement is seven. That means you need to pace things out a little bit but still try to force yourself to work stronger in each movement! The key here is consistent strong effort!
Friday: Lifting Day!…I mean…Conditioning Day!…wait…Both! This is a super fun piece that will give us a great opportunity to learn and practice technique, get in some great strength work, and a little bit of conditioning! A lot of you will be familiar with the Bear Complex that we do today because we have hit it multiple times in the past. It's a lifting complex meaning once you pick up the bar you will complete each movement before returning the bar to the floor. We are going to do a 20 minute EMOM of the Bear Complex at a consistent weight. It's going to be a little tough to figure out because at the beginning of the workout you'll obviously feel a little better than you might 20 minutes in. So if you have to it's OK to bump up periodically throughout to get the desired stimulus. The bear complex is one power clean, one front squat, one push press, one back squat, and finally one behind the neck push press. This is going to give us a great opportunity to work on it in good positions and being consistent!
Saturday: We have a fun workout for you guys today! This one is a great mix of box jumps, light power snatches, row/bike cals (or you could run), and sit ups! This One will be pretty simple and light so you'll be able to really push the pace on this one and test yourself. Saturdays are always one of the best days of the week were we can all come together as a community so do your best to get in here and let's have some fun!
       This is going to be another awesome week at CrossFit Simplicity! It's so great to all be back together with a renewed sense of community and commitment to our fitness. The atmosphere in the gym right now is truly something special so let's continue to stay consistent and keep this vibe alive each and every day this week! If you guys trust this process, get in here consistently, and give it your best you'll be rewarded with great results and a great sense of accomplishment! now let's get after another great week. See you all in class!
~Daniel