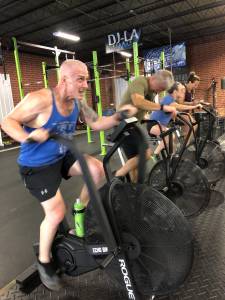 Hey Guys,
     You already know what time it is. Time for another debriefing of what to expect at CrossFit Simplicity this week. Perhaps in these most uncertain times the CrossFit Simplicity Weekly Rundown is the most consistent thing in your life…maybe. Regardless, we have an awesome week in store for you all. Last weeks breakfast theme was truly historic and we had some awesome workouts and a lot of fun. Now speaking of fun and games…In honor of the CrossFit Games we are going to be having a Games themed week this week. This means we will be going back and hitting some workouts similar to this year's CrossFit Games. (With some obviously scaled down versions for us mortals!) So let's have a look at some announcements and then dive into this weeks programming!
CFS Winter Gear: Our proofs are finally ready so we will be putting out a pre-order form this week at the gym! Look for one early as Sunday evening! We will have two styles of sweatshirt, a toboggan and being, and joggers! We will need your orders back by Saturday the 24th
CFS Winter Membership: We know that holidays can be a tough time for fitness so we want to encourage your friends and family to try us out with our winter membership special. This will help them stay committed at a great rate throughout the new year and get ahead of the holidays and those New Years goals. We also value you guys the most and we want to let you know that if your membership would benefit from this special then let us know and we'd be happy to let you guys take advantage of the deal as well!
Monday: I can't think of a more iconic way to start out the week, and especially a Games themed week, than with a version of "Fran." Specifically, "Friendly Fran!" This one is sneaky, I'm not gonna lie! Typically Fran follows a 21-15-9 rep scheme but today all three of your rounds will be 21 reps for both movements. Thrusters and pull-ups. Not only does this add a little bit more volume but it also takes away the mental benefit of doing descending reps. Although this is a little bit longer than a typical Fran we still want to keep the intensity high and think about completing this in about 6 to 9 minutes. I would suggest trying to pick weights and pull up variations that allow you to finish all three rounds having to do no more than three sets for any given movement during any given round. Ideally these will be weights and pull up variations that if you had to you could do unbroken for a full set of 21 on each one when fresh. This is definitely going to burn so try to get mentally tough today and let's really hit this one hard!
Tuesday: As you may have already suspected we have another Games event we will be testing today. We will back things off the touch so that these workouts are relevant to us here at CrossFit Simplicity but this one is still going to be challenging. Much like Friendly Fran, "Darn Diane" is a ramped up version of the traditional benchmark CrossFit workout Diane. Also much like Friendly Fran we have three rounds all consisting of the same number of reps. This time 15. And we also have harder and heavier movement variations. We will have a heavier barbell than usual for the deadlifts and the RX handstand push-up variation today will be strict. Just like Monday we want to push the pace on this one but make sure you break up those deadlifts and handstand push-ups early enough so that you don't totally blow up your low back and shoulders and have to go to singles too soon on either movement. This one's going to be challenging but do your best to stay moving and go hard. Be sure you scale things down to hit that stimulus we are looking for today.
Wednesday: I'm having a lot of mixed emotions as I write up today's workout brief. It's important to me that each and everyone of you guys understands that I get no pleasure out of watching you guys suffer through a truly awful workout. Also, it's a fundamental belief here at CrossFit Simplicity that we would never ask you guys to do a workout that we wouldn't first do ourselves. Now it's with a heavy heart that I announce today's workout: "Nasty Nancy." Nancy truly did get a nasty makeover when they programmed this workout for the Games. Like a typical Nancy we will have five rounds of running and overhead squats…But unlike a typical Nancy the overhead squats are heavy and 15 bar facing burpees are thrown into each and every round. This one really is brutal. The good news is that the goal is a touch longer today and we want you guys to try to come in around 25 to 30 minutes on this one. All jokes aside, you guys are some of the strongest people I know mentally and physically so I want you to embrace this challenge and attack this one with a positive attitude and a strong work ethic. Win this one in the mind today!
Thursday: It's interval Thursday again. You guys already know what to expect so hop on that bike or strap into that rower and let's get after today. This will also be on the longer side like yesterday as we will have three 10 minute intervals each followed by a two minute rest. Within each 10 minute window we will break the intervals down into very short burst of sprinting and basically maximal effort, followed by a smooth steady pace. It's going to be a great workout for building that motor that we all need to be successful!
Friday: I know it's hard to keep a positive attitude this week when these workout titles are just super negative. But remember that it doesn't matter what a workout is called, it only matters what movements make up the sum of its parts and how much effort you put into attacking it any given day. And that's exactly what we are going to do with "Awful Annie." Obviously from its name you guys know this is going to be a more challenging variation of another classic CrossFit benchmark workout. In my opinion it's also a much more interesting and fun variation! Not only will we have our typical descending reps of Abmat sit ups but we will be doubling the double under reps and also adding some descending rep cleans after each round that will add a nice weightlifting component to this workout and break up the monotony of double unders and sit ups. The barbell weight is heavy today but the reps are very low. Make sure this weight is no more than 70 or 75% of your one rep power clean. Hopefully you guys enjoy this workout as much as I did and really give it your all. If you do you'll have a great conditioning piece with a good bit of weightlifting and strength work as well!
Saturday: If you don't love wallballs, toes to bar, and a little running today might not be your day. But that's even more reason to show up and attack those weaknesses! As always we will have an awesome partner workout for you guys this Saturday with a little gymnastics, a little conditioning, and a whole lot of fun. You and your partner will be working through a set number of wallballs and toes to bar while you also alternate with some short runs. Be sure to encourage and motivate your partner inbetween breaths and keep pushing yourself until you're done!
       This is looking like an excellent week we have planned. Fortunately for us we will not be hitting multiple games workouts in one day like those athletes are subject to, but we will still be getting in quite a bit of fitness so buckle up! We are also going to be changing up the programming come next week. We will be diving into more affiliate-based programming where are you guys will be seeing some more lifting elements throughout the week. These also follow a bit of a cycle so try to be consistent in how you show up and let's work on getting those numbers up! We hope everyone had an awesome weekend filled with plenty of rest and relaxation and we can't wait to see you all in class!
~Daniel