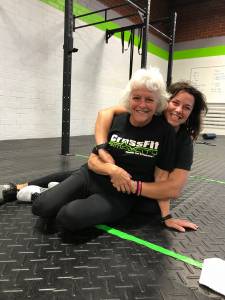 Hey guys,
Big week ahead with lots of exciting things going on. October is jam packed with good stuff! Remember that this week is your last chance to sign up for our in-house competition, the CFS Halloween House Party. Also, Saturday night is our next "Simplicity Social." The social this month will actually be held right here at CrossFit Simplicity on Saturday evening. We will be having a little bit of a sendoff party for our good friend Eric Watkins. We hope you all can make it! Without further ado…Here's your week:
Monday: Great work out to start the week. This one is actually a retest from some months ago. This is a relatively midrange piece (10-15min) with a descending rep scheme. Lots of barbell cycling and row calories make this one a true burner!
Tuesday: Tuesday is all about the squat… Back squats and front squats and overhead squats, oh my! Definitely get geared up to hit the legs in class today and give it all you've got. We have a lot of work to get in during class but because we are starting off with our heaviest squat we should be nice and warmed up for each following movement. Chest up!
Wednesday: "I don't just rap..I AMRAP" ~Rick Ross (maybe) ….nice little 11min AMRAP today that is going to get the heart rate up and keep the legs burning. Try to be mindful of how you pace this out…rounds are short so there's a temptation to go fast…slow down your first round or 2 then increase the pace after the halfway point for the best chance of success!
Thursday: Fun day today with a little different layout! We will have a short 21–15–9 workout followed immediately by a one rep max hang power clean. You have 20 minutes to complete both parts. We will be putting a hard time cap on the hang power clean. Your score for the hang power clean will be your heaviest rep within that 20 minutes… hit as much as you want after that 20 minutes but it will not be scored for the day…
Friday: all right, it's time to work on that aerobic capacity! Friday is going to be a pretty long chipper so settle in and stay moving consistently. If you like Burpee's, running, rowing, and biting you love today. If you don't…then you won't..but you still need the work!
Saturday: Saturday is going to be an awesome day at CrossFit simplicity! We'll start off at 9 AM with a sendoff workout for our dear friend Eric Watkins who is taking a job out of state this month. Then join us Saturday evening for our October "Simplicity Social" right here at CFS. We will be having a little send off party and a lot of fun! Hope you all can join us!
So far October is going great! Let's keep up the good work and stay committed. Remember that this week is your last week to get signed up for our in-house competition so make sure you get on that ASAP. The committee club goal for this month is 21 visits and we will be drawing again soon for another prize!
Click HERE to sign up for the in-house competition!