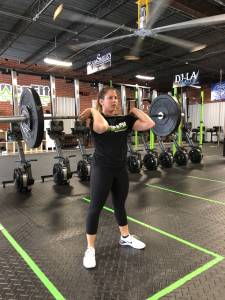 Hey guys,
     We had a little Weekly Rundown sabbatical last week but we are back and better than ever this week! Great job last week on some pretty tough workouts. We saw some really impressive numbers on the clean and jerk and some real grit on the "Possible EMOM?" which was awesome. Let's try to keep that going as we head into this coming week! We have some great programming to look forward to so let's check out a few announcements and then dive into what's in store…
Bring A Friend Day is THIS coming Saturday, the 28th, so start spreading the word and get your friends in here! As always the talented DJ-LA will be providing the beats and we'll be putting together a great workout!
We have some awesome new black on black CFS Tees on the way! These should be in within the next couple weeks and then we'll begin working on new hoodies before it gets too cold!
Monday: Starting the week off with a great chipper! The reps here are actually relatively low for each movement and the weights are very light today so the pace should be pretty high! Lots of overhead movements and lots of squats. Because of the light weights you'll want to knock out these movements in 2-3 sets and may even go unbroken on some. You'll be looking at overhead squats, hang squat snatches and some from the floor, toes to bar, and even some burpees…good stuff!
Tuesday: Great little three round piece today that will really allow you to push the pace and go all out here. Because it's shorter we'll have a little accessory afterward to finish off the day. This workout will be three rounds of row/bike calories, push-jerks, and ring muscle-ups. If you don't have your ring muscle-up we'll scale to double pull-up reps to stay moving. The rep scheme is 20-10-5 here (cals-pj-mu) so you should be looking to knock out these movements in 1-2 sets. Remember to push/dip yourself back under that bar on the push-jerks to save your shoulders. This is a good short one so go for it!
Wednesday: "Weightlifting Wednesday" is back! And we have a great clean complex on the menu today. This one is all about the hang. We'll have a hang power clean + hang squat clean. Remember this means you'll pick the bar up and stand tall. Then set your power position, lower the bar to a hang (anywhere you'd like above the knee) and then pull your clean from there. The first one catching in a power (above parallel in the squat). Then you'll rerun the bar to your thigh without dropping it and repeat the clean but the second time you'll be pulling and catching all the way under the bar in a full squat (below parallel). This is a great complex to work on a strong pull on your power clean and to work on receiving the bar in your bottom position on the squat clean. Remember to keep nice and upright in the bottom and quick elbows!
Thursday: Did you think we were all done with the "Possible EMOM?" so soon? No way, it's back! This week's is pretty tough and might just be one of the more impossible ones we've had. But remember, that's the point! We want to get that grit score higher and higher within ourselves and keep growing mentally. So really go for this one and hang on as long as you can. When you have scale just drop the reps by a couple and keep working. This one is row calories and rope climbs so lots of pulling. Be sure to make sure you're gripping the rope with your feet and "standing" your way up….easy day!
Friday: Benchmark Friday! This one isn't particularly a CrossFit HQ Benchmark but one that we've tested here in the past so we'll be sure to help you all pull up your times from last test. This one is definitely long so be sure to get to class on time and ready to move. This one is in the 40min range so we'll have to start the clock when we have to get out on time. Because this one is long you'll want to pace the start well…it's a 1.5 mile run. This is going to get your heart rate up and kind of set the tone for the rest of the workout. When you come in from the run you can kind of ease into the first bit of work to let your heart rate come down and catch your breath but still be knocking out work. Inside you'll have double unders, air squats, chest to bar pull-ups, and sit-ups. Come in ready to work!
Saturday: Bring A Friend Day! This is your chance to invite someone and show them what CFS is all about! We'll have DJ-LA in the house and a great "first-time friendly" workout planned for you guys. Definitely don't miss out!
     We have a great week ahead of us here at Simplicity and hopefully you guys are excited about what you've seen in the Rundown! This have been going excellent at the gym and attendance has been way up! Remember that just showing up and being consistent is probably the number one way to get the results you're looking for. Nothing happens overnight but if you stick with it you'll get where you want to go. Remember also to take a minute to stop and look back at where you've been and acknowledge all the progress you've already made…sometimes that's the best motivation. So let's get in here with a positive attitude and get in some great work this week! See you all in class…
~Daniel