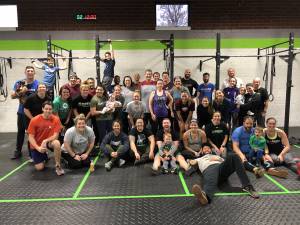 Hey guys,
      It's that time again! Time to check out the Rundown and what's happening at CrossFit Simplicity this week! We have had the best month this November with tons of great class attendance numbers and lots of great performance results. We need to keep this drive going throughout the second part of the month and really finish strong going into December. It's the time of year where we start getting bombarded with holiday parties, family gatherings, and allll that good food! It can be tough to stay on track. My advice would be to not worry too much about enjoying some good food but stay consistent in the gym so things don't get too out of hand! Now let's check out some important announcements below and then dive into the programming….
Push/Pull for Pancreatic Cancer Event: Nov 23rd at 9am! Do not miss this! This is a great chance to come out and have a great workout and raise money for an even better cause! This year we are partnering up with College Hill CrossFit to have an awesome event right here at Simplicity. Check out the link below to register and get your T-shirt/tank top here in time for the event!
https://raceroster.com/events/2019/20974/push-pull-for-pancreatic-cancer-2019
CFS Annual Christmas Party will be Dec 7th at 6pm! We'll have food and drinks provided and will be doing an ugly sweater contest and a cookie exchange! Save the date because
AM Crew vs. PM Crew canned food drive for the month of November! AM and PM classes will have the opportunity to bring in as many canned goods as possible and at the end of the month we will announce the winner and donate the canned goods to a local homeless shelter! This will be a fun and very passive/easy way to have a little competition and give back to the local community! Start stocking up! (PM Crew is looking rough but there's still time guys! Get it in here and make a run on the AM!
Monday: We have an awesome workout to start your week and a great one for a Monday. This work out is a "flow" piece and you've heard us use that term before. This just means that we want to move with about 75 or 80% effort through the entire workout and just accumulate good work rather than a ridiculous pace. This will be a great workout for building aerobic capacity and overall endurance. It has a great mixture of movements with a little bit of everything including rounds from two popular CrossFit "girl"/benchmark workouts: Cindy and Annie. Along with this we'll have running, box jumps, and more! Definitely get in here for this one and start the week off on the right foot!
Tuesday: Lifting day! And we have a barbell complex at that! These are great for working on technique and also hitting your positions under fatigue. Today's will be a squat clean, front squat, and jerk. This means you'll squat clean your bar from the floor, stand it all the way up, complete a front squat, and then jerk the bar overhead. All without dropping or setting down the bar. Position will be key here and you'll want to keep those elbows up and stay off your toes in the squats. The more upright you stay the less you'll have to strain and fight for the clean and the front squat and the better off you'll be attacking that jerk! Make sure you let proper form be your guide when deciding how heavy to go. After this we'll have some accessory lifts including muscle cleans and windmills! Good stuff!
Wednesday: Cool little EMOM for your hump day this week. This one is a bit on the longer side at 20 minutes. We will alternate minutes here with the first one being 3 hang power cleans and the second minute being a 15 Cal Row/Ride (12 for the ladies). You'll choose your own hang power clean weight but we are looking for something between 65-75% here. These should be something you can confidently hit in an unbroken set of three and this minute will be more of your rest minute in the workout. After this we are going to have lots of mini band accessory work to round out the day!
Thursday: Lots of kettlebell work today..lots! We'll have a descending rep workout where we switch between kettlebell farmer carries, front rack carries, and kettlebell overhead carries all while mixing in kettlebell snatches and double kettlebell front squats. This one will get a little spicy in the shoulders so break things up if you need to. The good news is that the reps/distances get shorter as you go on so this helps mentally. We are going to go for quality here and not time so push yourself but make sure your reps/movements are clean and your core is tight!
Friday: Awesome little burner for you guys today! This one will be short and fast so don't hold back and push the pace even from the start. This is a 21-15-9 rep scheme today with wallballs and light power snatches. The goal is short here fast: 8 minutes. Expect to feel pretty gassed after this one and don't be afraid to kinda redline things at the end! Think Fran pace!
Saturday: Push/Pull event! Because we are teaming up with College Hill CrossFit and we have a large number of sign-ups this year we're going to have to limit this event only to those who have registered officially through the link in the announcements. Remember that this does give you a free T-shirt but if you have not registered yet your T-shirt may arrive after the event. No worries though, if you have a purple T-shirt throw that on or if you have your T-shirt from last year's event definitely wear that! This is going to be a great work out for a great cause so we hope you all can register and attend! I would expect two heats but things will still move quickly! We will also give you guys the option to have this as a partner workout or to scale things back!
       What an awesome week ahead of us here at CFS! We have lots of variance and different responses we are looking from in these workouts this week which will make it a great week for overall fitness and General preparedness. We are going from a slow flow long workout on Monday to an intense fast sprint on Friday! Try not to miss any of these and we'll round things out with a fun charity workout on Saturday with the Push/Pull for Pancreatic Cancer Event here at the gym. Remember also that we have some cool events coming up like our annual Christmas party on December 7th at 6pm so save that date! Let's get in here and have a great week. See you all in class…
~Daniel