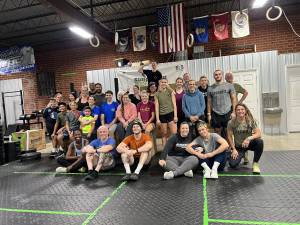 Hey guys,
      It's a brisk Sunday here in Burlington North Carolina in time for another edition of the CrossFit Simplicity Weekly Rundown! It's Thanksgiving week which means a couple things. First off we will have a bit of a modified schedule towards the end of the week. Secondly, we need to make sure we are getting in here and hitting it hard to earn a great meal on Thursday! remember that you don't have to look too negatively on your holiday calories. Use them as extra fuel for your training that week and remember to stay consistent but also enjoy your life! Obviously Thanksgiving is our theme this week and we have some great workouts for you guys so let's jump in after a few announcements.
Gratitude: Thank you! From the bottom of my heart I just want to take a moment to tell each and every one of you guys how grateful I am that you are members and friends of our CrossFit Simplicity community. I truly appreciate each and every one of you guys and your support. I also want to take a minute to recognize the amazing coaches that we have here at CrossFit Simplicity. We are so thankful for each of you guys and I'm sure all of our members can attest to the value and appreciation they have for you guys and your dedication to this community! Love you guys!
Thanksgiving Schedule: Wednesday we have our normal hours. Thursday we have one class at 8:30am. Friday we have one class at 8:30am and one class at 12pm. Saturday resumes our normal schedule!
Weightlifting:
As you guys probably remember this current strength cycle is a two-part cycle. We have just completed part one. We will now take a week off of our strength and begin the next six week phase of this strength cycle the week of November 28th. This week we will just have some accessory work after each conditioning piece. Enjoy the break!
Workouts:
We are on a 1-week break between our strength cycles, allowing us to cruise through this hectic holiday week. The majority of the workouts this week will be simple yet effective with fundamental movements and some fun added accessory/skill work. Monday, we have a multiple-set leg pump where athletes can push the pace, rest, and try to repeat. We are back on the attack on Tuesday with some ski and high box jumps (please be careful), which will increase the heart rate. We will test you on your mental game for Wednesday with some single unders. You heard me right! Thursday is Thanksgiving! The workout will be perfect for the pre/post-feast for you guys. You'll grind through a long run (row option available) and handstands for Friday to end the work week.
– Due to volume and added accessories from this strength cycle, we will begin the Strict Pull Up Progression at the start of Part 2 of the new strength cycle (Nov 28th).
     That's all we got for this weeks installment of the CrossFit Simplicity Weekly Rundown. It's going to be a great Thanksgiving weekend and we hope you all are feeling refreshed from the weekend and ready to get after some great workouts. Once again we are so thankful for all of you guys and our amazing coaches that make this community possible. Take some time this week to reflect on the things that you're grateful for and let that set your tone and attitude in the gym. We hope you all have an amazing Thanksgiving and we can't wait to see you in class!
~Daniel