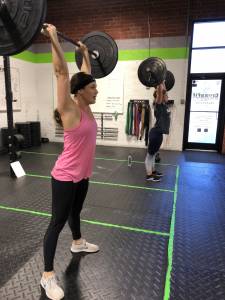 Hey guys,
       Hope everyone had a great Thanksgiving weekend! I'm sure we all ate a little more than we wanted to but that's ok. We want to workout to live and enjoy our lives so don't beat yourself up…but DO get in here and get after it this week! This is our last full week until December so let's finish strong!
CFS Christmas Party is THIS Saturday night at 7pm! Food will be catered from Tickle My Ribs and we are having a Cookie Exchange! Bring 24 of your favorite cookies!
Monday: We have a nice long one to get the week kicked off right after all that Thanksgiving food! This is one with lots of rowing (and some basic movements sprinkled in) so settle in and take this as a "flow" workout where we just move smooth and steady throughout the entire piece. We can also sub out the rowing for running today (though we will be running Friday).
Tuesday: We have a short (but spicy) little 10 minute AMRAP today! This one is squat cleans and chest to bar pull-ups. Do your best to squat these below parallel (esp if you want to click that Rx button!). The clean is light and probably a weight you'll want to go unbroken on if possible. Break the C2B up enough keep moving! It's only 10min so hit it hard!
Wednesday: Weightlifting Wednesday! Back squats are on the menu today! We are doing a little higher volume sets (8s) and the weight will be a little lighter. We are looking for 5 working sets of 8reps. If you can, increase the weight slightly each set. After this we'll finish things off with some split squats! Your legs will definitely get stronger today!
Thursday: We have a pretty tough one today. This one is three rounds with a lot of movements. We'll have some overhead work, two forms of snatches, and a bike/row! The rep scheme is fairly short here so stay moving fast in the transitions!
Friday: Don't skip today…DON'T do it! I shouldn't even put this on here but Friday a 30min AMRAP..starting with a long run. Some of us may not even finish the run and that's totally ok! I know a lot of you guys don't like to run..but we still need do it. All the runners, this is your time to shine!
Saturday: We might be trying something a little different this Saturday. We'll see what you guys want to do but we may run a standard class instead of a partner workout (but with the partner option thrown in there). Regardless we'll start things off with a 1 rep max power clean! It'll be a great day…followed by our Christmas Party at 7pm!
      Overall we have a great week planned ahead and a great close to November. It seems like time is really flying and the first of the year is quickly approaching. Lets get a jump on things and start thinking about and setting some goals right now!  See you all in class!
~Daniel