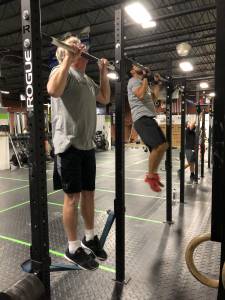 Hey guys,
       You already know what time it is…Weekly Rundown time! We had an awesome week last week and this one is looking just as good (if not better). Hope everyone had a good weekend and is ready to get back to work as we approach the Christmas holiday and the New Year! We are actually going to have a couple retest workouts that will make this week even more interesting and should motivate you more to really get in here do your best. This is also one of our last full weeks of training before the New Year so it's a great week to start working on being consistent and maybe even doing some self evaluation and thinking about some new goals you might want to set for next year. Now let's have a look at these announcements and then get down to the programming!
Christmas Cheer: Thank you all again for so eagerly adopting our Christmas Cheer families this year and committing to getting their gifts. We need these gifts in no later than Monday, December 16th. If you have the opportunity to wrap them please do as this will help us out. You can send your gifts in with the tag and took from the gym!
Holiday Schedule: 23rd Normal Schedule. 24th 7am and 9am Class, 25th-26th Closed, 27th Normal Schedule.
Monday: Lifting day! What a great way to start off the week. We have some snatch work today of the three position variety. This means that each actual rep/set will consist of a snatch from the high hang/hip, hang/knee, and floor. All of these are without letting go or dropping the bar. These are great for working on position, footwork, and overall technique. Certainly don't expect to hit a one rep max snatch today because we have basically three reps to complete for each set. Focus more on form and let your technique be your guide on how heavy to go today. There's nothing wrong with hitting five working sets at the same weight if it's challenging but doable. Just have fun with this one and focus on staying tight and being quick under the bar. Good stuff!
Tuesday: RETEST! This is a workout we've done one or two times in the past and have used as a sort of benchmark. This is by no means an easy workout and is also one that most of us will scale, but there's no problem with that. Some of you who have been here a while may remember this one which is three rounds of thrusters, muscle ups, and a 400m run. The thruster and muscle up reps here are lower in terms of the thrusters a little higher in terms of the muscle ups. The thruster weight is on the heavy side so be prepared to break these up. Even if you are scaling this workout try to go a little heavier than usual because we want these thrusters to be challenging but something you can complete in no more than three sets if absolutely necessary. Whether you are doing muscle ups or pull-ups this workout is going to be pretty taxing on the shoulders because of the pushing/pulling combination. Try to catch your breath a bit on the run but be careful not to use it as a recovery as this will definitely hurt your overall time. No matter what have fun and go for it on that last round!
Wednesday: Retest AGAIN?! That's right! "Isa-Grace" is the workout today and it's exactly what you're thinking: Isabel and Grace combined. Isabel is 30 snatches at (135/95) and Grace is 30 clean and jerks at (135/95). "Isa-Grace" is literally both, back to back, for time! This a burner for sure so be ready for this one. Remember that either of these alone should be done in about 2-4 minutes and our goal today is sub eight minutes so be sure to scale that weight back to something that's manageable. These should not be heavy weights for you at all… preserve the stimulus at all times. As far as strategy is concerned they will obviously be a hot pace here so you need to decide if you want to go quick singles or short touching go sets with limited rest in between. Some of you might even want to alternate back-and-forth. Either way remember to breathe as much as possible and try to hang on until the end… This one is tough!
Thursday: Honestly this week is just spicy, and today's workout is no different. This one is an EMOM but that doesn't mean you are going to have a tremendous amount of rest… Especially in the later minutes when you begin to fatigue. This is only a 12 minute workout but the reps are high and the weight is heavy. The first minute will consist of 15 heavy kettlebell swings (70/53) and the second minute will consist of 10 toes-to-bar. As you may have already put together this is going to be a very intense workout on your grip, shoulders, and lungs. Work hard to not fatigue mentally…meaning stay positive and don't think too far ahead but focus on getting out of the minute you are currently in. It's easy to have a rough minute and then start questioning yourself as to whether you can even finish so don't let this happen. Remember to keep that kettlebell high and tight and use your hips to drive it up rather than pulling it with your arms. Think about taking some quick sets on the toes-to-bar to keep those forearms functioning in the later rounds. Have fun and see if you can hang on for the entirety of this workout…literally, hang on!
Friday: Chipper today..and it's a long one! Get ready for some serious aerobic capacity work here. This one is all big sets. medball cleans, bike/row calories, burpees, and more cals! We will have a time cap on this one to keep things safe and we'll also have a couple levels including Rx:80 reps of each, Rx+: 100 reps, and scaled: 60 reps. You'll definitely need to start off at a manageable pace here so that you've got some gas for those last burpees and calories. Think about setting a manageable goal for how many reps you want to complete each minute. This way you'll be able to project a good target time for yourself and give you something to shoot for. If you need some conditioning then today is your day so don't be afraid to come in and do your best on this one even if this isn't your strong suit.
Saturday: This is the overhead Saturday if there ever was one! This is still a partner workout so know you'll definitely get some rest. We'll begin and end with some running…think of this as a little warmup and cool down? After that we'll dive into some kettlebell swings and shoulder to overhead. Because this is lots of shoulders be sure to split things into short manageable sets. Also be mindful of what shoulder to overhead movement you choose. Strict press would be the fastest but the most taxing on your shoulders. The push press would probably be your best choice as you'll be able to use your legs to save your shoulders and it can still be to be fast move the bar. If you get really tired or the weight is little heavy for you you might want to think about the push jerk. This will allow you to rebend your knees and press under the bar to get it locked out. Still remember that you will have to finish by standing up and locking out your legs at the top of each rep though. Stay moving and keep motivating and encouraging your partner!
       We have an awesome week ahead of us so get excited and get in here! We have our last full week of training before the Christmas holiday so this is your chance to combat those calories and stay on track! Remember to get your Christmas Cheer items in if you haven't already and thank you all again for such awesome generosity. Enjoy the last bit of your weekend and we can't wait to get in here with you and have an amazing week of training! See you in class…
~Daniel