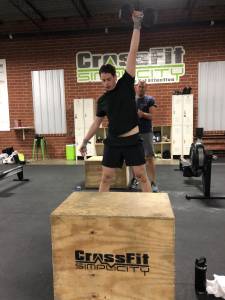 Hey guys,
      It's time for the Rundown again. This is going to be a short week because of the Christmas holiday but still a great week to get in some training and have some fun! We have a different holiday schedule for classes and open gym times so please be sure to read the announcements below so that you can make the most of the schedule and get in here as much as possible to stay on track! Now lets have a little look at what's in store for the week!
Holiday Schedule: 23rd Normal Schedule. 24th 7am and 9am Class, 25th Closed, 26th Open Gym hours from 10am-12pm, 27th 5:30am/6:30am/8:30am, 4:30pm.
Bring A Friend Day: Our next BAFD will be Jan 1st at 3pm! This is going to be a awesome way to start the New Year off right and share CrossFit with a friend that could use that New Year boost!
Monday: We have a really tough but really good one to start out the week. And before we get much further remember that each year on the 24th we do our 12 Days of Christmas workout. This is usually a pretty tough workout because we know we'll be taking a rest day on Christmas and likely on the 26th. So basically we are looking at a tough workout on Monday and then right away on Tuesday again. So be open to some scaling on one or both of those days if you need to because of the high volume. Today we'll be a really cool inverse ladder of front squats and double unders. The front squats will go from 10-1 while the double unders after each set will go from 10-100.  The front squat weight as prescribed is pretty stout right here so as a guide try to pick a weight that you can do 10 reps unbroken and complete any and all of your sets in no more than two sets. This one will be on the 20min range so either way don't start off too hot and fight to keep a good upright position during those front squats throughout the entire workout.
Tuesday: Christmas Eve! It's pretty much a tradition that we hit the 12 Days of Christmas workout today so that's what we will be doing. In general we switch back-and-forth from the 12 Barbells of Christmas to the 12 Days of Christmas and both follow about the same pattern… Think: "the song" and you'll understand. This is a long workout so settle in early! The first few rounds of this…Like the song…Will go by very fast but those last three or four rounds can be absolutely grueling when you are fatigued so pace this out smart. The goal here is just to get it done and get in a good long workout before we take a short break for the week. There are too many movements to mention in this one… 12 to be exact… So just know it's going to be fun! We will have one class at 7 AM today and one class at 9 AM today!
Wednesday: Merry Christmas from CrossFit Simplicity! We will be closed today. Enjoy the holiday and some time with your family!
Thursday:  We will be closed most of today but we will have limited open gym hours from 10 AM until 12 PM!
Friday: We are back in business! Now let's get to work! We have a pretty tough little ten round piece today with a couple different good scaling options we can choose from. In essence this one is overhead squats, bar muscle-ups (or your choice of a palling variation), and burpees. This too will be in the longer range but will not be much of an issue since most of us will have a pretty light week around Christmas. This workout can be one that really hits the shoulders hard so make sure you get nice and warmed up before all of this pushing and pulling. The overhead squat weight should be moderate but still something you can pull under into a squat snatch for your first rep of each set. try to scale this down to something you can complete a round in about two minutes.
Saturday: We have a really cool workout for you guys today. It might not be quite as long is a typical Saturday but will still be challenging. This one will be running, pull-ups, and thrusters. The sets are large here but remember that you will be with a partner so you'll get some rest during each movement regardless. The thruster is going to be a touch heavy so you might break things up a little sooner than usual. This workout begins with a run so expect to hit that first set of pull-ups with an elevated heart rate and stay rolling from there! Have fun with this one and like always remember to encourage and motivate your partner when it's not your turn to work. Good stuff!
       Even though we have a short week here at CrossFit Simplicity it doesn't mean we won't get in some great fitness and have a lot of fun. Holiday weeks can always be exciting and Christmas is arguably the most exciting. We hope everyone had an amazing weekend and will have an amazing time with your friends and family over this next week! We always consider you guys part of our friends and family and we look forward to seeing each and every one of you guys in class and getting in some great workouts this week while we celebrate the season. Enjoy the rest of your weekend and we can't wait to see you all in class!
~Daniel