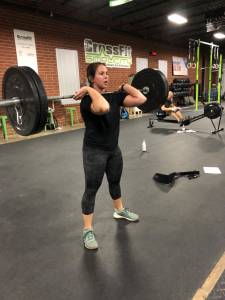 Hey guys,
       Hope everyone had a great weekend and an even better holiday! This is pretty unique rundown because we are starting a new week, a new month, AND a new year all at once! I can't think of a better time to reset your focus and motivation and get in here to put in work. Because of the New Year holiday we'll have a slightly different schedule but in general we'll be open and have a programmed workout everyday this week so thinks are basically back to normal. We have some really good workouts this week as well, so you can kick off the year with a good sweat and a little soreness! Now let's have a look at some announcements and dive into the week!
Class Schedule: Dec 31st: No 5:30 or 6:30pm classes. Jan 1st: One class at 3pm
Bring A Friend Day: New Year's Day at 3pm! These New Year's BAFDs are some of the best and most exciting so don't miss out! We'll have DJ-LA here setting the mood and also a pretty sweet deal for any of your friends looking for the perfect time to get started and try out CFS!
New Year's Deal: Speaking of Bring a Friend Day…we want to help you guys encourage your friends and family to get into the gym and experience what you love about our CFS community. However, we know that it's hard to convey the value of CrossFit to your friends when they see the price. So for the month of January we are going to offer first time members their first month for 50% off!  Now you can tell that stubborn friend to come check out CrossFit for much less risk and see why we are different from your average globo gym!
Monday: Here we go! Diving right into the week with a nice little for time piece. This one is hang squat cleans abs rope climbs! The reps are descending here for both movements and they are relativity low…making this a workout with a touch higher pace. If rope climbs are still tough for you (they certainly aren't my best movement) then consider scaling the reps back a touch on those to keep moving, keep the pace a little faster, and to hit that time goal. The hang squat clean weight is pretty light so make sure it's something you can complete in no more than 3 sets for any given round. Also, as always, make sure you focus on maintaining depth below parallel on your squat cleans and keep that chest nice and upright!
Tuesday: We have a cool piece to finish out the year! This will be a retest for some of you guys that have been in the CrossFit community for a while. This is Open workout 13.4! We will have 7 minutes to work through a clean and jerk and toes-to-bar ladder. The clean and jerk weight is normal (135/95) and should be something you can do in quick efficient singles or some short quick sets. The reps start at 3 for 3 and increase by 3 each round: (3/3) (6/6) (9/9)….etc until the clock runs out. The goal here would be to scale as needed to get through the rounds of 12 and maybe even through the 15s. Think light and fast here as we only have 7 mins so this one should be intense! (We will have NO 5:30/6:30pm classes!)
Wednesday: Happy New Year! We have an awesome day to start off 2020! We have one class today at 3pm that's also a Bring A Friend Day. This is a great chance to invite a friend that you think might want to kick the year off as a part of the CFS community and to take advantage of our New Year's Deal!
Thursday: We have a really cool flow workout for you guys today. Remember that when we say "flow workout" we mean that this workout isn't necessarily for time but more for quality and good movement. Just try to stay moving and get the work done. We'll have descending increments of rowing/biking broken up by descending reps of some various different movements. Think of this almost as a relaxed chipper except in between each movement is a certain period of rowing/biking. Movements will include single arm dumbbell push presses, kettlebell cleans, toes to bar, and handstand push-ups. Have fun with this one and just put in some good work!
Friday: Heavy Day! Love these days…and almost all of us love power cleans. It's one of the first barbell movements most of us learn to do and it's the one we usually feel most comfortable with as well. We'll start off with the triples today then move to doubles and then singles until we reach a one rep max for the day. If you are feeling good definitely go for a PR today and give it your all. If not just focus on getting in some good working sets around at least 90% of your best ever power clean. Try to focus on a good strong core and flat back in your pull and then get a big shrug and a quick turnover. Fast elbow can really help you save/make a lift when things get heavy. Also be mindful of your feet. It's hard not to let them fly out wide in the catch but try keep them within your same squat stance when you receive the bar.
Saturday: Super cool little partner workout for you guys today. Nothing fancy and nothing crazy long. Just simple, yet effective! This one will be 4 rounds of wallballs, burpees, and high box jumps. You guys should really be able to hit this one hard and make it a great workout! There's nothing better than getting with a friend and really just putting in the sweat equity! So let's get after it!
      This is the first week of the rest of your lives! Ok, maybe not…but it IS the first week of 2020! So without being too cliche let's really use this as a chance to focus on setting some new goals and really taking the small practical (daily) steps to make those goals a reality. You can certainly do it if you work on staying consistent and doing the little things well each and every day. Whether it be taking a step back and focusing on form and technique, or may upping your metcon weights or even just making the committed club: now is the time! Let's get in here and do it. See you all in class!
~Daniel