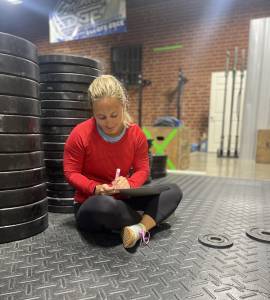 Hey guys,
       It is a beautiful beautiful Easter Sunday here in Burlington North Carolina. That's not a typo, it's beautiful and I'm grateful for another week with you all and another CrossFit Simplicity Weekly Rundown! I love this time of years we get deeper into spring and begin to live in the gym with the roller door open and the sun shining in on us. We have a really great week ahead of you all with lots of really interesting workouts this week and the continuation of our strength cycle. The workout theme is also pretty fitting this week. It's full of things you might find stuffed inside of a plastic Easter egg: Candy!  So let's peel back the wrapper on this thing and see what we have in store!
T-Shirts: Shirts went much faster than expected this time but that's OK. More on the way!
Coach Felicia: Last week was Felicia's last week here with us at CrossFit Simplicity. We are so sad but also so excited for her and all she has going on in her life right now professionally and personally. Some of you guys may not know but Felicia has been here with me since before the gym even opened. Planning out the layout of the gym, figuring out programming, and helping to organize and put together so many of our events and gatherings. If you get a chance reach out to her and let her know just how much you appreciate her and how she may have impacted your time here at CrossFit Simplicity! Love you Felicia!
Weightlifting Cycle: We are on week five of our lifting cycle. Remember this is a nine week cycle and week eight will be a deload week before we retest.
Monday: Starting after week with a little Murph prep Monday! This one will be called, "Snickers" and you might just need to reach for one when you are finished! This is a really cool descending rip piece with running and rounds of Cindy. This follows a really basic rep scheme where you'll go from a 500m run and five rounds of Cindy all the way down to a 100m run and one round of Cindy. Remember that a round of Cindy is five pull-ups, 10 push-ups, and 15 air squats. Strenuous today is moderate intensity throughout. You guys should focus on steady pacing through all the runs and rounds of Cindy. It's 1500m of total running, 75 pull ups, 150 push-ups, and 225 air squats total. This makes it a little more volume than last week but still not too close to a whole Murph. Have fun with this one today and see what you can do!
Tuesday: We have some snatch work today. We will have three sets of two power snatches at 75% and then three sets of three overhead squats at 70 to 80% of your one rep snatch. This is kind of building the squat snatch piece by piece. After this we have an eight minute AMRAP called "Kit Kat." Is the very simple piece consisting of eight kettle bell swings with a heavy kettle bell and eight box jump overs. The goal is 6 to 8 rounds today so we want about a round a minute. Stimulus is moderate pacing across rounds. Think about something you can maintain minute after minute. This one is definitely going to be a little bit tougher than you think because each movement will not really allow for a lot of rest. Do your best to hold one minute rounds throughout. Good stuff!
Wednesday: Weightlifting Wednesday! We will kick the day off with three sets of two squat cleans at 80% of your one rep clean and then go into three sets of three clean grip dead lifts at 90% of your one rep clean. Remember the clean grip deadlift should be slow and smooth and you want to hit each position in your clean on the way up and down. Next we'll hit "Reese's." (A favor candy of mine!) this will be seven sets with a one to one rest between each. Sets will consist of 60 double unders and 12 handstand push-ups. Stimulus is moderate to high pacing with the goal of staying consistent or getting slightly faster each set. This is going to be a tough combo on the shoulders and a bit of a higher skilled workout so make sure you scale accordingly and have fun with it.
Thursday: "3 Musketeers" is on the menu today! This is a 10 round piece of a 250m around, 50 football King lunch, and three moderately heavy power cleans. Stimulus is moderate effort and intensity across the entirety of this work out. You should find a comfortable pace and settle in for all 10 rounds. A good goal would be to complete around about every two minutes. Not a lot of thinking in this workout, just move and try to hold on for the ride. Row should be a moderate pace, just stay moving on the walking lunges, and the power clean should be a weight you can hit in three quick singles. Easy day!
Friday: We have some cool lifting for you guys today as we go overhead. We have a little complex consisting of two push presses and in one split jerk. The push presses will keep the weight down a little bit so you should be able to perform a good clean split jerk at the end of the complex. After this we are going to hit "Almond Joy!" This is a pretty interesting five set piece because you will get a three minute rest in between each one. However you'll have to do a three minute recovery bike/Row/walk so you won't be just sitting. Each set will consist of calories on the bike and then 10 back squats. Stimulus this work out as a continuous hi effort on the bike with pure grit and grind through the squats. The bike is designed to taxi legs while making the squat substantially harder and testing your mental capacity on how to move weight under heavy fatigue. Make sure you adjust the weight and calories to fit within a target time. Back squat should be somewhere around 60% of your one rep max and expected to feel much heavier as the legs pump up! It's going to be tough. Get gritty!
Saturday: Partner Saturday! We have a good 20 minute partner AMRAP for you guys today consisting of toes to bar, thrusters, and double unders. To go today is really just to stay moving. The thruster weight is light (empty bar) and the movements are fairly simple. You'll be able to trade off as much as you would like with a partner as long as you guys stay moving and keep grinding!
       Well that's all we've got for you all on this Easter Sunday. It really is a gorgeous day and I hope you guys are spending time with your friends and family enjoying this weather. Thank you so much for being a part of this amazing community. We love and appreciate each and everyone of you guys and look forward to seeing you all in class each week. Remember to stay consistent and keep making the small decisions that daily get you closer to your goals. Now get plenty of rest and relaxation and we will see you all on Monday!
~Daniel