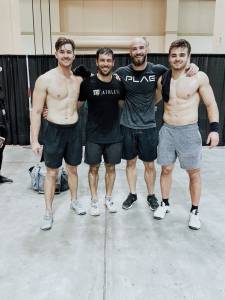 Hey guys,
     It may be a cold and wet Sunday, but things are heating up in this edition of the CrossFit Simplicity Weekly Rundown! We are full in the throes of our strength cycle, the CrossFit Open begins this week along with our Friday night lights, and we have some awesome workouts in store for you guys. Consistency has been stellar at the gym lately and you guys are really showing up and putting in a lot of hard work. I'm excited about this week and the chance to get in here and improve ourselves and those around us. Let's hit some announcements and then jump in!
CrossFit Open: We are gearing up for the CrossFit Open. We are going to do this "Friday night lights" style for the three weeks of the Open. This means there will be no not right no 4:30 or 5:30 class for these three weeks (beginning the 17th). Friday night lights will begin at 5 PM! The Open is a great chance to test out your fitness with the entire CrossFit community globally… And more importantly right here at CFS! (remember there is a scaled division in the Open as well and this is a very low pressure environment!) Get signed up with the link below!
New Shirts: We have had many requests for a black on black shirt again at CFS so we are bringing it back but with the new logo! These should be here in a couple weeks and will be $25. (No pre-order required)
Weightlifting: Here we go, Week four begins, and it's moderate lifting (70% of Heavy single) for the power lifts and some barbell cycling on power snatch.
Week 4 (Feb 13) (Slight Deload)
Mon: 10×3 Bench Press (67.5%)
Tues: Every minute (10 minutes) 5 Power Snatch (+5lbs from Wk 2)
Weds: 10×3 Deadlift (67.5%)
Thurs: 10×3 Back Squats (67.5%)
Workouts: For Monday, it's time to get the kettlebell moving with some swings into goblet squats. Tuesday is when the intensity will ramp, and now we see if you all can hang on for dear life. Now it's time for some Assault Bike sets where you'll test the pace off the start and see if you can stay consistent with having adequate time for the bike for Wednesday. Thursday, we venture into the realm of Tabata! You will be put into a mixer with this row/shoulder press/row combo. To end the week, we have the first Open workout…what will it be? Saturday is all about recovering from Friday. Athletes who did not perform the Open workout can up the intensity and still get a good sweat.
     That's all we got this week for the CrossFit Simplicity Weekly Rundown! It's going to be a great week with lots of good lifting and variety in our conditioning pieces. Be sure to take some time this week and get signed up for the open so that you can join us in all of the fun and fitness. Remember we will be hitting these workouts in class on Friday regardless of if you are doing the open or not. You guys have a good time watching the Super Bowl tonight and be sure you still get plenty of rest, relaxation, and recovery, so we can hit it hard on Monday. See you all in class!
~Daniel