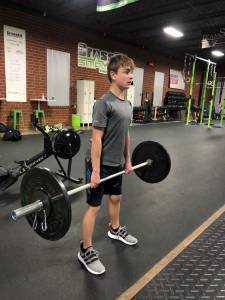 Hey guys,
        It's a beautiful Sunday and we are back with the CrossFit simplicity Weekly Rundown! We had amazing week last week all capped off by our three-year anniversary celebration on Saturday! Thank you guys again for making up this great community. We are so grateful to be a part of your lives and we can't wait to make year four the best one yet! we had a bit of a toned down deload week last week but we are getting back into our regular programming now.  hopefully everyone's bodies are feeling a little more recovered and refreshed and we are ready to hit it hard. As always, remember that it's important to scale things back where needed and always listen to your body and be willing to take things lighter if you need a little more recovery. Now let's have a look at some announcements and get down to it!
Community Event: Our next community event will be Friday, March 5th at 7pm! We are having a Farkle tournament! If you've never played before this is a fun and simple dice game. We will have multiple tables set up and this will be a great chance for us to all get together to hang out and have some fun at the gym after hours! We will be sending out an email soon with all the fun details! Mark your calendar's!
Raven's Pursuit Twisted 5k: It looks like we already have a couple teams registered to go to compete in this fun charity event at College Hill CrossFit in Greensboro February 29th! I will send out another email reminder and a link with the registration this week!
Deadlift Cycle: For the next few weeks we'll be running a new deadlift cycle so be sure to check the Rundown to make sure you are here for these days as the percentages will build off themselves! It's gonna be FUN!
Monday: We are kicking off the week with a tester workout! The aerobic test, to be exact! This is one we will test again in the future so definitely try to show up today and get this one in the books. This is a simple aerobic capacity piece consisting of a 1 mile run, a 1000m row, and then 100/80 cals on the bike (or rower). You may also sub that last calorie portion for another 1 mile run if desired. If you do choose any of these alternate options make sure you denote this in the system today so that we have some accurate data when we retest this workout in the future. There's not a lot to say about this workout besides pacing. The skill in this really comes from knowing yourself and that comes from experience in workouts. If you're not sure where you stand with your conditioning maybe pace things out a little conservatively on that first mile and you can always step things up later. If you know you are strong here then go ahead and try to keep a strong steady pace throughout and see what you can do!
Tuesday: We have a pretty cool little 5 round piece today! This one is going to bring back a movement we haven't seen in a while…dumbbell box step overs! These are a little tough but they are definitely effective! We will be incorporating a lot of dumbbell work today as we will start out with five dumbbell box step overs directly into 10 double dumbbell push press. After this we will finish off the round with a 20/17 cal row. Because this is five rounds long you need to pace things out a little bit to begin with. A helpful strategy might be pushing the pace and trying to go on broken on the dumbbell movements and then keeping a steady pace but trying to recover your breath a little bit on the road. Regardless when you get that last round really go all out and let's have a good day!
Wednesday: As we mentioned above we took a bit of an easy week to help our bodies reset before this next cycle. We will be starting a new deadlift cycle this week so take note of the percentages today and make sure you stick with them as we will build on these week after week. Also resist the temptation to use a one rep max deadlift that you would like to achieve when doing your percentages and instead use your most current and accurate one rep max for your percentages. For example if you current deadlift is 225 pounds for a one rep max use this number to determine your percentages for the cycle and not your goal of hitting a 250 pound one rep max. These numbers are designed to go off of your current one rep max not a future one rep max you would like to hit.  Have fun with this and let's try to get a new one rep max at the end of the cycle! Pay close attention to the rundown each week so that you can be sure to be here on deadlift day as it will not be Wednesday every week.
Thursday: It's time for a chipper! This is a tough one today but it's really great in that it should have at least one element in your wheelhouse and one element that you could use some work on. Remember that "chipper" means we will go straight through each exercise before moving on to the next. We will start with 50 chest-to-bar pull-ups today, followed by 100 overhead squats at a light weight, and then directly into 200 double unders. The goal today is to complete this under 15 minutes so make sure that you use appropriate scales for your pull-ups and the weight on your overhead squats. We want this to be a weight you can knock out some pretty big sets to begin with. Think about trying to strategize some sets of descending reps as this will help you to mentally stay positive and keep moving. Get after this one today and let's get in some good conditioning!
Friday: We have an awesome little four round piece today that is going to be challenging on the lungs to say the least. This one incorporates two of our more "exhausting" movements: barbell cycling and running! This one can get spicy! This one starts out with one round of the "big clean complex" and then a 400m run. Remember that the big green complex is a clean shirt complex that we have done in the past. One round of the complex involves a high hang clean, hang clean, clean, push press, high hang clean, hang clean, clean, push jerk, high hang clean, hang clean, clean, split jerk. Whew! That's right…Think of it basically as a three position clean then I push press, a three position clean then a push jerk, and a three position clean then a split jerk. The idea here is to do this complex unbroken but if you do decide to break it up make sure you only drop once after each overhead movement. This will probably be a good idea to keep your heart rate from skyrocketing too early. Do your best to keep moving here and try not to use the run as too much of a rest. Good stuff!
Saturday: Partner workout today! These are always the best…Although it's going to be hard to beat the energy of this past Saturday! I always say if you could only come to class one day a week then make it Saturday for the partner workout. Even though you split the work there's something about pushing and motivating with your partner that makes for an awesome workout that's fun and physical! Today will be no different. We have some running and power snatches on the menu today but the layout for today's workout will be a little bit different than normal. Both partners will be working on different parts of the workout at the same time but we will have short rest intervals to help you catch your breath. When it's your turn to work go hard!
        Thanks again to all of you guys! Whether you made it to the event or not you all make up this amazing community. Three years ago I could have never imagined just what CrossFit Simplicity would turn into or how we would grow. The relationships we have built here over the years are so valuable to all of us and I can't wait to see where they go and how they spread! Our bond together is what makes CrossFit Simplicity so special. It's not just a place we come for fitness, but a place we come for fellowship as well. Thanks again for all you guys mean to CFS and I can't wait for another epic year! See you all in class!
~Daniel