CFS Weekly Rundown (8/20-8/25)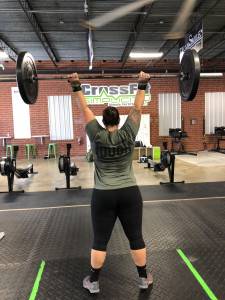 Hey guys,
       Great job last week on the retests! We saw some really solid improvement from last time and some impressive PRs! This week is looking good so stay consistent in here and keep making progress.
Announcements:
Sun, Aug 26th, 2pm at Feel Better Burlington Yoga (Burlington location) we'll be having a wine and yoga event. Open to all CFS members as a private class. Hope you can join us!
Sept 15th We'll be having a fitness/pop-up shop with Lululemon (Friendly Center) and Feel Better Burlington Yoga right here at CFS. CF class, yoga class, all followed by the Lululemon pop-up shop and refreshments!
Oct 27th we'll be having our very first in house competition! "CF Simplicity Halloween House Party" This will start at 8am and will be open entry for CFS members only (in house comp). More details coming soon!
Monday: Kicking the week off with a heavy day! Deadlift will be on the menu and we'll also be throwing in a new accessory movement for most of you guys to target our hamstrings. Start the week off right and get in here!
Tuesday: Today will consist of 3 consecutive AMRAPs with a two minute rest between each. This is a really fun workout and will challenge you. Each AMRAP gets shorter but the loading gets heavier and the movements get more complex. Try not to save too much in the tank during each AMRAP, but instead, trust yourself to recover sufficiently with in the two minutes.
Wednesday: Wednesday is looking very "gymnastic".  We'll be sticking with one movement for the entire workout but throwing in some L-sits as a penalty every time you break in the workout. Scaling will be very important today because of this. Part two for the day will be an optional slow paced recovery mile or a 1 mile run for time.
Thursday: Thursday will be our second weightlifting day of the week. However, this "big clean complex" will certainly challenge your conditioning and ability to breathe and move under a load. Positioning will be extremely important today with the amount of volume in this complex.
Friday: Today's workout will be short and fast with only 2 rounds and two movement (a heavy squat and a pull). Position in your squat will be key if you're looking to go unbroken. This workout is only 40 total reps but it's still a tough one!
Saturday: We have something a little different planned this Saturday in teams of three rather than two! This is a great team workout with a little bit of everything thrown in there (squatting, pushing, pulling..)
      Looks like it's going to be another great week at Simplicity. Keep working hard and focusing on just showing up and doing your best one day at a time. Also remember to have a look at the announcements to stay in the loop on all of our upcoming events!